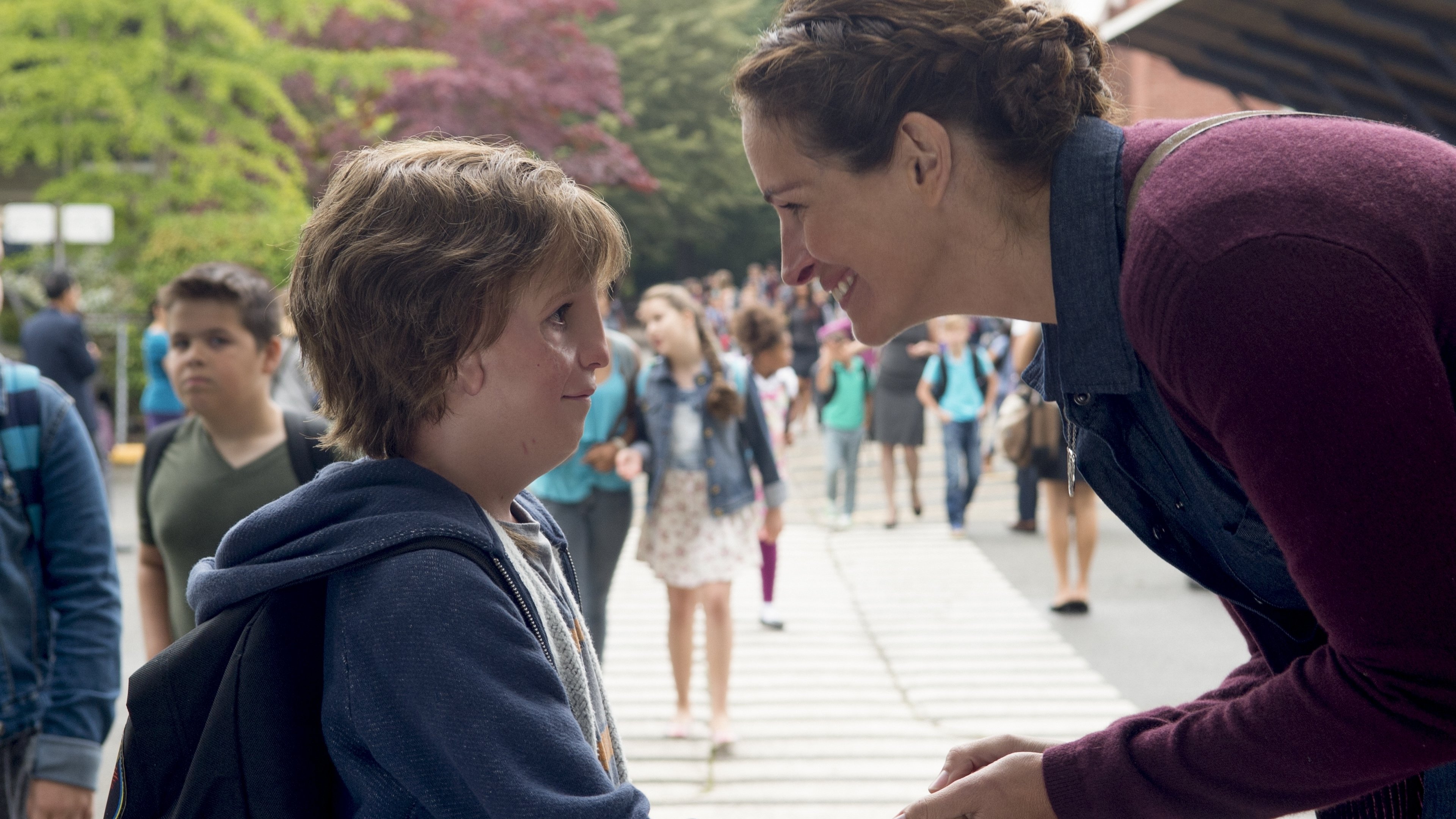 Lionsgate
I have reached an age now where my children are bringing pop culture to me that they discover first, and I kinda love it.
After all, much of my work over the last eight years has been about how I share media with my kids. I wrote an entire book about how we shared the Star Wars series, and another about horror movies. Now the kids are old enough that they are experiencing books at school and through their friends that they tell me about, and their enthusiasm in discovering things is so pure, so joyous, that it's impossible to not share that excitement.
Last year, my son went to public school for the first time. He had been attending the same private school since pre-school, and he had only ever known the kids from that school. His class kept getting smaller and smaller, and in the fourth grade, he had four other kids in his whole class. His education was great, but his social skills were starting to atrophy because the kids were too familiar, more siblings than classmates by that point. When he started middle school, we moved him to public school, and for the first time, he had 800 kids in his grade, and he was forced to expand his social circle and figure out this totally different environment. I moved around the country a lot as a kid, and I can testify that starting a new school with the last name "McWeeny" is like going to prison. You know you're going to get tested, and it creates a very real feeling of dread.
Early in his school year, he found RJ Palacio's book Wonder and he told me how much it helped him make his own adjustment easier. My younger son made the same jump this year, and the book helped him as well. When the first trailers for Stephen Chbosky's film adaptation of the book appeared online, the boys were immediately over the moon excited. They've been positively frantic to see it ever since, and that put the film on my radar in a way it wouldn't have been otherwise.
Looking at those same trailers, I wasn't sold. It seemed very familiar and easy, and even though I loved The
Perks of Being a Wallflower, I wasn't sure how Chbosky was going to make this material stand out. The answer to all of those concerns is in the actual execution here, and it's an impressive piece of work. The first 15 minutes or so, it's exactly what I thought it was going to be. Jacob Tremblay plays Auggie Pullman, a boy born with a facial deformity that required extensive surgeries. He's been home-schooled his whole life, but his mother Isabel (Julia Roberts) and his dad Nate (Owen Wilson) have decided it's time for him to make the jump to school with other kids. His early adjustment is difficult, particularly thanks to the efforts of Julian (Bryce Gheisar), a perfectly gross little bully, but none of that is surprising. The film won me over when it suddenly shifted perspective from Auggie to his sister, Via (Izabela Vidovic), who is struggling in a much quieter way. As she puts it, "Auggie is the sun and my parents are in orbit around him." She feels invisible, and she's got her own story playing out that certainly impacts Auggie and is impacted by him, but that also stands apart. And then the film does it again. And again. And as it kept shifting perspective, the cumulative impact is one that really works as an empathy lesson.
#ChooseKind, indeed.
Tremblay has a difficult task here on several levels. First, Auggie's written as one of those hyper-verbal precocious ten-year-olds who keeps up a constant stream of patter like a stand-up comedian. Second, he's acting through extensive make-up. I'm always fascinated by where they land in films like this or Peter Bogdanovich's Mask or The Elephant Man, where you're dealing with the fine line between "story-appropriate" and "audience friendly." There's also the very real danger of rendering your actor's face impassive, and for that reason, these make-ups always always always emphasize the eyes. As long as we can connect with someone's eyes, nothing else really matters. Ask any creature designer what they do when they want to make you love a character, and they'll talk about the importance of the eyes. Tremblay is a very capable young performer, and for the most part, he is able to overcome the technical challenges of the role to deliver an honest, wrenching performance.
Both Owen Wilson and Julia Roberts bring all of their considerable charm to the table as Auggie's parents, and it's a real reminder of just how commanding Roberts can be onscreen. She pretty much steers the film's emotional weather, and when she cranks up the joy or really focuses the heartbreak, it's a gift for Chbosky as a filmmaker. Wilson's job is to drop reliable laughs, and he is more than up to the task. Mandy Patinkin plays the school principal, and he's lovely in the role — warm and understanding and forceful in all the right ways when he needs to be. The kids in the film are also really well-cast around Tremblay, with Noah Jupe, Elle McKinnon, Nadji Jeter and Danielle Rose Russell all making strong impressions. Daveed Diggs shows up as a particularly empathetic teacher, but he doesn't have enough to do. For the most part, the film stays with the kids, and once again, Chbosky demonstrates a real facility for recreating the feeling of being young, capturing the terror and the joy and the courage of it with an expert eye.
Handsomely photographed by Don Burgess, the film is big pop colorful, and even in its heavier moments, shot through with a relentless optimism. That doesn't undermine the very real lessons in how to handle the navigation of a hard time in any kid's life, though, and for parents, this is an ideal opportunity to have some big conversations. The film doesn't talk down to anyone, and the entire idea of showing how everyone around Auggie feels with the same depth of insight afforded to him feels novel in this kind of movie. Izabela Vidovic's struggles just to be noticed are never overdone, but there's a real honesty to her efforts to be seen by her mother and the way she manages her disappointments and heartbreaks during the year. There's a lovely digression that explains the seemingly mean-girl shift in her former best friend that underlines the idea that it's hard to judge someone's actions from the outside. Again… none of this is innovative, but it's the way the film explicitly connects the dots that makes it stick.
Wonder offers a real lesson in perspective, and in a world that increasingly feels like it celebrates cruelty and rewards the horrible, maybe it takes a film this "should be self-evident to any decent human being" to break through that noise.
Rated: PG
Running time: 113 minutes
---
 Drew McWeeny | Chief Film Critic