Getty Images
Okay, now we're getting somewhere. #MeToo is long overdue, and it appears to be making progress in getting more women behind the camera. Also overdue, and seems to be progressing, is getting representatives of color both in front of and behind it, as well. That's certainly a step in the right direction, and now that the National Hispanic Media Coalition is getting involved, we're taking another one.
The NHMC announced on Wednesday that it will hold two demonstrations targeting the Academy Awards to protest "the chronic under-representation of Latinos in on-screen and behind-the-camera roles in motion pictures." The first is scheduled for Monday, February 5th, to coincide with the annual Oscar Nominees Luncheon, while the second one will happen at a time and place to be determined on March 3rd, the day before the Oscar ceremony. It's about time.
Guillermo del Toro, perhaps the frontrunner for the Best Director prize, is Mexican by birth, as are two of the last three winners of that category (Alfonso Cuarón and Alejandro Gonzalez Iñárittu, who won twice in a row), but none of the acting nominees are Latinx, and only six times this century have Latin American actors earned such distinctions. That list is limited to Benicio del Toro (twice), Demián Bichir, Salma Hayek, Catalina Sandino Moreno, Adriana Barraza, and Bérénice Bejo, who didn't actually speak a word to earn her nomination. That's a pretty slim list, and it doesn't even include Lupita Nyong'o, who was born in Mexico, but identifies as Kenyan.
This is nothing short of pathetic, really, especially for the country's fastest growing minority, and yet it far surpasses the number of Asian performers who have been so honored. That list, by the way, has five names on it, and one of them is with an asterisk. Ben Kingsley (twice), Ken Watanabe, Dev Patel, Rinko Kikuchi (another silent performance), and the asterisk, Hailee Steinfeld, who is apparently one-eighth Filipino, and thus apparently qualifies (seriously). You'll notice that two of those names are of Indian descent, the other two Japanese, so we're really talking about two separate minorities here, which makes it even worse.
White-washing is an indisputable reality, and the most common attempt to justify it comes when producers or studios claim that white actors or actresses are put in roles originally conceived as Asian or Latino because there are no stars of those ethnicities big enough to carry such projects. This is a cop out of the highest order, and not terribly hard to fix, it's just that nobody in power seems to want that.
I have a little bit of experience in this area. Obviously, I'm not Latino, but over the course of the last year, I have had a series of meetings about an action project with which I'm involved that has a Latino male lead character. The universal response has been a love of the project, but an inability to move it forward, because, "there is no Latino movie star who could carry it." Literally, every single response has been that, and even as certain names have been mentioned, they have been just as quickly dismissed, because they "don't carry enough weight." Never mind the built-in Latinx audience eager to see someone who looks like them in a lead role, if one of these names were in fact cast, and the movie was a hit, then a movie star would be created, but nobody wants to take the chance. There are at least three other projects with which I'm familiar that are facing similar issues, and it's just as frustrating.
Getty Images
They would certainly do that with white actors, and constantly do, but with someone of color? Forget it. Seriously, who is the biggest male Latino star? Benicio? Michael Peña, maybe? And what about the biggest Asian-American name? John Cho, perhaps? Never mind that someone like Eugenio Derbez is a mega-star south of the border and opened last spring's $10 million budgeted How to Be a Latin Lover to over $12 million its opening weekend, over $32 million domestic, and over $60 million worldwide, or that there is a string of big Indian and Asian actors who are enormous stars across the Pacific, but barely known at all here. Executives are too shortsighted and skittish to understand that globalization is more than just putting a bunch of superheroes or cartoon characters in foreign theaters.
An industry that is struggling to survive needs to start embracing multiculturalism the way it's now attempting to embrace gender equality. When Crazy Rich Asians comes out this summer and is a big hit (which I am certain it will be), will it lead to more movies starring Asian actors? Or will it be viewed as an exception, thus having the same effect that so many female-led hits have had over the last several years, in that the studios have had to be constantly reminded of their appeal? It most definitely should be the former, but I fear for the latter, because people are dumb. The simple truth of it is that there could be a host of big time Latinx and Asian leading men and women, but Hollywood resists, which simply doesn't make a lick of sense to me in this supposedly new and open era of cinema.
It wouldn't be that hard to do, either. All they would need is follow the model that used to exist, rather than the one that now seems to be the norm. Remember when Julia Roberts became a huge star, after a series of smaller roles that earned her more and more attention until she finally broke through with Pretty Woman? Or Sandra Bullock doing the same thing with While You Were Sleeping? Well, say hello to the rise of Gina Rodriguez, who just wrote her own essay about this, and is about to hit the break through. A Sundance discovery through her work in Filly Brown six years ago, she started getting other key supporting roles, then became a TV star on Jane the Virgin. Now, she's carrying the Catherine Hardwicke-directed English language remake of the Mexican thriller, Miss Bala, for Sony. It doesn't have a release date yet, but you can be sure that, when it does, Sony is going to flog the hell out of it.
This is how you develop movie stars now, step by step, which, incidentally, is how it happened for Brad Pitt, too. Some of these other white guys might blow up overnight (while others don't, despite the studios' best efforts), but for someone like Rodriguez, slow and steady wins the race. Her situation is a perfect prototype for how to solve the problem to which the NHMC is rightfully calling attention, and the studios and film financiers need to recognize it before it's too late.
We as an industry like to think of ourselves as woke, but we're not. The fact that it's taken until now for #MeToo to take hold, or that we're still so far behind on other race and gender issues, should reinforce that. Now, things seem to finally be moving in the right direction. But while they are, let's make sure that we don't become so focused on a select few, that we ignore so many others who matter just as much.
---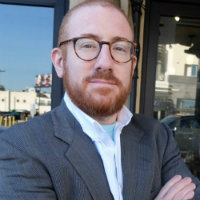 Neil Turitz is a filmmaker and journalist who has spent close to two decades working in and writing about Hollywood. Feel free to send him a tweet at @neilturitz. He'll more than likely respond.