All images courtesy of A24
A year ago, when we started this series almost by accident, we worked our way through the month of August by bunching up indie distributors and the streaming services because there wasn't enough on any of them individually to make up an entire piece on their own. Oh, how times have changed.
Take A24, for instance. The company has only been releasing movies since 2013, but in that time, it has established a reputation for quality that is second to none. It has released a consistent number of films each year, with a high of 20 in 2016, and, oh yes, is the distributor of the reigning Best Picture winner, Moonlight. On top of that, when the Hollywood Reporter's list of the Top 100 Most Powerful People in Hollywood came out last week, the company's trio of founders — Daniel Katz, David Fenkel, and John Hodges — came in at 90. Not bad for the new kids on the block.
So, the term "mover and shaker" can certainly be applied here, as A24 definitely goes for it with the films that make up its slate, even when those movies fail badly, like April's Free Fire. While the film got middling reviews and did no business ($1.8 million, and no, that's not in a day, that's the whole total), it was a ballsy flick that not every studio or distributor would try to release. Choices like that one are a pretty good barometer of what the company does. It takes chances, some of which work out very well (see: Moonlight, or 2013's Spring Breakers), and others that don't (like Free Fire, or 2014's Kevin Smith opus, Tusk).
Either way, it would be tough to pigeonhole A24 as the distributor of any one type of movie. While there aren't a lot of slapstick comedies coming out of there, pretty much everything else does. Go back to its first year, and aside from Spring Breakers, there's also Sofia Coppola's The Bling Ring, the Tim Tharp YA adaptation, The Spectacular Now, and the drama Ginger & Rosa. A year later, the company released 10 movies, including the Jenny Slate sleeper hit Obvious Child, the Scarlett Johansson sci-fi flick Under the Skin, the fascinating Tom Hardy solo piece Locke, and, one of that year's best movies, A Most Violent Year, which might have received a Best Picture nomination had it not been put in theaters on December 31, too late for Academy members to pay it much mind.
The next year, though, was something of a watershed for the company, as it put out nine films, but the success rate was much higher, both in box office grosses and in acclaim. It was in 2015, after all, that saw the release of Ex Machina, the documentary Amy, the Noah Baumbach dramedy While We're Young, The End of the Tour, and, of course, Room, which means that not only was 2015 the first year that the company won an Oscar, it also won three of them, for Best Actress (Room's Brie Larson), Feature Documentary (Amy), and Visual Effects (Ex Machina).
Just like that, the company had joined the big boys and had to be discussed in any conversation about the most important indie distributors in the business. And this was before 2016, when it put 18 movies into theaters. Aside from Moonlight, which ended up doing $65 milling worldwide on a budget of just $1.5 million, there was also The Witch, a movie that cleared $25 million domestic and over $40 million worldwide, Greek director Yorgos Lanthimos' The Lobster, the Daniel Radcliffe-starring Swiss Army Man, the Patrick Stewart-playing-a-white-supremacist thriller Green Room, as well as Mike Mills' astonishing autobiographical drama, 20th Century Women. Throw in acclaimed, but smaller grossing films, like American Honey, Oasis: Supersonic, and De Palma, and even though the company only grossed $65 million at the domestic box office for the year, 2016 can't be considered anything but a success. Even more so when, following the kerfuffle of the wrong envelope being mistakenly opened, its film was crowned the year's Best Picture.
Like many other indies, some of the movies the company puts out are developed internally, others are purchased. Moonlight, for instance, was the former, Free Fire, the latter. Its 2017 slate is a similar mix, with the aforementioned Free Fire among them. The Michael Fassbender-Brendan Gleeson drama Trespass Against Us only made $5,700 at the box office in one weekend of release. The Blackcoat's Daughter barely cleared $20,000. The period piece, The Exception didn't quite make a quarter million. All of those were purchased, and none of them did all that well, obviously.
The Debra Winger comeback vehicle, The Lovers, was developed internally, as was It Comes at Night, which is far and away the biggest hit the company has had thus far this year. The Lovers made about $2.2 million, while It Comes at Night has already done more than $13 million in its first two weeks, while playing on over 2,500 screens, which makes it the largest release that A24 has ever had, by quite a margin.
In fact, only two other movies have made it to as many as 2,000 screens. The first was Ex Machina, the second, just last year, was The Witch, but neither came close to Night, which could very well surpass Moonlight's $27.8 million to become the company's biggest ever domestic grosser.
There are still seven movies left on the slate for the year, and while there are a couple that don't exactly scream blockbuster — the ultra-orthodox Jewish family drama Menashe, for instance, or the paranoia thriller, Woodshock, starring Kirsten Dunst — but A Ghost Story, acclaimed filmmaker David Lowery's follow-up to Pete's Dragon, starring Casey Affleck and Rooney Mara, definitely has some solid prospects, including a little awards chatter.
That's really what's going to be important here, as everything else coming down the pike has at least that going for it, if not major box office potential. A Ghost Story and Menashe both hit theaters in July, with Woodshock set for September 15. In between, on August 11, is Good Time, with Robert Pattinson, Jennifer Jason Leigh, and Barkhad Abdi, in the twisty tale of a bank robber unable to evade those looking for him.
Then, starting in October, the real nitty-gritty starts, beginning with director Sean Baker's follow-up to his stunning debut, Tangerine. The Florida Project was a big hit at this year's Cannes Film Festival, where A24 picked it up and put it into the prime October release spot, just in time for the true beginning of awards season. Four weeks later is Lanthimos' next film, The Killing of the Sacred Deer, which the company actually produced, and four weeks after that is James Franco's take on Tommy Wiseau's legendary film, The Room. The Disaster Artist, in which Franco not only directs, but also stars as Wiseau, is one of the year's most anticipated films. It was a huge hit at South by Southwest, where A24 picked it up, and has fantastic buzz attached to it, months ahead of its December 1 release.
Even though there is currently nothing on the slate for 2018, with the company's strategy of buying films at festivals — Toronto, Telluride, and Venice are all coming up — as well as producing them in house — like Jonah Hill's directorial debut, Mid '90s, a David Goyer horror project, and James Ponsoldt's history of MTV — that slate is going to fill in pretty quickly.
There is a fair amount of prestige involved here, and with that prestige, generally, comes box office. It fits in with the business that A24 has been building over the last few years. Find provocative and interesting films, put them out on a certain number of screens, and hope that several of them will find an audience, if not win some awards. It sounds pretty simple, but A24 is one up on its fellow indies in that it tends to release more films per year, thus giving it more opportunities for breakthroughs and sleepers. Also, there's the fact that, while there isn't necessarily one specific genre in which the company specializes, you could point to the movies it has released and recognize that they are "A24-type films."
In the world of independent film, and the distributors involved, having a definitive identity is a major part of the battle. It's a battle that, for now, A24 appears to be winning.
For more entries in our studio series, click here.
---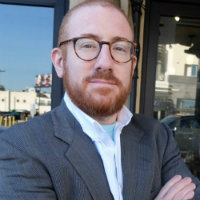 Neil Turitz is a filmmaker and journalist who has spent close to two decades working in and writing about Hollywood. Feel free to send him a tweet at @neilturitz. He'll more than likely respond.