Mondo/WB
So I saw Justice League over the weekend and as I was watching the film, it became pretty clear to me that Zack Snyder was in a no-win situation here. If people liked it, then replacement director Joss Whedon was going to get a lot of the kudos, and if they didn't, Zacky Boy was going to get most of the blame. He is, in the end, the only director credited on the film, and it was always his baby, this being the third DCEU movie he has helmed for Warner Bros. — and the fifth the studio has released. The final recognized cost of the film, I am told by Someone Who Knows These Things, is $275 million, with another $150 million spent on marketing, which means it has to do around $750 million worldwide to break even, and that's counting $100 million or so in ancillary revenue.
Now, from a business perspective, this means little to Warner Bros., because the merchandising profits alone will be in the nine figures, and will more than make up for any losses the film might incur. Or didn't you notice all the little Wonder Women ringing your doorbell this past Halloween? Still, for the pure optics of it, if the movie doesn't surpass Wonder Woman's $821 million worldwide, much less its $412M domestic gross (and with its $96 million opening, it sure won't), it has to be seen as something of a failure.
More specifically, Zack Snyder's failure, because his inability to shoot a coherent film is what led to Whedon's involvement in the first place. Yes, I know Snyder suffered a horrible family tragedy, but we must recognize the enormous amount of reshoots that occurred over the summer, reshoots that were required because the movie Snyder originally shot was, according to the same Someone as above, frankly unwatchable.
The finished product is not. It is, ultimately, not nearly as awful as I expected it to be. This appears to be a fairly common reaction to the movie, which should tell you a great deal about Snyder's recent DCEU work and the low expectation that has set. How often do you go into a film made by an "elite" director with that kind of negative attitude? Your answer should echo mine: never.
That same Someone told me a story from the reshoots that should provide some insight as to why this is a phenomenon specific to Snyder. During a scene, Whedon gave one of the actors a bit of direction and told him to say his line as written. As the actor was walking toward his mark, he said absently, "It'll be something like that, yeah." It was at this point that Whedon stopped him in his tracks, called the entire cast over to him, and sternly reprimanded them about this practice they had apparently developed wherein they just say whatever they want, rather than what was written. He made it clear to them that this practice was to come to an immediate end, and it did. Afterward, it was pointed out to Whedon that, essentially, Snyder's attitude towards the script was… indifferent, to say the least.
Lack of respect for the written word is precisely the problem with Snyder's work, and the main reason why he is at something of an odd crossroads in his career. Snyder simply does not care a whit about telling a coherent story, and is only concerned about how the thing looks. He makes very pretty pictures, and even if he has a baffling affection for color desaturation, there is little doubt that the movies he directs often feature some stunning visuals, from 300 to Watchmen. But look at his oeuvre, and you'd also be hard-pressed to find much in the way of actual storytelling.
I will recognize that he has made three movies that more people like than dislike, though I can only claim true appreciation for his first, a remake of George Romero's Dawn of the Dead. His next two movies were 300 and Watchmen, and I generally choose to agree to disagree with people about the quality of those movies. I happen to think the first is a triumph of visual effects in service of a ridiculous story, and that the second is a disappointing adaptation of the greatest graphic novel ever written. It is, essentially, a panel-for-panel film version of Alan Moore's epic, which makes it coherent, even if there is nothing terribly imaginative, cinematic, or dynamic about it.
After the animated Legend of the Guardians: The Owls of Ga'Hoole — which I have not seen and, therefore, cannot judge — came the completely incomprehensible Sucker Punch, and then the three DCEU films — Man of Steel, Batman v Superman: Dawn of Justice and now, Justice League. The first two can charitably be referred to as movies that some people found somewhat entertaining, and combined, they grossed about $1.5 billion worldwide — which is what is so strange about the crossroads at which Snyder finds himself.
I think it's safe to say that most directors who have achieved the same level of financial success that Snyder has achieved wouldn't find themselves in so much professional trouble at this stage of their career, especially without a scandal to jeopardize his standing in the industry. And yet, that's exactly where Snyder sits, especially after Justice League's weak opening. Some have insisted that his partnership with Warner Bros. is over, and that the studio has no further interest in working with him, though at the moment, the studio is slated to make his next film, The Last Photograph, in March… though the studio isn't listed on the film's IMDb page. I suppose we'll see how that shakes out, but it's sort of besides the point.
No matter who releases The Last Photograph, a drama about two men and the picture that inspires them to travel to war-torn Afghanistan, the movie now serves as something of a referendum on Snyder's career. The man who let his actors say pretty much whatever they wanted while shooting this enormous superhero movie, and paid the consequences for that laissez-faire attitude, now has to show that the written word actually has value to him as a storyteller. Snyder co-wrote the script with his 300 collaborator Kurt Johnstad, and as I mentioned above, I wasn't terribly impressed with that film, so my expectations aren't terribly high for this one. But then again, I'm not the one Snyder needs to impress with his next at-bat, as I'm not empowered to hire him for whatever might come after this one, which has a lot riding on it.
It's important to note that each of the three movies he made after 300 and before Man of Steel lost money, and The Last Photograph will be just the second film he has made that isn't based on some form of IP. The other was Sucker Punch, which is hardly a great precedent, being as it is his biggest flop, forcing Warners to take a write-down of about $50 million on the fantasy project. I don't know what the budget on this next one is going to be, but my bet is it'll be a fraction of the $82 million he got to make that flick. Meanwhile, if The Last Photograph suffers the same fate at the box office, alarm bells are going to be sounding all over town, if they aren't already.
You might chide me for being especially bearish on Snyder's prospects moving forward, but the thing is, just as I can't think of any directors of his stature whose work engenders such low expectations, nor can I think of any who made a bunch of high-profile movies, and only then became a strong, assured, and skilled filmmaker. Usually, someone shows signs of improvement on their way to such revered status, and doesn't, y'know, all of a sudden figure things out. It's possible Snyder will become the first, but, come on, that doesn't seem terribly likely…
---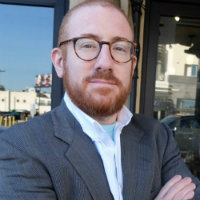 Neil Turitz is a filmmaker and journalist who has spent close to two decades working in and writing about Hollywood. Feel free to send him a tweet at @neilturitz. He'll more than likely respond.