Getty Images
I've said it before in this space, and I'll say it again: The Shape of Water was my favorite film of 2017. I was thrilled that it took the Best Picture trophy the other night, just as I was that Guillermo del Toro deservedly took home Best Director. As I've talked about the movie over the last few months, and people have asked me if it's worth seeing, I've always given it a high recommendation, even when someone tells me, "Yeah, but I'm not a big del Toro fan." "It's okay," I always respond, "I'm not, either."
After his double win over the weekend, I was reminded of this attitude towards his work, and it made me think of the other directors who have won this ultimate honor and consider where he fits into the overall hierarchy of those who came before him. Because not every winner of this award is a Steven Spielberg, a Martin Scorsese, or an Ang Lee — or going back further in time, a John Ford, a Billy Wilder, or a William Wyler. There is a long line of directors who won the Oscar for a film that far surpassed anything else they might have done in their careers, either before or after.
For all the Hall of Famers on the list of this century's winners, there are plenty of talented, capable helmers like Michael Hazanavicius (The Artist) and Tom Hooper (The King's Speech) — hell, even Peter Jackson (The Lord of the Rings: The Return of the King) — who captured the Academy's imagination with something special, but haven't come close to reaching the level of their Oscar-winning work, even if their other films earned various other Oscar nominations.
I bring this all up because del Toro is an inventive, talented filmmaker who made some visually stunning pictures over the years, but who never came close to putting it together quite the way he did with The Shape of Water. I know that Pan's Labyrinth has its defenders, but come on, it's nowhere near what he accomplished with his latest film. While the work he has done might have suggested to some that he was capable of something like this, it certainly never occurred to me. My surprise at how beautiful Shape was, both visually and emotionally, carried through to my second and third viewings. This, I realized, was a tour de force, and I just never knew the director of Pacific Rim and Crimson Peak — his last two movies before this — had it in him.
Which is why I now wonder what's next for him. Will he take the ball and run with it, or will he go back to making visually dazzling, but ultimately lesser films like before. You can argue that many of those movies were simply genre flicks, but that defense doesn't really fly, because truly great directors can elevate material beyond the confines of its genre. Like Ang Lee taking the framework of a kung fu flick and giving us Crouching Tiger, Hidden Dragon, or Spielberg turning a standard war movie into Saving Private Ryan. Up to now, I don't think del Toro has done that. His previous films were mostly solid, with a couple real clunkers in there, but nothing that elevated him to the next level of filmmaker where everything he does must be paid special attention.
Except now, he has done something that puts him in that category, and so whatever he decides to do next — be it the live-action version of Pinocchio, a remake of either Fantastic Voyage, The Haunted Mansion or the little-seen 1947 noir thriller Nightmare Alley, or something else entirely — suddenly carries a great amount of weight and importance. Del Toro has a unique opportunity to build on his triumph at the Academy Awards, and thereby avoid the same fate that has afflicted so many other winners of the Best Director award.
Working in his factor is his tendency to take chances and make films that aren't necessarily mainstream. That's why I think that whatever he does, whether it's one of the above mentioned projects or not, it's going to at least look good, and will take certain risks that many mainstream directors, if not most of them, probably wouldn't take. That, in fact, is exactly what's behind the success of The Shape of Water, a period love story involving a woman and a fish man, that he somehow elevated beyond its humble genre origins. For the first time, del Toro figured it out, which makes me think that when the next opportunity comes, he might be able to repeat the trick.
I once had a conversation with a director who won an Oscar, and he said that the best thing the award did for him was give him pretty much carte blanche to do a couple things that he really wanted to do, and no one was going to immediately penalize him if they didn't work out quite right. That's the position that del Toro now finds himself in, and I'm sure he's fully aware of that opportunity, even as he takes a victory lap for The Shape of Water.
The question becomes whether del Toro wants to take full advantage of this moment, or whether he'll settle for the "yes's" that he's already received around town. Does del Toro hunger for a whole new level of acclaim and respect, and is he even able to attain it after his Oscar win, or has he hit his ceiling? I'm obviously not sure, but I'm definitely hoping that he'll continue to push himself to new heights. I'm absolutely willing to give him the benefit of the doubt until we see what's next, whatever it is. He's certainly earned my blind faith after Shape.
---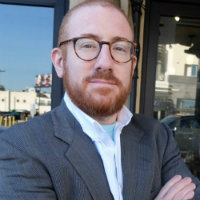 Neil Turitz is a filmmaker and journalist who has spent close to two decades working in and writing about Hollywood. Feel free to send him a tweet at @neilturitz. He'll more than likely respond.