I always loved John Mahoney. Even before I really knew who he was, I knew enough to understand that he was that sort of character actor who was clearly a member of the That Guy club, wherein as soon as you see him, even if you don't know his name, you still say, "Oh! I know that guy!" Harry Dean Stanton was a member, too, as are literally dozens of others who populate our movies and TV shows with consistently solid work that keeps them perpetually employed.
But Mahoney was different. There was something fatherly about him, even before he became known for playing two of the most famous dads of the past few decades. The first time I noticed him was in the 1985 movie The Manhattan Project, in which he had a small part as an Army colonel trying to avert a nuclear disaster. Three years later, he played the manager of the infamous Chicago Black Sox team in John Sayles' terrific baseball movie Eight Men Out. He co-starred in that film with John Cusack, and just one year later they re-teamed for Cameron Crowe's Say Anything… — a career highlight for both actors. That's when I realized John Mahoney was truly someone special.
For someone of my generation, there aren't too many romantic comedies better than Say Anything…, which explores the kind of first love that only seems to exist for teenagers, even if there's something timeless about it. The relationship between Cusack's Lloyd Dobler and Ione Skye's Diane Court made the movie special, but it was Mahoney as Diane's dad, James, who elevated it into another realm.
James Court ran a retirement home, and was a single dad raising a gifted daughter. James loved his daughter so much, he was willing to steal from his residents to give her everything she needed to succeed. It's a heartbreaking story arc for the character, who could have been something of a one-dimensional villain, but Mahoney humanized him. He goes from triumphantly singing a Steely Dan song in his car upon hearing some good news about Diane, to hiding in his bathtub after realizing that he's about to go to jail, terrified at what his life has become. Through it all, he still wants his daughter to recognize what he's done for her, which is even more tragic. He did such a good job raising her, teaching her morality and the difference between right and wrong, that she is appalled by his behavior and can't forgive him for it. Laurie Metcalf deservedly earned an Oscar nomination this year for playing a devoted and put-upon mother in Lady Bird, but I would argue that Mahoney's work in Say Anything… had even more depth and resonance, and if that movie were to come out today, he would have been similarly honored.
Mahoney's biggest and best known role, of course, was on Frasier, as Martin Crane, the title character's father. The show ran for 11 seasons, and yet somehow, he was only nominated for two Emmys in that time. His co-stars, Kelsey Grammer and David Hyde Pierce, each won a bevy of trophies, but Mahoney's blue-collar father figure was the rock that grounded the show and kept it from spiraling into full-on pretentiousness — a fact that was perhaps best illustrated in a monologue from the show's first season, in which he chastises his two sons for their boorish behavior at a steak house.
"Alright, that's it," he says. "I've had enough of you two jackasses. I've spent the whole night listening to you making cracks about the food and the help. Well, I got news for you: People like this place. I like this place. And when you insult this restaurant, you insult me. You know, I used to think you two took after your mother, liking the ballet and all that, but your mother liked a good ball game too. She even had a hot dog once in a while. She may have had fancy tastes, but she had too much class to ever make me or anybody else feel second-rate. If she saw the way you two have behaved tonight, she'd be ashamed. I know I am."
I remember watching that and wanting to jump up and applaud. It wasn't just the line, it was the way Mahoney said it, which, of course, is the whole point. It didn't feel like an actor delivering a line, it felt like a father who was terribly hurt by and disappointed in his two sons. It's something every son has heard from his father at some point, and to see it play out in such a realistic fashion, it gave me chills back then, just as it gave me chills again while writing about it.
If Mahoney's career was defined by those two roles, that would be impressive enough, but he was far more than that. He somehow played fatherly to Clint Eastwood in In the Line of Fire as Sam Campagna, a friend and former boss at the U.S. Secret Service, and to Annette Bening as Leo Solomon, the head of an environmental lobbying firm in The American President. In the latter movie, he has yet another a great moment when he tells Bening's Sydney Ellen Wade that you can clock with an egg timer how quickly one can fall from a hired gun to a cocktail party joke. Literally two minutes later, after she receives a gift from the President in Leo's office and is referred to as "the President's girlfriend," he shakes his head and famously laments, "There's never an egg timer around when you need one." The line cuts like a dagger from a disappointed dad trying to teach his precocious daughter something important that she just can't seem to grasp.
The whole point of a character actor is that they are chameleons. They don't always play the same part, but rather switch between the good guys and bad guys, alternately displaying grace and menace, because that's their job. But Mahoney always brought gravitas and a sense of trustworthiness. He wasn't just another member of the That Guy club, he had earned an immediate trust whenever he showed up on screen. His gravelly voice was a comfort, even when he unleashed unbridled pain, like when he yelled at Cusack, "I'm incarcerated, Lloyd!" It was the line that he once said was quoted back to him more than any other, and he loved it, because it reminded him of the impact he could have with his work.
John Mahoney went toe-to-toe with remarkable, Hall of Fame talents — heavyweights who command the screen whenever they're on it. He did that and he shined, probably because he was a heavyweight himself.
---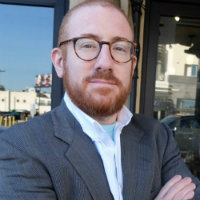 Neil Turitz is a filmmaker and journalist who has spent close to two decades working in and writing about Hollywood. Feel free to send him a tweet at @neilturitz. He'll more than likely respond.