Getty Images
You may have noticed last week that Apple announced another new show it's developing for its burgeoning content division. It's a futuristic drama called See from Steven Knight, the Oscar-nominated writer of Dirty Pretty Things and the hit Netflix series Peaky Blinders, and Francis Lawrence, who directed the last three Hunger Games movies and the upcoming Jennifer Lawrence (no relation) thriller Red Sparrow.
Neither the writer nor the director are exactly household names, but within the industry, they represent some major firepower for an eight-episode Apple series. See is one of several high-profile Apple projects along with a new sci-fi series from Ronald D. Moore (whose resume includes Battlestar Galactica and Outlander), a morning show dramedy that will star Jennifer Aniston and Reese Witherspoon, a reboot of Steven Spielberg's 1980s anthology Amazing Stories, and an adaptation of Kathleen Barber's true crime bestseller Are You Sleeping: A Novel, among others.
All of this fits right in with Apple's apparent mandate to spend roughly a billion dollars on content this year as the company gets its new entertainment division up and running. Clearly, the talent is there, and the projects certainly appear to have a lot of potential, but the whole thing has me a wee bit confused, and I'm not quite sure I know what to make of it all. Allow me to explain…
Last summer, Apple announced it was going to spend 10-figures to develop its own programming, and people went a little nuts, but they kind of did so without asking a couple of key questions that, near as I can tell, haven't actually been answered yet. The first one is the biggest, which is, where is this content going to play? Apple is worth almost a trillion dollars as a company, and has over $250 billion in cash at its disposal. That's right, in cash. Which means that spending a billion dollars on a bunch of new TV shows is about the same as my deciding I'm going to buy that jacket I just tried on — not because I need it, but because I look good and I might wear it now and again. It's throwaway money. Money that will barely make a ripple in the vast ocean that is Apple's worth.
I'd say that leads me to my second question, about why it's such a small amount, but I still need to work out the "where" of it all, so let's come back to that one. It's my understanding that Apple will make its shows available via Apple Music and, one would assume, the iTunes Store, but those aren't optimal portals through which to consume such programming. Does that mean Apple is going to start a streaming service of its own? It can certainly afford to do so, but with such little content to start, it wouldn't be very popular, especially since one would be able to burn through the company's entire programming lineup in a couple days.
Apple could probably buy Netflix if it wanted, which would actually make some sense, because then it would become a part of the company the way Amazon Studios is for, y'know, Amazon, and it would solve the revenue issues that are soon going to become a major problem for the streaming service. CNBC disagrees with that idea, thinking that it's too late for such a move because Netflix would probably cost about $200 billion, which may be too much, even for Apple. Also, there's the fact that Apple tends to build its own stuff, rather than buy it at a premium elsewhere. So, barring that unlikely acquisition, I don't really know what Apple's plan is in terms of content delivery, because farming it out to another network or streaming platform would, I think, sort of defeat the whole purpose.
And that leads us back to the other question, about how Apple expects to make a big splash by spending so little. Now, I recognize that a billion dollars is a whole heck of a lot of money, but, again, in the grand scheme of things, it's sort of a pittance. For frame of reference, Netflix, which is about one-tenth the size, is expected to spend eight times that amount on its own programming this year. Not only does Netflix have a well-designed streaming platform, but it has had a big head start in terms of proving itself to both the industry and consumers. If Apple is really going to dive into this hyper-competitive space, one would think it would do so the way it does everything else — whole hog, and with nothing less than the entire world in its crosshairs.
Perhaps I'm being cynical, but right now, it feels like Apple is just dipping its toes in Hollywood's notoriously treacherous waters, and I can't recall another time in the history of the entertainment industry when that kind of thinking actually worked. I'm not saying that Apple needs to write a check for $10 billion smackeroos to ensure the success of its entertainment division, but there is something that feels just a little bit off about all of this. It just seems like this plan is either still coming together, or it's finished, but it hasn't been fully implemented or revealed yet. Apple obviously has an idea in mind for what, exactly, it's going to do with this new content, but if that's the case, why delay its announcement about what that concept is? Is the company waiting for one of its big conferences, when the CEO comes out and presents the newest toy to the enthralled masses? "Ladies and gentlemen, presenting the iPhone XV and our new streaming service, Apples and Oranges!"
That just doesn't really make any sense to me, because if you're going to announce that you're suddenly in the content business, wouldn't you also want to announce how you're going to distribute that content to consumers, who are ready and waiting for another game-changing move by Apple? Why leave that question hanging in the air for annoying pundits like me to ask it?
The folks at Apple are smart, almost certainly smarter than I am, so I'm willing to trust them for the time being, especially with former Sony Pictures Television presidents Jamie Erlicht and Zack Van Amburg at the helm. But the longer the company waits to reveal the specifics of its distribution plan and let us know how we'll be able to enjoy all these upcoming shows, the more it risks getting the short end of the stick from both the creative community, and audiences who will have already committed their annual entertainment budget elsewhere.
---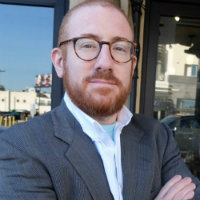 Neil Turitz is a filmmaker and journalist who has spent close to two decades working in and writing about Hollywood. Feel free to send him a tweet at @neilturitz. He'll more than likely respond.