Y'know, it's funny, you'd think I'd look forward to compiling a year-end list considering how much time and energy I spend in this space every week, but I don't. Not really. I mean, it's not that I dread the idea or anything, it's just that it all sort of sneaks up on me, and I end up having to scramble to put something coherent together rather than be laughed out of the Columnist Club, so it's a little stressful. Also, I inevitably forget something.
But it's sort of the law of the land that, if you have some kind of outlet like this, you're required to compile a gaggle of projects that you like and declare to one and all that they are "the best" of a given year. Because I am something of a contrarian, though, I put a different spin on it, choosing instead to talk about my favorites of the year, rather than the best. It's more personal that way, and at least for me, more fun.
As I look back over the landscape of this year, I find that there are a lot of things I enjoyed, but few I genuinely loved. With that in mind, let's jump right in and talk about those select few, why they made the list, and, of course, their Six Word Review.
Logan — "A brilliant and moving character coda."
Sorry, Wonder Woman fans, but this was far and away the best superhero movie of the year. Maybe the best one since Captain America: The Winter Soldier back in 2014. There was a lot of stürm und drang about what this movie would be before it started shooting, but star Hugh Jackman kept saying that they weren't going to move forward until they had it right. Now, director James Mangold and his co-writer, the great Scott Frank, are in the mix for an Oscar nod for their adapted screenplay. It's a crime that Hugh's not in the running for a Best Actor nod. Honestly, few films this year moved me quite as much. Speaking of moving…
Wonder — "Wonderful. I didn't cry! Shut up!"
Okay, I was a damn puddle in the movie theater, and not just at the end. At least four different times in the movie's 113 minutes, my "allergies" were acting up something fierce. I think it's long past time that we talk about how gifted a filmmaker Stephen Chbosky is. He's made two movies now, and the first was The Perks of Being a Wallflower, which was only one of the best movies ever made about being in high school. Wonder could easily have slipped into eye-rolling treacle, but it is instead heartfelt and uplifting, and the film is indeed a feat of, yes, wonder.
Stronger — "Wow. Please go see this movie."
Jake Gyllenhall keeps showing again and again how good an actor he has become, and perhaps never more so than in this true story about Boston Marathon Bombing survivor Jeff Bauman. I don't understand why both he and co-star Tatiana Maslany are long shots for Oscar nods, because they, and the movie, fully deserve them.
The Shape of Water — "A magical, haunting, beautiful fairy tale."
I've never been much of a Guillermo del Toro fan, to be honest, but boy oh boy, is this film fantastic. Aside from how spectacular it looks, it's also a gorgeous love story, with stupendous performances from Sally Hawkins, Richard Jenkins and Octavia Spencer, each of whom is now on the list of actors I will pay to watch read the phone book. A tour de force from start to finish.
Call Me by Your Name — "Enchanting. Heartbreaking. Stunningly, achingly, epically beautiful."
Sorry to repeat the adjective "beautiful," but if any two movies this year deserve it, these two are the beginning and ending of the list. The look, the feel, the sound, the music, and, of course, the performances, made this one of the year's singular cinematic experiences.
GLOW — "Terrific, hilarious trip to the Eighties."
I've always been a fan of both Alison Brie and Marc Maron, so I was prepared to like this sitcom take on the Gorgeous Ladies of Wrestling. I was not, however, prepared to find it as fantastic from start to finish as I did. "Hilarious" doesn't really begin to cover how funny this Netflix show is, and now I'm very much looking forward to Season 2.
Rick and Morty — "So funny, I plotzed. Truly bonkers."
Yup. Plotzed. It would probably be considered the smartest show on television if it weren't animated, but that's okay, because those of us who watch this Cartoon Network gem know better. The brainchild of Justin Roiland and the gifted Dan Harmon (creator of the late and lamented Community), this show never fails to be both uproarious and thoughtful every single episode.
Brockmire — "Quite simply this century's funniest show."
Sounds hyperbolic, right? It's not. Hank Azaria plays the title character, a disgraced baseball play-by-play man, and the Emmy winner has never been better. Same goes for co-star Amanda Peet, doing her best work in close to 20 years. Creator Joel Church-Cooper has made a show that will leave you gasping for breath and crying from laughter. Genius. Also genius, these two shows, both of which wrapped their runs this year…
Halt and Catch Fire — "The best show you never watched."
Chances are, anyway. This AMC drama about the beginning of the personal computer era, that turned into one about the dawn of the internet, had it all — great characters, strong writing, terrific drama. It deserved better ratings.
Longmire — "An epic, romantic, thrilling modern western."
For six seasons, it was a damn pleasure to spend time with Sheriff Walter Longmire in Absaroka County, Wyoming. Star Robert Taylor solved crimes with style and aplomb, and no small amount of small-town smarts. A dynamite supporting cast included Katee Sackhoff, Lou Diamond Phillips, Gerald McRaney, Cassidy Freeman and Adam Bartley, all of whom turned in stellar, career-best work. Never seen it? Get thee to Netflix.
Happy Death Day — "Surprisingly fun, enjoyable horrified Groundhog Day."
Yup, you read that right. I'm including a silly horror movie on my favorites of the year list, perhaps because no movie surprised me more than this one. I went into it thinking it'd be just another mindless slasher flick with a fun twist, but I have to tell you, I was just delighted from start to finish. The fact that I figured out who the killer was about halfway through didn't even bother me, which is as good an indication as any that the journey was worth more than the destination. Star Jessica Rothe and director Christopher Landon both have very bright futures ahead of them.
The Post — "Inspirational. A truly brilliant journalism movie."
I love Steven Spielberg. Always have. But truth be told, I don't think he's made a really great film this century. Until now. It's maybe the second-best movie ever made about journalism (after another Washington Post film, All the President's Men), and is as timely a movie as you'll find right now, with a spot-on script by Liz Hannah and Oscar winner Josh Singer (Spotlight). As a free press is attacked, it's nice to be reminded why our founding fathers thought it so important to protect it, under any circumstances. Even if it calls out our own government. Especially then, in fact. A triumph.
There were also spectacular performances in movies I really enjoyed (and at least one that I actively disliked), but which didn't quite make this list, such as James Franco (The Disaster Artist), Charlize Theron (Atomic Blonde), Frances McDormand, Sam Rockwell and Woody Harrelson (Three Billboards Outside Ebbing, Missouri), Sam Elliott (The Hero), Gary Oldman (Darkest Hour), Margot Robbie, Sebastian Stan, Allison Janney and Paul Walter Hauser (I, Tonya), Jeremy Renner (Wind River), Laurie Metcalf (Lady Bird), Mary J. Blige (Mudbound) and Willem Dafoe (The Florida Project).
Likewise, space limitations preclude me from going too deeply into other shows I loved, including The Leftovers, The Deuce, Stranger Things 2, Better Things, Curb Your Enthusiasm, Better Call Saul, One Day at a Time, Catastrophe and Ken Burns' The Vietnam War — and that doesn't even include shows I know I'm going to love, but haven't yet had the time to watch.
As I look over my list, I know I'm leaving some stuff out — movies and shows and performances that I thoroughly enjoyed, but which I am, for some reason, neglecting to mention. Like I said above, this is part of why I find these year-end pieces things so frustrating. They end up being more stressful than the ultimate payoff rewards. Having said that, though, it's hard not to point out how much enjoyment I've taken from the art of moving pictures over the last 12 months.
Honestly, it's why, no matter how much trouble the industry might find itself in, I never lose faith in Hollywood's ability to move me and make us all feel something special. Not ever. Happy New Year, everyone.
---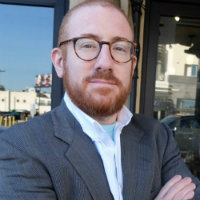 Neil Turitz is a filmmaker and journalist who has spent close to two decades working in and writing about Hollywood. Feel free to send him a tweet at @neilturitz. He'll more than likely respond.