Getty Images/Eon-MGM
Since we're now less than two years away from the next James Bond movie, purportedly the final one in Daniel Craig's brilliant run as 007, we're finally getting some rumblings about who might actually direct the thing. There was of course the wishful thinking of a Christopher Nolan or a Denis Villeneuve, but those were always pretty pie in the sky suggestions. This week, the scuttlebutt has Oscar winner Danny Boyle emerging as the frontrunner to direct BOND 25, and I, for one, would like to speak out against that idea. With extreme prejudice.
Nothing against his skills as a director — though I think his recent filmography is, shall we say, inconsistent, and we'll get to that in a bit — but the truth is, I just don't think his style is conducive to what a James Bond movie should be in this day and age. Boyle's skills lie in the extraordinary. He takes simple ideas and turns them into something else. He did it with his first film, Shallow Grave, elevating relatively straightforward material into a film that Hitchcock in his prime would have appreciated. He did something remarkable with Trainspotting, spinning out a kind of psychological psychedelia for an audience that left theaters dazed and exhilarated. He turned the zombie genre on its head with 28 Days Later…, and somehow took something as basic as the story of a hiker who gets his hand stuck under a boulder into a sort of mystical masterpiece, earning his second and third Oscar nominations for co-writing and directing 127 Hours. Boyle also directed James Franco to his first Oscar nod in the process, so it's not like the man doesn't know what he's doing.
I haven't even mentioned the film for which he won his Oscar. Slumdog Millionaire is a beloved work that, again, showed a director elevating simple material into something special. I don't happen to love that movie as much as others do, but I respect its quality and totally recognize the fact that a lesser director would have turned it into a sentimental mishmash. Actually, I think an even greater triumph is the production of Frankenstein that Boyle directed for the London stage, which was filmed and played briefly in theaters over here. Starring Jonny Lee Miller and Benedict Cumberbatch, it's a stunning piece of theater, unlike anything I've ever seen before — and that's not something I say too often.
Even if I happen to think his last trio of features — Trance, Steve Jobs, and T2: Trainspotting — are lacking at best (and, in the case of that last one, totally unwatchable, at worst), that, too, is not my issue. Each of those, while not my cup of tea, were standard Boyle films, in that they were shooting for something different and beyond the norm. His first misfire, 1997's A Life Less Ordinary, could double as a label for his career.
I say all this so that you don't think I'm writing a hit piece on Boyle as a filmmaker. Aside from not being my style, it's not remotely warranted. There is no questioning the director's talent, nor can one argue about the fact that his successes outweigh his failures.
But that doesn't mean he's the right man to helm Bond 25.
Let's set aside the fact that Boyle doesn't have a lot of action on his resume, or that while he did work with Craig on the short film they made for the 2012 London Olympics opening ceremonies, the two haven't actually made a feature together. Of course, the latter isn't a disqualifying factor, since although Sam Mendes had made Road to Perdition with Craig before taking on Skyfall and Spectre, neither Martin Campbell nor Marc Forster had worked with the actor before directing Casino Royale and Quantum of Solace, respectively.
No, the real reason that Boyle is all wrong for Bond 25 is the timing. He might be the right guy to reimagine the character down the line, but that's not the kind of thing that the Bond franchise needs right now. The recent James Bond movies starring Daniel Craig are not groundbreaking pieces of work. They are, as Dame Judi Dench's M once described Bond himself, blunt instruments. They are cartoonish thrill rides of action and suspense, featuring the suavest and most superior of British secret agents as he saves the world from certain disaster. That formula has been working and doesn't need to be messed with, at least until Craig is gone for good. After all, if it ain't broke, why fix it? Each Bond is different, and that's important to consider. When the next Bond star is fitted for his (or her) tuxedo, Boyle might be right filmmaker to oversee the next chapter of this long-running spy franchise, but now? It just doesn't make any sense.
Interestingly, while I am on record as not being a huge fan of Nolan's, he is a much better fit for something like this, because what his strength is in taking a "small" idea and giving it scope. If he were forced to work with a cohesive story, as he surely would for a plot-heavy Bond film, then I'd certainly pay to see that movie. That's what this Craig's last outing as 007 needs — scope and spectacle, and neither of those are exactly in Boyle's wheelhouse. If you doubt it, look no further than his attempt at sci-fi, Sunshine, which is one half of a great movie before it runs completely and totally off the rails midway through. That's when it turns from a bold and exciting contained psychological thriller into an incomprehensible parable of life and death with a bunch of incoherent action beats mixed in. It's one more noble failure from a director who would almost certainly try something similar here, because that's his whole raíson d'être as a filmmaker.
Apparently, Boyle is working on a script for Bond 25 with John Hodge, with whom he has collaborated on six films. Hodge hasn't really done a whole lot of action, either, and while the two made the first Trainspotting and Shallow Grave together, they also have A Life Less Ordinary, T2 and Trance on their shared resume. Still, it's worth giving them the benefit of the doubt that they'll come up with something interesting, and if producers Barbara Broccoli and Michael G. Wilson like their take, then Boyle will direct the film. If not, then they'll go back to the script from regular Bond writers Neal Purvis and Robert Wade and find someone else to oversee Craig's last hurrah. Unfortunately, there doesn't seem to be a third option, which would be using the script from Boyle and Hodge, but hiring a different director who may be a better fit for the action-heavy franchise.
As I mentioned above, I actually like the idea of Boyle taking the reins of James Bond down the line, or even as soon as 2022, when the tuxedo is passed down to a new actor (and perhaps even one of color). Boyle's skill set would be perfect for that transition, and he could bring something new and exciting to a character well into his sixth decade of existence. That makes a lot of sense to me. But stepping in to bring this particular Bond's run to a close? Sorry, but that really doesn't.
---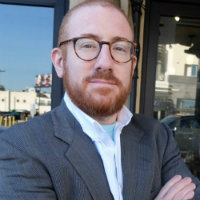 Neil Turitz is a filmmaker and journalist who has spent close to two decades working in and writing about Hollywood. Feel free to send him a tweet at @neilturitz. He'll more than likely respond.