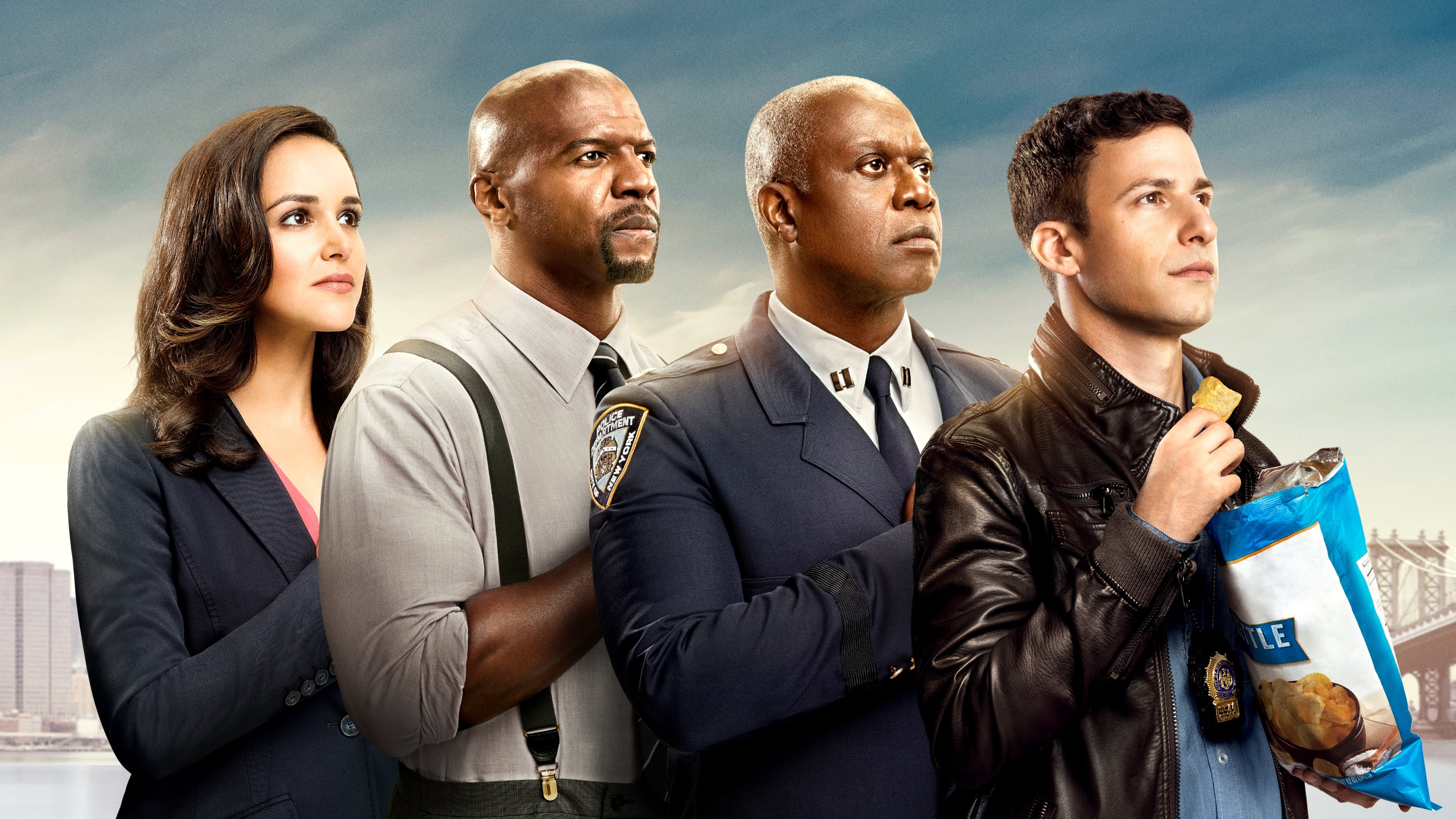 Brooklyn Nine-Nine hits us with two spot-on episodes back-to-back to round out the first half of the season with "Game Night" and "The Favor." Best of all, the episodes round out the midseason finale with the return of Gina, and it is a great comeback.
Let's first talk about that for a second, because, with as awesome as this season has been doing, I was worried that Gina's return would wind up killing the tone and vibe the show has so carefully cultivated this season. Not because I think Gina is any less funny than the rest of the precinct, but perhaps because she's more so – sometimes it's not just Gina's big ego that makes her think she outshines the rest of the team; sometimes she actually does outshine them. And while having super funny characters is never a bad thing, having one character that overshadows the humor of every other character can make the other characters seem less funny, or lazily written. I think that part of the success of this season thus far has been the fact that each character has gotten about equal screen time and number of punchlines. Particularly Hitchcock and Scully, who stepped up to fill the hole left by Gina's absence. 
So, as you can probably suspect, I was really concerned that Gina's return would throw us back into the show's old habits, turning Hitchcock and Scully into one-liner bits or glorified background actors in each episode. Instead, the show manages to bring Gina back and let her shine while still incorporating plenty of humor to go around for the precinct. 
To top that off, what makes these two episodes great is the fact that they also manage to actual, real-world, relatable concerns. On the smaller side, "The Favor" addresses Gina's return to work and her struggle to cope with being away from her child and learning to be a working parent. She bonds with Terry on this level, and it's really great to see not only a woman coping with the very real challenge of re-entering the working world as a new parent, but also see a man be the one to give her comfort, reassurance, and relate to her desire to be with her child and her fears of being away. 
In fact, can we just take a moment here to really let it sink in exactly how feminist of a character Terry is? Of course he's got the culturally-accepted idea of a very masculine body, but Terry is very in tune with his emotions, and he isn't ashamed of them. He loves his family, being a dad, and it's important to him to recognize the merits of women as equals – not just because he has daughters, but because he recognizes that women are inherently equal with men, and that's the way it should be. He's a fantastic example of what a leader should be because of it, too. Also, Terry Crews is a great role model in real life, and it's absolutely a shame that the industry isn't ready to listen, accept, and believe a straight male victim of sexual assault. I mean, it's taken women the entirety of human history to get to accomplish this, but that doesn't mean Terry Crews doesn't deserve the same kind of belief and respect that women are just now receiving. If you don't know what I'm talking about, just Google it. 
Anyways, back to the episodes:
The bigger message the show manages to illustrate is Rosa's coming out story. Not only was it a beautifully relatable depiction of some of the struggles many people go through when accepting who they really are and taking that public – whether their friends and family accept them or not – it was also really illustrative of how someone – a friend or family member – should respond when a loved one comes out to them. So, if you're ever wondering what's an acceptable way to respond to a friend or family member who comes out to you, study Jake's unquestioning support, Holt's pep talk at the end of the episode, and even Rosa's dad's response when he visits her at the precinct. All are good examples of how you can respond in a loving, understanding, and supportive manner – even if you aren't sure how you feel about the news. 
I could go on and on about how great and funny these episodes were, but I think it suffices to simply say, go and watch them for yourself, and enjoy. 
Season 5, Episodes 10-11 (S05E10-11)
Brooklyn Nine-Nine airs Tuesdays at 8PM on Fox
Read all of our reviews of Brooklyn Nine-Nine here. 
Read our reviews of more of your favorite shows here.
---
Tasha is a freelance writer currently based in Los Angeles. Originally from Kansas, when she's not writing about or watching TV, Tasha is searching for the best BBQ place in LA to fill the KC BBQ hole in her stomach.
Keep up with all of Tasha's reviews here.
Tasha Cerny | Contributor