It's pretty rare when a movie actually becomes a phenomenon to the point where it has the power to change the world. I'm not talking about Star Wars or the like, either. Those films are pop culture staples that have been around for a while. I'm talking about when a single movie arrives with the force of an atomic bomb and has such an impact on the culture that it actually alters the conversation and affects the way people think. Of course, this only happens once in a blue moon, so when it does, we should recognize it and pay the film its proper due.
The most recent example is Marvel's BLACK PANTHER, which has enjoyed near-universal acclaim from audiences and critics alike, and has served as a welcome respite from the seemingly never-ending tidal wave of horrible events in the news cycle. The stunning success of this film — the 18th superhero movie in the Marvel Cinematic Universe, mind you — is attributable to several factors, all of which combined have elevated Black Panther to a bonafide cause célèbre that feels much, much bigger than a mere comic book movie.
For starters, Black Panther should bring about a long overdue realization in Hollywood's executive suites regarding just how much power lies in the minority audience, which has longed to see strong representations of itself onscreen. This is territory we've covered extensively in this space over the past couple years, but in the face of such a powerful, record-breaking example as Black Panther, it certainly and defiantly bears repeating. The fact that the movie's four-day total suddenly makes Ryan Coogler the director of the highest-grossing film at the domestic box office by an African-American filmmaker in history  — yes, it has already surpassed F. Gary Gray's The Fate of the Furious, which had set the record just 10 months ago — is almost beside the point. So is the fact that it's assuredly going to fly past the $400 million mark, possibly getting to $500 million or even $600 million — and that's just domestic.
What's more important is Black Panther's performance overseas, where it has already grossed over $200 million. That impressive haul belies the traditional (i.e. dated and lazy) thinking that foreign audiences aren't interested watching Hollywood movies starring people of color — and yes, save for two white actors, Black Panther features an entirely black cast. A worldwide total of over $1 billion seems all but assured, and that's a big deal, too — even bigger than the success of Get Out ($255 million worldwide) and Girls Trip ($114 million domestic) last year. Like Black Panther, both of those films hailed from African-American filmmakers as well.
With Black Panther rewriting the record books for the third time in 12 months, it's hard to argue with the influence that minority audiences — especially black audiences — are having on the box office. You can tweet until your fingers fall off, but money talks in Hollywood, which finally appears ready to listen. The success of the three aforementioned films means that we are almost certainly going to witness a desperately needed diversification in the kinds of movies that Hollywood makes, and just as change starts with one minority audience, so should it spread to others. Not only will we be getting more movies with black stars soon, but also more led by Latinx and Asian stars, and that's a good thing for the entertainment industry as a whole.
However, there's something else at play here, something that genuinely dwarfs the box office receipts. An enterprising trio of activists — Kayla Reed, Jessica Byrd, and Rukia Lumumba — sensed the sensation that Black Panther was becoming and had a brilliant idea. They would use the movie as a way to change the world. And no, I'm not being hyperbolic.
Their effort is known as #WakandaTheVote, and with it, their goal is to register people to vote — specifically black people. And where better to reach those potential voters than at select screenings of Black Panther across the country? When you consider that a whopping 37 percent of Black Panther ticket buyers this past weekend were African-American (not surprising, considering the noon screening I saw on Friday in New York was closer to 75 percent), it's a fairly ingenious plan to take advantage of a specifically unique circumstance. How unique? African-Americans typically account for 15 percent of the audience for your average studio blockbuster, which means Black Panther is getting roughly 150 percent more black audience members than usual. If that doesn't qualify as unique, I'm not sure what does.
A couple weeks ago, I wrote about Black Lightning, and how it's an incredibly important TV show at this moment in time. I got a bit of ridicule for that, and I understand why, but it would be tough to have a similar reaction here. This isn't some hot take. This is real. This is boots-on-the-ground, fighting-for-change, standing-up-for-their-rights, making-a-real-difference kind of stuff, and it's coming about because of a superhero movie.
Think about that. A movie about a superhero could end up leading to enormous change in this country, and by extension the world, simply because it empowers people to get involved, many of whom have felt disenfranchised that their voice, and their vote, doesn't really count. There are many people in this country who haven't bothered to take advantage of the rights afforded them by the Constitution because they have been conditioned to believe that they don't matter. Now, thanks to Black Panther, they are inspired to make a difference, and that's incredibly exciting. This Marvel movie and the creators of #WakandaTheVote are leading a revolution of sorts, and that should make every single person involved in this industry of ours proud.
I understand if you don't agree with that last part, either because of your politics or your prejudices. Those are personal things and they have little to do with this phenomenon, or even this column. Just do me a favor. Don't try to tell me that movies can't change the world, because we're seeing it happen. Right now, right here, right in front of us. To quote King T'Challa himself, "In times of crisis the wise build bridges, while the foolish build barriers." I think that's a message we can all get behind.
---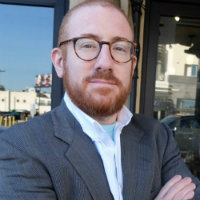 Neil Turitz is a filmmaker and journalist who has spent close to two decades working in and writing about Hollywood. Feel free to send him a tweet at @neilturitz. He'll more than likely respond.