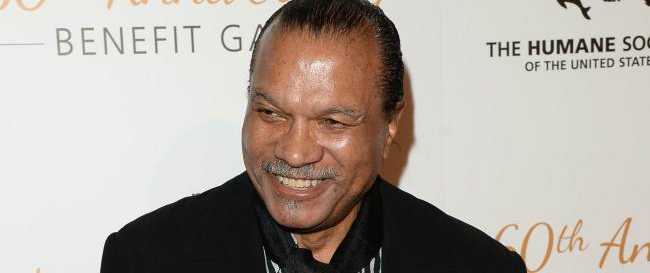 Star Wars' Billy Dee Williams has been set as Tito in ABC's DIRTY DANCING remake. He joins previously cast Abigail Breslin, Cole Prattes, Nicole Scherzinger, Sarah Hyland, and Debra Messing. The role of Tito was originally portrayed by Charles 'Honi' Coles.
Williams is repped by Kramer Management and TalentWorks.
---
After landing a co-starring role in Courtney Cox's Charity Case pilot, Hulu series CASUAL has booked Kyle Bornheimer for a recurring role in the second season. He will play a major love interest for Michaela Watkins's character and is described as someone with hustle and swagger, he always has an angle on something.
He is repped by Haven Entertainment and UTA.
---
Fox's ROSEWOOD has tapped J.R. Ramirez for a recurring role in the drama series. He will play Frank Escajeda, a former NYPD homicide detective that now finds himself working out of the basement of the police station heading up the East Miami PD Cold Division.
Ramirez is repped by Mavrick Artists Agency and Mathews Management.
---
The Fast & The Furious alum Jordana Brewster has signed on for Fox's movie-to-TV series LETHAL WEAPON, based on the hit buddy cop movies. Matt Miller penned the pilot with McG set to direct. Brewster will play no-nonsense Dr. Maureen "Mo" Cahill, the LAPD's hostage negotiator as well as its in-house therapist.
Brewster is repped by CAA and Principal LA.
---
Gretchen Mol has signed on to star opposite Hugh Laurie in Hulu series CHANCE. The psychological thriller focuses on Eldon Chance (Laurie), a San Francisco-based forensic neuropsychiatrist who reluctantly gets sucked into a violent and dangerous world of mistaken identity, police corruption and mental illness. After an ill-advised decision regarding an alluring patient, Jaclyn Blackstone (Mol), who may or may not be struggling with a multiple personality disorder, Chance finds himself in the crosshairs of Blackstone's abusive spouse, who also happens to be a ruthless police detective.
Mol is repped by ICM Partners and John Carrabino Management.
---

Georgina Haig is heading to Mars alongside Neal Bledsoe in the untitled CW pilot from Doris Egan. The thriller follows an explorer team that arrives on Mars to join the first human colony on the planet, only to discover that their predecessors have vanished. Led by a woman whose husband is among the missing, the colonists are forced to change their mission from exploration and settlement to investigation and survival, while navigating the hostile planet and their own personal demons. Haig plays botanist Gina Nolan who believes the destiny of mankind is to investigate the universe.
She is repped by Paradigm and Sue Barnett & Associates in Australia.
---
Jamie Chung and John Gabriel are teaming up for MIRANDA'S RIGHTS. They star opposite previously cast Rebecca Breeds in the NBC series from Katie Lovejoy. The legal soap follows an idealistic group of lawyers who not only work together but live together at their star-up firm. Chung is set as Lana Harris, an attorney, the alpha-female, blunt, and fiercely protective  of her career and the firm. Gabriel is Marcus Reed, a former attorney and a guy who "thinks money and power will make him happy (because it will)."
Chung is repped by Gersh and 3 Arts Entertainment. Gabriel is repped by Don Buchwald & Associates and Haven Entertainment.
---
THE INFAMOUS has booked Jason O'Mara for the A+E hip-hop crime drama penned by Joshua Zetumer. He will play an LAPD detective hell-bent on taking down an ambitious reformed gangster poised to break out of South Central.
O'Mara is repped by UTA and Independent Talent Group in the UK.
---
Megan West has won the female lead in Kevin Williamson's untitled paranormal pilot for CW. The series centers on West's character Sarah Roberts, a young woman who seeks help from a parapsychologist and his team when she begins to experience paranormal phenomena. She joins previously cast Jessica Szohr.
West is repped by Gersh and Anonymous Content.
---
CHUNK & BEAN has added Simon Belz as Bean and Sofia Gonzalez in a series regular role. The series centers on the unlikely friendship of Chunk and Bean, two misfits who benefit form having two very different sets of parents living next door to each other. Belz's Bean is "as small as Chunk is wide." Gonzalez will play Sarah Diamond, the pretty and snarky high school guidance counselor.
Belz is repped by Take 3 Talent Agency. Gonzalez is repped by APA and 3 Arts Entertainment.
---
Drew Van Acker has landed a role in TRAINING DAY alongside Bill Paxton and Katrina Law. The series is a reimagining of Antoine Fuqua's 1002 film. Set 15 years after the film left off, the series centers on an idealistic young African-American police officer, Kyle Craig, is appointed to an elite squad of the LAPD where he is partnered with seasoned morally ambiguous detective Frank Rourke.
Van Acker is repped by Luber Roklin Entertainment and SGSBC.
---
CBS pilot BULL has tapped Geneva Carr for the role of Marissa, a psychologist, neurolinguistics expert and licensed sex therapist working on Dr. Bull's team.
She is repped by Abrams Artists Agency.
---
Kurt Egyiawan has booked a series regular role in Fox's adaptation of William Blatty's infamous novel THE EXORCIST. He will play Father bennett, a liaison for the Vatican.
Egyiawan is repped by Gersh and Lou Coulson Associates.
---
Michael Irby has won a series regular role in NBC's TAKEN. The series a modern-day prequel to the film that starred Liam Neeson, with Clive Standen playing Neeson's Bryan Mills. A man with a developed and sharpened particular set of skills. Irby is set as Sam, a member of Bryan's OPCON (Operational Control) team of elite operatives who take care of America's national security emergencies on the ground.
Irby is repped by APA and The Coronel Group.
---
Emily J | Staff Writer