Airtime: Mondays at 8 p.m. on The CW
Episode: Season 1, Episode 13 (S01E13)
Tweetable Takeaway: It's not weird if you wear a bathing suit… according to @CW_CrazyXGF  Tweet
---
This week on CRAZY EX-GIRLFRIEND, Rebecca and Josh head to Los Angeles to work on their case. Sounds so official. A real case, imagine that!  They not only work on legalities and a class action suit, but also on issues from their personal lives and feelings that have been brushed under the rug. Sure, this takes place in Los Angeles, but I personally thought it would've been more interesting if this took place in Hollyweird, given their awkward, confusing and undetermined relationship.
Still thinking about Trent? I think we're all taken back and a bit confused about Trent. Part of me is relieved he played along with Rebecca's story, the other part of me is confused, is he a crazy boyfriend? He's probably just crazy. Seriously, like Craig's List killer crazy. After coming to terms and realizing Darryl is "both-sexual", he stops by to visit his crush White Josh, asks him out for a drink…in Los Angeles. White Josh gets the impression he's afraid to be seen with him and potentially run into people they know given the fact he's openly gay. Looks like Darryl might be experiencing a bit of R Kelly syndrome, "trapped in the closet".

So about Trent being crazy, it's safe to say we saw it coming and him covering for Rebecca was a little too good to be true as he blackmails Rebecca, finally getting a taste of her own medicine. Genius! Trent who by the way, has a uniquely striking resemblance of a cross between Jim Carrey and Michael C. Hall. So I suppose the crazy fits well.
It appears to be everyone's significant others are boring and incompatible with one another. Josh is dating a raging jealous brat, Greg has to deal with a weird hip hop hipster girlfriend who has the worst personality, and Rebecca is now dealing with crazy Dexter-look-a-like who's actually just as obsessed with her and she's with Josh.
Making up for last weeks musical numbers, Rebecca and childhood arch nemesis, Audra Levine brawl in an old school style hip hop battle which was surprisingly entertaining. Per usual, interesting lyrics with attitude and most importantly, Darryl's sweet dance moves in the background! The grainy visual effect on the screen, not cool, could've done with out, this wasn't an 8 Mile or Straight Outta Compton trailer, it's freaking West Covina, let's not try too hard. You've got the rap down, don't push it.
Rebecca worries about the outcome of the case as none of the other cities witnesses arrive. Better late than never, the cities representatives trickle in to support and together they march to the, "drip drip drip that a handy man can't fix."
Couldn't help but notice an editing error, Rebecca and a few other "choir" members lips don't sync with the audio. It's not Les Mis, I get that but a pretty crucial part to story telling. If the audience is thrown off and trying to figure out what's happening, we lose interest and miss the point of the song whose lyrics intentions were to engage us.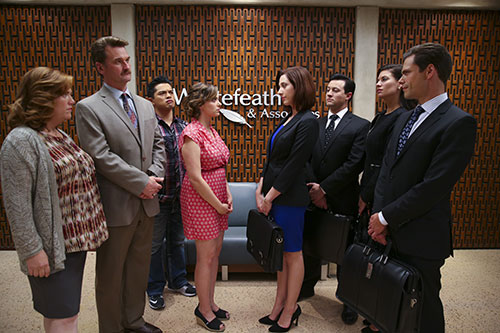 Another thing, watching a court case at a local bar or any bar for that matter is absurd, however for this shows purposes, it's suiting and comical. If it were the OJ Simpson trail, well, that'd be a different story. Greg is reluctant to watch and support the case creating distractions for others because he's not "interested." So what exactly is bothering him?
It's taken me up to the 3rd act of the episode to come to the realization that I am in fact watching Crazy Ex-Girlfriend. This episode is far off the spectrum to what it has been come to known, but I actually don't mind it. Whether the show focuses on cheesy,over zealous, comedic musical numbers, it too includes and intertwines a life lesson, that is if it doesn't confuse the crap out of you (it's been known to do so). Crazy Ex Girlfriend doesn't fail to entertain. It's engaging, quirky and different than any other show. It uniquely shifts episodes here and there to prevent boredom and keeps things very interesting. But you gotta love that they always throw in a Leave it to Beaver life lesson, pretty cute but rightfully so.
Heather calls Greg out on his awkward behavior and essentially comes to the realization he still has the hots for Rebecca despite his denial. Cool Heather, you cracked the code. Let's move on. Must you really give her a song to convince us to "dont settle for me" or keep her character alive?
Though the season isn't over, I feel the rookie show has done a great job of coming back to bring all stories full circle and build momentum. The love triangle mystery isn't so much of a big concern only because it's unfolding. The characters expanding and paving their own stories and it's beyond great. Huge growth and incredible character development. I was a bit concerned the love triangle was going to dictate the show but it's shaping out nicely.
After much denial, Greg realizes he does in fact have feelings for Rebecca. Rebecca loses the case but is winning in the game of life as she has finally stood up to Audra and realizes she is in a better place than her because she is genuinely happy. It also doesn't hurt that Josh and Rebecca finally kiss! It was a good kiss too! He's so into her. She's in love with him. Greg walks in on them and is crushed (predictably) and Josh STILL has a bat-crazy girlfriend. Can't wait to see relationships both unravel and come together. Keeping a close eye out for Darryl and White Josh. And remember, it's not awkward if you're wearing a bathing suit.
——————————————————————————
Rachel is both a coffee and sports enthusiast, but not at the same time.
Keep up with all of Rachel's reviews here!
Follow all of our TV content here!
Rachel Rodriguez | Contributor