Airtime: Mondays at 8 p.m. on The CW
Episode: Season 1, Episode 13 (S01E13)
Tweetable Takeaway: Separate checks when in a group hang…Shakira won't always be there to pick up the tab on #CrazyExGF
Tweet
---
Josh and I go to camp, Josh and I like the same things, Josh and I live in West Covina….and this week, Josh and I work on a case together. If you hadn't yet noticed, this isn't the show, CRAZY EX- GIRLFRIEND. It's the Josh and I will dominate the title, show and it's great.
Last we saw Rebecca and Josh, they weren't on the best of terms as she had manipulated him into believing she had a break in. But when you're sort of dumb as rocks, it's easy to forgive and forget.
Per usual, Paula and Rebecca scheme up a plan for Rebecca to see and spend time with Josh. Making fake coupons is also part of the plan as an invitation to use it before it expires. Coupons, they come, they go. If you use them, great, if you don't, you'll come across another. Rebecca must've been really convincing. That or Josh is a sucker for a good deal, but hey, so am I. Free happy hour always sounds good.
The quasi date is interrupted by Josh's bros "crashing" the outing and it becoming a "group hang". Hanging out with your crushes friends is a good thing, but not when your time is compromised and the dudes act like totally immature frat guys. Group hang, things just got weird.
Not sure what's more weird, the fact that the guys are ordering up a storm assuming one coupon applies to everyone or that Rebecca breaks into song in a blonde wig resembling Shakira and shaking it like her hips don't lie. To that note, the song talks about how some food items on the menu aren't Mexican and that can upset and be insulting to the culture. Last I checked, chips and salsa, and margaritas were but Shakira is half Colombian, not Mexican, so the song in essence is a bit of an oxymoron, but I'm not offended. If anything I'm somewhat flattered that Shakira is big enough for them to try to spoof.
Feeling a bit cheated of her shortened time with Josh, Rebecca over hears Josh tell Hector he freaked out about hanging out with Rebecca, which is why he called the guys for back up. Aside that being a total blow, I would've been more upset about being footed with the bill.
I know we're all still thinking of White Josh's and Whitefeather's kiss since it happened, but what does it mean? Well, it means that White Josh is gay and open to discuss, but Whitefeather is very "straight" and loves women, or so he thinks. Trying to both masculate himself and figure out what the kiss meant, Whitefeather goes on a self discovery mission. Working out with White Josh made him too nervous or perhaps served as a bit too real, so he opts to take a Samba class at the gym to determine if he's either attracted to women….or men. Turns out, your hips don't lie. As much as Whitefeather loves and appreciates the female body dancing, he finds himself being drawn to a man's dancing. I'll spare you the details, straight men don't move that gracefully. Realizing he's a "both-sexual", he's eager to report and share with White Josh where they share their first kiss. Holy cow! I'm still thinking of it and what will come of it.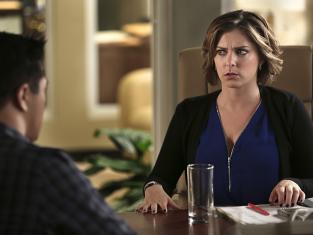 While Rebecca is playing Erin Brockovich to Josh and his neighbors, and quite possibly sings the worst song this season. "Cold water is drugs". Greg and Valencia join forces and scheme to bust Rebecca's current lie, her new beau, Trent. This is an all time low for Greg, really, you're teaming up with Valencia? Stop being a little bitch and mind your own business. You're a man and you say you don't care about Rebecca and are happily dating Heather (who sucks, by the way). How is that normal? Telling you guys, Greg has something up his sleeve, don't be surprised if he reveals he's in love with Rebecca, just putting it out there. Not surprised Trent showed up at the end of the episode, it was almost predictable. Trent, we don't even know you, but you had such a cute couple name with Rebecca, 'Tre-becca', I still feel there's hope you're crazy too and can show Valencia a good lesson. Rebecca is a smart gal, instead of freaking out, she goes along with and greets Trent with a kiss confusing the crap out of Greg and Valencia, serves them right. Can't wait to see how the show picks up with Trent and Rebecca.
What I don't need or want to see is Mrs. Hernandez! What is the significance of her character? Why is she back, she's mute and worthless. What about the quirky grocery clerk from the very beginning of the season? Now HE was funny, bring HIM back.
——————————————————————————
Rachel is both a coffee and sports enthusiast, but not at the same time.
Keep up with all of Rachel's reviews here!
Follow all of our TV content here!
Rachel Rodriguez | Contributor