Airtime: Mondays at 8PM on The CW
Episode: Season 1, Episode 16 (S01E16)
Tweetable Takeaway: Rebecca makes a big confession on #CrazyExGF
Tweet
---
The moment most of us were anticipating finally happened, Rebecca finally admits to Josh, she has, no wait, had feelings for him. Though it's not clear, she said it and it was pretty blah. As well as his reaction which was pretty much a nothing. A lot of girls have a crush box filled with mementoes near and dear to our heart. Rebecca however is a woman and has a Josh box including a "Channy Bear" (a teddy bear with a Josh Chan face stuck to it).
Deciding it is best to move on and let go, she informs Josh, "…trying to change my patterns," and kicks him out which surprises Josh. She's gone cold turkey on the Chan. Is this the begging of a new Rebecca or just another ordinary phase?
Greg, is apparently the 5th member Weezer never had. We wanted to see more Greg and we're getting it! Sure, it's an angry, drunkish Greg, but I like seeing a different side of him. "I Could if I Wanted To" is a bit edgy as we see a different side to him and get to see how he deals with his emotions as he mentors Marty the store clerk as he sees similarites in their love lives, it's getting a little deep guys.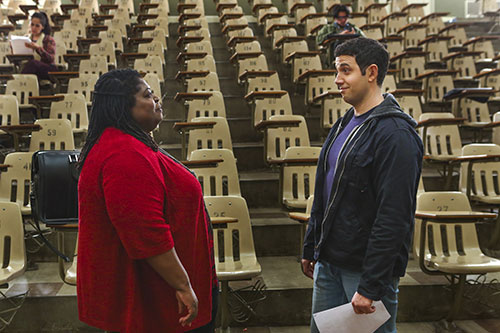 Mrs. Chan makes a come back, the mother we all love and adore because after all, she "gives good parent". Because Rebecca is so tight with Josh's fam bam, it's only makes sense for them to unexpectedly come over and visit and ask if she wants to be a bridesmaid in his sisters wedding. I mean, she's done so much for the family and after writing a letter of recommendation to Harvard for Josh's younger little sister, which instead lands her a spot to Cal. State Northridge, it's only right.  Northridge, which is by the way clearly the Harvard of the north…or something like that. Woo, go Matadors!!
Rebecca and Valencia are both bridesmaids in Josh's sisters wedding, but if that wasn't awkward enough Valencia has to have the spotlight and makes a grand entrance to the dress fitting. Looking like a Victoria's Secret angel reject by the way. Her 'costume' was due to the fact that she had a photo shoot for her hometown submission for Maxim.
This is the first time Rebecca and Valencia have seen one another since Josh and Rebecca kissed. V knows what went down and has no problem telling Rebbeca. Although she's from West Covina she looks like she's about to throw it down like she's from East Los Angeles and says she'll pull out her hair extension, lashes, and wings off if she has to.
"You're not disgustingly fat?!" says Valencia to Rebecca. Holy cow-who says that? Well, at least she's honest about how she feels, but damn how about a filter when the Chan's are present. Rebecca is trying to help Valencia "look better" and those sly comments are only going to burry her. Filipinos aren't gonna be down with that-trust!
You know what they say, mean girls and people that treat others poorly are actually the most insecure. Makes you wonder what skeletons are in Valencia's closet and why she's the ways she is. She has her moments when she softens up a bit despite her fits, but I see it all coming to a surface very soon.
The highlight of the episode, "Heavy Boobs" addresses what we've all been distracted by all season, at least I have. Rebecca has a larger "set" and she knows it! I'm sure many women across the country felt a sense of pride and honor as Rebecca happily and probably painfully danced and bounced about. A new anthem perhaps, this show has had some strong, memorable performances in its first season, but I believe this one will be one of the most mamorable ones– excuse me, memorable. Next time you're distracted by heavy boobs remember "they're just sacks of yellow fat" nothing else.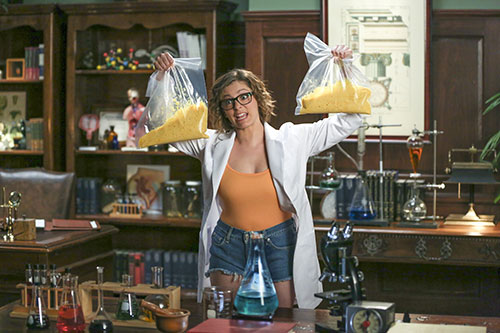 Though we didn't see much of Paula and Rebecca interacting or conspiring together, we still saw a lot of Paula and some conspiring of her own, which I think is better than Rebecca's by the way. Paula sets up Valencia, Rebecca takes the blame. Sure, it presents her in a bad light to the Chans but what does that matter if Josh is out of the picture anyway, right? You kind of can't help but  admire Paula's loyalty. Afraid she'd lose her friendship with Rebecca now that Josh was out of the picture she stooped to an all time low, but hey-what are friends for. "If we're not chasing Josh, then you're not gonna want to hang out with me anymore. I know it…He's our glue. He's what holds us together." Now that's a friend who jumps through hoops for you. Everyone needs a Paula in their life.
Whether Rebecca is rebounding with Greg or really has genuine feelings for him is unclear as we're left hanging on what will happen. At least we'll know what they'll be doing for the next three days as they'll be "wrecking each other".
——————————————————————————
Rachel is both a coffee and sports enthusiast, but not at the same time.
Keep up with all of Rachel's reviews here!
Follow all of our TV content here!
Rachel Rodriguez | Contributor