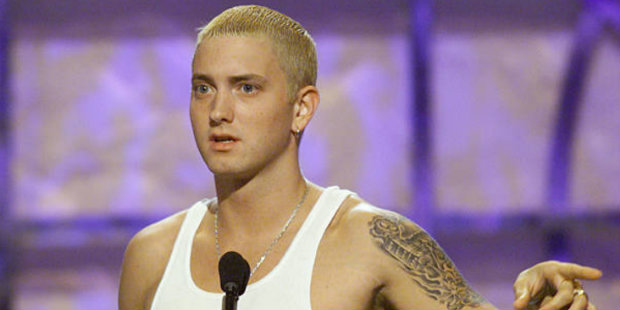 Getty Images
Eminem has come aboard to produce Joseph Kahn's BODIED, which will open the Midnight Madness section at the Toronto International Film Festival on Sept. 7.
Bodied follows a graduate student who is writing his thesis on battle-rap culture and gradually becomes embroiled in that world. The script explores race relations, as evidenced by this potentially NSFW trailer.
Eminem and his music manager Paul Rosenberg teamed with Adi Shankar to produce the film, which features seasoned battle rappers such as Jonathan "Dumbfoundead" Park and Dizaster alongside established actors including Anthony Michael Hall.
Shankar and Kahn previously teamed on the James Van Der Beek-led short film Power/Rangers, which is part of Shankar's popular Bootleg Universe that led to him producing Castlevania for Netflix.
Kahn is an established music video director who won his first Grammy for directing Eminem's "Without Me" video. Kahn decided to co-write Bodied with battle rapper Alex "Kid Twist" Larsen after his first couple films failed to do much for his feature career, not that those setbacks deterred Shankar from collaborating with the stylish filmmaker.
Check out the trailer below, and stay tuned to our Midnight Madness coverage from Toronto next month.
Our #TIFF17 Midnight Madness Opening Night Film is @JosephKahn's BODIED, with Anthony Michael Hall, Debra Wilson, @cthagod and @CalumWorthy. pic.twitter.com/MNZ6C2Vkiy

— TIFF (@TIFF_NET) August 1, 2017
 Jeff Sneider | Editor in Chief