All images courtesy of Fox Searchlight
The fact that News Corporation owns Searchlight does not, on its surface, dismiss the distributor as an indie unit, though one could be forgiven if that was the initial thought. In fact, while the company does have Fox in its title, it is a totally separate entity from 20th Century Fox, with different leadership, budgets, and slates. So, with that in mind, there's no reason not to cover it on its own, since we didn't touch it a few weeks back while discussing 20th Century Fox.
Founded in 1994 by Tom Rothman, Fox's indie wing has been highly successful, churning out quality independent films that it has developed in-house, as well as those purchased at film festivals like Sundance, Toronto, and SXSW. Three times, a Searchlight movie has taken home Best Picture (Slumdog Millionaire, 12 Years a Slave, and Birdman), and a host of other Searchlight flicks have earned Best Picture nominations (including The Full Monty, Sideways, Little Miss Sunshine, Juno, Black Swan, 127 Hours, the Tree of Life, The Descendants, Beasts of the Southern Wild, The Grand Budapest Hotel, and Brooklyn, which is an impressive list no matter how you slice it).
Like any indie distributor, though, there are good times, and there are bad. Go back to 2009, for instance, the year Slumdog made most of its money (having been released in 2008), and the $119 million the Best Picture winner made after the nominations came out spurred the company to over $257 million at the domestic box office, far and away the best year it's ever had.
But check out 2016, in which it brought in just $51.3 million (with $19 million coming from Brooklyn, a 2015 release that also made a bunch of money after Oscar nominations were announced), and things weren't so good. It was the worst year for the company since 2001 including the Brooklyn grosses, so the only thing one can do when looking at the year just past is to lament its happening and be glad it's gone.
That doesn't mean we're not going to talk about it, though, because it actually contains within it a powerful message about the purchasing, marketing, and ultimate misjudgment of an indie film, and how buyers can get suckered in by an enthusiastic and sympathetic film festival audience.
While the six original movies that Searchlight released in 2016 was the lowest total in eight years, the year wasn't really about five of them. Even though Natalie Portman shined in the otherwise dreary and unnecessary Jackie, and even though Absolutely Fabulous: The Movie did terrific foreign numbers, and even though A Bigger Splash and Demolition were both major disappointments, the real story of 2016 involved the movie that actually grossed the most money of the company's releases: Birth of a Nation.
If anyone is teaching a class about how to screw up a major indie release, this should be first and foremost on the curriculum, Exhibit A in the prosecution's case, the Alpha and Omega of misjudging a film's potential. A year and a half ago, Birth of a Nation premiered in Park City to a huge response in the theater, and though some early reviews were less enthusiastic — indeed, go back and look at what people were really saying, or talk to folks who were there, and there are a lot of confused looks and some wondering out loud about what all the fuss was about — the film's WME sales team had lathered potential buyers into a frenzy.
After a bidding war that lasted into the early hours of the morning, Searchlight beat out TWC, Paramount, Sony, Netflix, and others, with a winning bid of $17.5 million for worldwide rights for a film that had cost $8.5 million to make. This, despite Netflix's bid of $20 million (a bid that would have carried the day a year later), because Searchlight convinced the filmmakers that it was best positioned for a proper awards run.
The fact that the movie was too long, had some pacing issues, and was otherwise far from perfect seemed like a trifle, because of course those things can always be fixed in the editing room. What wasn't known, though it should have been before investing so much money in the project, was the sordid history of the film's co-writer-director-producer-star, Nate Parker, and co-writer Jean McGianni Celestin, both of whom had been tried for raping a woman while enrolled at Penn State in 1999. Celestin was originally found guilty, but later granted an appeal. That Parker was acquitted was beside the point. It was about the fact that the event had happened, that it was a controversy sure to arise during the lead-up to the film's release, and that, when it inevitably did, the Searchlight marketing department was caught flat-footed.
Some have said that the company knew all about it, but even if that's true, that they didn't get ahead of this speaks volumes. Either way, whatever the importance of the film's message, it was overshadowed by the scandal, and women stayed away from the film in droves. Despite a media blitz, the film opened to just $7 million, capping out at $15.8 million domestic with no foreign grosses at all. Throw in the 15 or so million dollars spent on P&A, and the eventual write down was $20-$25 million, which might be a record for an indie film, and it obliterated anything good that might have happened the rest of the year.
Thus, it should come as no surprise that this was the beginning, middle, and end of the story for Searchlight in 2016, despite the modest success of Jackie, which earned all three of the distributor's Oscar nominations, the lowest total Searchlight has had since 2010. If Jackie had been a smash, perhaps it might have overcome the disaster of Nation, but it wasn't, so it didn't, and instead, what was planned to be a year of triumph and big grosses, was instead an epic loss.
So, one would think, there's nowhere to go but up, though 2017 hasn't exactly started out like a house a'fire. The period drama A United Kingdom did modest but not terrible business, bringing in $14 million worldwide, though Searchlight didn't finance it, just distributed it. The ensemble comedy Table 19 came and went in early March with just $5 million worldwide, followed three weeks later by the Woody Harrelson vehicle, Wilson, a movie that was intended to have some awards potential, but which was met with enormous indifference and didn't even crack $700,000 in total grosses. Marc Webb's return to indie filmmaking, the Chris Evans movie Gifted, made just shy of $30 million worldwide on a $7 million budget, and another period drama, My Cousin Rachel, has been middling in a limited release.
This is certainly an improvement over 2016, but that bar is awfully low. Compare 2017 at the halfway mark to other years, and it's been fairly lackluster. As it happens, the second half of the year has some real firecrackers that should at least lessen the pain of the past year and a half, and perhaps even raise the company back to its formerly lofty position.
Early next month, there is the documentary Step, which follows the senior year of a high school dance team. Docs are not big box office draws, but two weeks later comes Patti Cake$, a big hit at both Sundance and SXSW about a female rapper. That one, interestingly, has some sleeper potential, and could be one of those late summer indie flicks that draw a good number of youngsters before they head back to school.
The awards season really begins at the end of September, though, with Battle of the Sexes, the Steve Carell-Emma Stone take on the Bobby Riggs-Billie Jean King tennis match of 1973. Directed by Oscar darlings Jonathan Dayton and Valerie Faris, there is already a lot of talk about this one, just as there is about another period piece, Goodbye Christopher Robin, about A.A. Milne and the writing of Winnie the Pooh, which hits theaters in October.
The two big guns, though, are coming in November and December. First comes Three Billboards Outside Ebbing, Missouri, Martin McDonagh's dark comedy about a mother who goes after the local police when they fail to find her daughter's killer. Doesn't sound funny, but it has one of the best trailers of the past five years, and McDonagh's previous work has been popular, especially In Bruges. The following month sees Guillermo del Toro's long-awaited new film, The Shape of Water, which may or may not be an awards contender, but should fill the supernatural horror quotient that the year's final month always needs.
Which means that, in theory at least, the final six months of this year could be enough to counteract the previous 18. There might even be a fair number of Oscar nominations headed Searchlight's way, as well (McDonagh's screenplay, his star Frances McDormand for Best Actress, everyone involved with Sexes, not to mention the Milne film, which could also be an awards magnet, if we use a film like Finding Neverland as a precursor). And, what have we learned about awards talk and nominations? That's right, they almost always lead to box office gold.
As of now, there's only one film on the 2018 schedule, Wes Anderson's animated Isle of Dogs, but that will change soon enough, with movies like The Aftermath, The Favourite, and Robert Redford's on-screen swan song, Old Man and the Gun, all in postproduction. Toss in the fact that festival season starts up again at the end of the summer and that slate will fill in quickly enough.
Searchlight is not in any trouble, of course. Having an enormous corporate backer means that an off year like it had in 2016, isn't the end of the world. The company can't make it a habit, of course, but its history suggests that it won't. Nor does it's upcoming slate, which is far more promising than the one it gave us last year.
For more entries in our studio series, click here.
---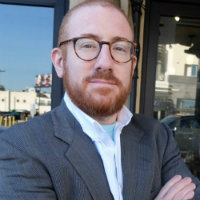 Neil Turitz is a filmmaker and journalist who has spent close to two decades working in and writing about Hollywood. Feel free to send him a tweet at @neilturitz. He'll more than likely respond.