Columbia Pictures
Last week it was announced that Ralph Macchio and Billy Zabka are reprising their most famous roles for a Karate Kid sequel called COBRA KAI with a story that picks up 30 years after the first movie and will air YouTube Red. Anyone who doesn't love the original movie is not someone I want to know (the second movie is actually quite good too), but why in the wide world of sports does anyone think this is a good idea? Even with the talented pair of Jon Hurwitz and Hayden Schlossberg behind it, this thing has me befuddled.
Still, while pondering such mysteries it occurred to me that there are much better '80s and '90s-era options for story continuations from both the TV and film world that could find a streaming home somewhere. With that in mind, I thought that a great way to get a new week started would be to take a deep dive into some of the possibilities.
The Mighty Ducks
Few television shows this century have been in the class of Friday Night Lights and nothing has appeared as a worthy successor. Until now. Whether or not you bring back coach Emilio Estevez, it would still be a blast to follow the exploits of the teenage hockey team a quarter century after it was first begun. In fact, if you can't get Estevez, get Joshua Jackson (Charlie Conway, one of the original players on that first team) and have him take over coaching responsibilities. Make it an edgier series — with a touch of humor, of course — and Jackson's quiet intensity is a nice fit. A Netflix special.
Look Who's Talking
Now that John Travolta has returned to television (with last year's American Crime Story) he can re-team with old friend Kirstie Alley to play James and Mollie, now grandparents to their grown-up children's kids. Mikey and Julie are each married, with young kids of their own, and the same phenomenon applies, as the family's constant conflict once again comes into play. Seen through the eyes of the grandchildren, this playful romp would play nicely on Crackle.
Magnum, P.I.
Yes, Tom Selleck stars on Blue Bloods, but he's not going to play the commissioner of the NYPD forever, and when he's done, why not return to Hawaii? Thirty years after finding his daughter — whom he thought to be dead — Magnum has retired from both the Navy and private detecting. He is called back to the latter, though, when his grandson gets into some trouble and needs his help. Once everything is resolved, the younger Magnum decides to follow in granddad's footsteps, with Magnum the elder providing experience and an occasional helping hand. Perfect for CBS All-Access.
Warner Bros.
The Goonies
Yeah, I know, but think about it. Josh Brolin has moved on to bigger things, and Kerri Green, Jeff Cohen, and Jonathan Ke Quan are essentially retired, but you could totally build a show around Sean Astin, Martha Plimpton, and Corey Feldman. The same misfits who found One-Eyed Willie's hidden fortune three decades ago are now parents and watching as their own misfit kids try to maneuver through the dangerous world of high school and adolescence. While this is happening, the adults are once again faced with losing their homes as an evil developer (is there any other kind?) plots to buy their small town and turn it into the world's largest mall. Netflix already has Stranger Things, so this would work well for Amazon.
The Greatest American Hero
A personal favorite, anything that might get William Katt and Connie Sellecca back on the small screen is worth its weight in platinum. Three decades after his identity was revealed to the world and he was forced to hand off the suit to a young woman, Ralph Hinkley and his wife Pam are forgotten empty nesters, their children having grown up and moved out. When the latest wearer of the suit meets an unfortunate end, the aliens return, asking Ralph to once again don the costume that gave him superpowers. But high school English teacher Ralph, now approaching 70 and on the verge of retirement, is no longer up for the rigors of such things, and instead gets a teacher protege to take over for him. Things get complicated, though, when the younger man reveals that he is in love with Ralph and Pam's daughter. A Hulu special.
Murphy Brown
Maybe it's just because I miss Candice Bergen on television, but jeez, you're telling me that we couldn't bring her back to mentor her son, Avery, himself a young, up-and-coming journalist? Corral former colleagues Faith Ford, Grant Shaud, and Joe Regalbuto (all of whom are eminently available) as TV elder statesmen on hand to help a retired Murphy navigate the 24-hour news cycle and you've got something engaging that will appeal to Baby Boomers, Gen X-ers, and their progeny. Yes, fun for the whole family. Another CBS All-Access delight.
I understand the continued desire to mine known intellectual property for new projects. It's a short cut to the viewing conscience, a way to market the project without having to totally introduce something new to the audience. All that makes sense, even if, more often than not, it comes off as lazy and ill considered. Despite the talent behind Cobra Kai, that's how this new show feels.
But these other suggestions? Well, of course, these are little pieces of fried gold.
---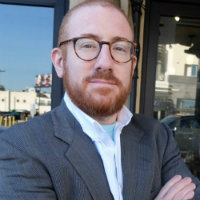 Neil Turitz is a filmmaker and journalist who has spent close to two decades working in and writing about Hollywood. Feel free to send him a tweet at @neilturitz. He'll more than likely respond.