For years, whenever I was on the treadmill at the gym, I would listen to music. Playlists that got me jazzed to exercise and distract me from the ugliness in which I was engaging. Eventually, I started getting bored with that, as I knew how long each song was and could no longer be distracted. I knew nothing about podcasts, and had no real interest in them, but it was around this time that Serial was all the rage, so, on a whim, I checked it out. I was hooked, and the story of Adnan Syed served as a gateway. Soon, my phone was filled with them, and now I have so many that I have to listen to them at 1 1/2 times speed to even try to keep up.
My fascination with the medium jibes with the one that Hollywood has developed, and if you doubt it, just take a gander at the projects on their way to your viewing devices, based on those same programs you can listen to in the car, at the gym, or while you're in the bathtub. Amazon has put the horror show Lore on its streaming service, after corralling Gale Anne Hurd to develop it. In case you forgot, she's also one of the major forces behind the transition of The Walking Dead from comic book to cable television, so there was no messing around on that one. The popular anthology series that spends its time exploring the real-life origins of genre staples such as vampires, zombies, werewolves, ghosts, serial killers, witches, and the like, has received mixed reviews for its initial six-episode season, but fans seem to like it, and the thinking is that Amazon will renew it.
Lore is about to be joined on the streaming service by another podcast adaptation, Homecoming, which boasts such talents as Catherine Keener, David Schwimmer, Oscar Isaac, Amy Sedaris and Alia Shawkat on the podcast, and now has Mr. Robot creator Sam Esmail and Julia Roberts on board the adaptation. The story, about a veteran getting experimental treatment for his PTSD, and the therapist who treats him, is sort of tailor-made for the small screen, as is Crimetown, a series about the cops and crooks of Providence, Rhode Island that hails from Marc Smerling and Zac Stuart-Pontier, two of the guys behind HBO's hit miniseries The Jinx. That one is headed to FX, with Ted Melfi on board to executive produce and direct following the success of Hidden Figures. Melfi's faith in Crimetown as a potential series is telling, given how many scripts he must be receiving these days.
That trio is hardly the only example of Hollywood's obsession with podcasts, of course. Zach Braff is making his return to series TV with the ABC sitcom Alex, Inc., based on the podcast StartUp, while Serial, which got me hooked on this budding medium, is in development at Fox 21 TV, with Phil Lord and Chris Miller overseeing the project. Then there's Limetown, which apparently was started by series writer-director Zack Akers for the express purpose of turning it into a TV show. While that hasn't yet happened, the fictional story told as a series of investigative reports seems like it's a pretty natural fit for the small screen, too.
It seems that podcasts have become the new spec scripts, and this growing trend isn't going to end any time soon, either. There are countless other podcasts ripe for the plucking, and it's only a matter of time before we get another announcement about another podcast being optioned by another network/production company/streaming service. Not only are podcasts relatively cheap to produce, but the subject matter is varied and diverse, and the medium offers the opportunity to tell a story to a wide audience. In fact, podcasts are sort of perfect for TV adaptations, since they have set story structures, they're often serialized, and they come with a built-in audience. That's exactly what IP-hungry networks are looking for, and truth be told, I kind of wonder why it has taken so long for this to happen.
I would go so far as to suggest that some podcasts actually need to evolve into another medium. I'll give you two perfect examples. There's Welcome to Night Vale, a horror/sci-fi hybrid that's been going on for years and, in my opinion, ran out of gas some time ago. But put it on Syfy, or Starz, or even AMC as a companion to its two Walking Dead series, and you've got something interesting. Bringing the visual aspect to it would make all the difference and help breathe new life into a tired enterprise.
The same goes for Starlee Kine's short-lived The Mystery Show, which ended after just six episodes because she couldn't find any more mysteries to solve. Track it down and give it a listen, especially the Belt Buckle episode, and you'll see that it, too, could become something much bigger on TV. I'd totally watch a series about an NPR producer who is so fascinated by local mysteries that she gets involved in the lives of others, to both comedic and dramatic effect.
This stuff writes itself, really, which should only make it that much more enticing for buyers. In fact, I can see a new cottage industry sprouting, one in which "experts" walk Hollywood hopefuls through the creation of their own podcasts, hoping that they, too, will be noticed (or rather, heard) and their careers made. Of course, its doesn't work that way, because studios and networks don't just line up to buy anything labeled as a podcast, you need to actually build a following and have some substance to the thing. It's why I'd even go so far as to suggest that real-life, "important" podcasts could qualify, like the new one from Preet Bharara, Stay Tuned with Preet, on which the former U.S. Attorney talks about the legal issues of the day.
Seriously, turn that guy into a crusader who takes on the toughest, most hopeless cases, and it's catnip for a country that loves its legal dramas. Plus, anyone who was unceremoniously fired by this president will have an immediate following of millions. Which is sort of the whole point, right?
---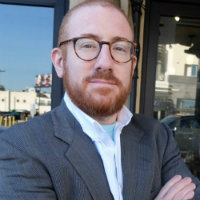 Neil Turitz is a filmmaker and journalist who has spent close to two decades working in and writing about Hollywood. Feel free to send him a tweet at @neilturitz. He'll more than likely respond.