Getty Images
I've been watching the Oscars my whole life. Really. From when I was a wee lad, I loved this stuff, and totally ate it up with a spoon. I remember being mocked in school for asking other kids if they were going to watch the show, though to be fair, I was mocked for a lot of things in school. The point is, I always looked forward to the Oscar telecast, because it reminded me how magical movies could be. Somehow, watching the industry celebrating itself was inspiring, and not a year would go by that I didn't practice my own acceptance speech in preparation for the day that I eventually climbed that stage to receive one of those golden statuettes.
Somewhere along the line, though, my excitement lessened. Oh, I still watched with rapt attention, whether at a party with friends or by myself (like last night), and I still commented and predicted and discussed and kibbitzed, but the thrill was sort of gone. I had simply come to the conclusion that the Oscars weren't really any fun anymore, and it kind of broke my heart. It would be easier if there were someone to blame for this, some evildoer who sucked all the joy out of the proceedings, but it's not really that simple. Honestly, the culprit seems to be the sheer length of awards season, which has become such an endless slog that by the time the show arrives, we're all too worn out from the six-month marathon to enjoy the Oscars as much as we should.
That's how I felt tuning in last night — lukewarm. I was hoping for a big, jazzy opening number, like Justin Timberlake's last year. Before we saw anything else, he blew the roof off the Dolby with a winning rendition of "Can't Stop the Feeling." I was hoping for something similar this year, like the cast of The Greatest Showman busting out "This Is Me." Instead, we got the standard opening monologue from Jimmy Kimmel, only he was pretty funny, and his jet ski bit with Helen Mirren made me laugh out loud, so the show got off to a good start.
Kimmel kept his monologue short and got the actual awards ceremony going fairly quickly, which I think we can all appreciate. When Sam Rockwell won Best Supporting Actor and gave a great speech, I cracked yet another smile. Then came Jimmy's explanation of how the orchestra wouldn't be playing people off this year, and would instead be heckled by Lakeith Stanfield, and I found myself laughing again.
Oh, sure, I told myself, this is how it always starts. Some early laughs, and then it all gets bogged down in the long, dreary run towards midnight. I do love Eva Marie Saint, though, and her introduction to Best Costume Design was really heartfelt and emotional. Interestingly, this jet ski gimmick had me paying attention to how long each winner was taking up there, and when Phantom Thread designer Mark Bridges walked off the stage after just 36 seconds, I noticed. I don't know how fun that was, really, but the contest was certainly keeping me engrossed. Also engrossing? The random shots of surly Academy members sitting in the audience.
I kept waiting for Kimmel's "Christopher Plummer is really, really old" jokes to get as old as Plummer, but dammit, they kept being funny, and I kept on laughing. I even found myself getting a little emotional during that ridiculous Academy montage celebrating 90 years of people going to the movies. And wait a second, did Jimmy just ask Spielberg if he had any pot? Yes, he did. Meanwhile, Kumail Nanjiani killed it with his Chris Pine bit, and an appearance from the still-feisty Rita Moreno instantly improves every awards show, so there's that. On top of it all, one of the guys who won for Best Production Design was wearing shades, sneakers, and what looked like a short-sleeved tux, which just about had me jumping off my couch in appreciation of his casual fashion sense. I thought he had won himself a jet ski with his ultra-short speech, but then Jimmy came out and said Bridges was still atop the brevity leaderboard, so I guess that bonus prize was per category, not per speaker. Oh, well.
Still, even as the Star Wars team labored through some horrible gag writing, my heartstrings were being tugged and my giggle button was being pushed, and… wait, was I actually enjoying myself? Was I having (shudder) fun watching the Oscars? Yes, I was! I'd worried that I'd become so jaded that I'd forgotten just how much I look forward to this night each year. Sure, awards season is a horrible slog and the Oscars always last longer than they should due to some wholly unnecessary dead spots (like the snoozy repeat of last year's gag mixing stars and regular folks) that some intrepid producer could easily find a way to fix, but honestly, I can't help myself. I'm like the Grinch who has a heart two sizes too small at the beginning of the show, but by the time Best Picture has been handed out, it has grown three full sizes.
To be fair, when a show like this includes someone like Tiffany Haddish, who was clearly having more fun in the moment than legally allowed according to the Academy's bylaws, it's hard not to buy into it. There may not have been any major upsets, but by the end of it all — after Keala Settle's towering, triumphant, blow-the-roof-off-the-joint, better-late-then-never performance of "This Is Me" (even though it didn't win), and after Warren and Faye correctly gave The Shape of Water the Best Picture prize — I was back there, standing in front of my mirror, giving my future acceptance speech once again. And that's when I realized that Oscar had me beat.
So that's it, pal. You win. I'm done fighting it. No matter what you throw at me, I'm hooked, and I won't complain anymore. And the best part? Just 364 more days (give or take, unless they move the show to mid-February) until the 2019 Oscars ceremony, which means we have about three more weeks until the next awards season begins. Places, everyone!
---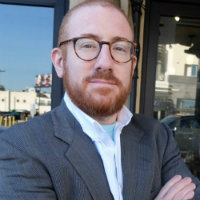 Neil Turitz is a filmmaker and journalist who has spent close to two decades working in and writing about Hollywood. Feel free to send him a tweet at @neilturitz. He'll more than likely respond.