Warner Bros. Pictures
Recently, I started employing a gimmick that began as a bit of a joke but has since taken on a life of its own. I call it Six Word Reviews, and it's exactly what it seems. I limit myself to a half dozen words to describe a movie, and that's it. Some are challenging, some come out easily, but it's become a fun exercise, combining creativity with brevity. Each one is posted on social media (Twitter handle below), and reactions are encouraged.
I mention this because we now find ourselves at the Quarter Pole of the six-month trudge that is Awards Season, which means a good chunk of movies have hit theaters and things are starting to become clearer. With that in mind, it's time to take a purely unscientific, totally biased look at what's out there, what is worthy and what isn't, and how I personally think the various races should shake out. And, because I have introduced the concept, I will employ the Six Word Reviews (#sixwordreviews, #itsathing, #iammakingitathing #really) when talking about a particular movie.
Dunkirk 
Looks Great. No Soul. Wildly Overpraised.
Looking over the landscape, it's pretty clear that this is going to get a Best Picture nomination, which I simply cannot understand because the story, such as it is, doesn't add up to anything (indeed, director Christopher Nolan originally wanted to shoot without a script), there is no character work, it is riddled with factual inaccuracies, completely without any historical context, and otherwise sort of dull. I am on record about this, of course, and continue to not understand the appeal of either the movie or its director, but this appears to be a fait accompli, so I'll just shrug and move on.
Blade Runner 2049
First viewing: Wow. Just … Holy Cats. Helluva flick. 
Second viewing: Second viewing does it no favors.
This is a conundrum because the first time I saw it I was mesmerized, and the second I was … confused. The movie is just absolutely spectacular to look at, no question, but it doesn't quite add up, like, at all. I'm not sure which characters were working for what cause, what certain motivations were, what the heck Jared Leto was doing, it's a big jumble, but if Roger Deakins doesn't finally win a cinematography Oscar, there's something sinister going on.
Fox Searchlight Pictures
Battle of the Sexes 
Two brilliant performances. One mediocre film. 
It feels to me like all this movie does is create a showcase for the genius that is Emma Stone, and the skilled craftsmanship that Steve Carell brings to just about anything he does, but the movie itself is a snooze.
mother!
Jesus. What the f—- was that?
I hear talk that Jennifer Lawrence might get some attention for her performance here, but I'm not sure why because there is simply nothing about that movie that works. Literally nothing.
The Big Sick
A total breath of fresh air.
Can it be that this might just be the first romantic comedy in decades to get a Best Picture nomination? At the very least, the husband-wife team of Kumail Nanjiani and Emily V. Gordon appear to be a deserved lock for an Original Screenplay nod. If the movie gets nominated, too, I will post a video on Twitter of myself dancing in celebration.
Lionsgate
Stronger
Wow. Please go see this movie.
Actually, come to think of it, same goes for this flick, which is absolutely one of the best things I've seen this year. With any luck, both Jake Gyllenhaal and Tatiana Maslany will be recognized for their stellar work.
Mudbound
An "important film" that falls flat.
I find this Sundance hit confounding because, aside from some good performances — especially Mary J. Blige in a stunning supporting turn — it's a self-important slog. Just like with Dunkirk and its style over substance direction, I don't understand how a movie this poorly structured is getting so much positive attention for its screenplay.
Victoria & Abdul
Dame Judi's great. The movie? Not.
Safe to say that the only thing worthwhile about this film is that it is a showcase for Judi Dench, and she is sure to get yet another Best Actress nomination for playing Queen Victoria, which is only fitting because she's really good at it.
Amazon Studios
Wonderstruck
Enormous plot hole ruins a masterpiece.
At first, I really loved this movie. Loved it. But then I was talking with my friend Kyle Smith, the National Review's Critic at Large. He had dismissed it out of hand, and when I wondered why, he asked me one simple question about the film and, in so doing, made me realize the plot was a house of cards, and by asking that one question (which I will not do here as it would spoil the whole movie) the house came tumbling down and my whole opinion changed. Suddenly, I was sort of aggravated. It might get some technical love, especially for Carter Burwell's gorgeous score, but otherwise, nothing else really makes sense.
The Mountain Between Us
Far better than you might think.
I mainlined about nine movies in the last seven days, and this is, oddly, one of the better ones. And yet, it's getting no awards attention at all. Idris Elba and Kate Winslet are both fantastic, it's a big, romantic epic that zips right along and never feels cloying or stilted, but it's being ignored, which I don't quite get.
Lady Bird
A truly delightful slice of life.
I've seen chatter about writer-director Greta Gerwig getting some love for both those jobs on the film because the script is terrific and the performances, especially Saoirse Ronan and Laurie Metcalf as the title character and her mom, respectively, are spectacular. Both actresses should get nominated, if there's any justice, and while I've never been a big Gerwig fan, she sure earned my respect here.
The Florida Project
Respected this movie, didn't enjoy it.
Please see my above Six Word Review. Difficult, frustrating, annoying, but also fascinating, it feels like Willem Dafoe's bravura supporting turn is the one sure thing that will come from a movie that was, for better or worse, like nothing else I've seen this year.
There are plenty of films I have yet to see, including Molly's Game, Call Me By Your Name, First They Killed My Father, Phantom Thread, The Post, Darkest Hour, The Shape of Water, Wonder Wheel, Downsizing, The Disaster Artist, Breathe, Chappaquiddick, Hostiles, Last Flag Flying, I, Tonya, Film Stars Don't Die in Liverpool, The Greatest Showman, Roman Israel, Esq., and Three Billboards Outside Ebbing, Missouri, which only excites me because, for the first time in years, I am seriously and genuinely jazzed about very little at the moment, and this offers fresh possibilities. Usually, by this point, I've already got a few flicks I am championing, but aside from a couple mentioned here, I'm still looking to be truly inspired.
Having said that, it's worth pointing out some films from earlier this year that are getting attention, whether they deserve the recognition…
Universal Pictures
Logan — A brilliant and moving character coda.
Get Out — Are you kidding me? Just amazing.
The Hero — Movie's good, Sam Elliott is transcendent.
Wind River — Just what a thriller should be.
or not …
The Beguiled — So boring, almost fell asleep twice.
Brad's Status — Whiny middle-aged man movie. Snore.
Wonder Woman — Lots of fun, but nothing more.
Of that list, I think Jordan Peele's astonishing directorial debut is the only one that's going to get its due when the time comes, though Sam Elliott and Hugh Jackman really should be taken more seriously in the Best Actor race than they currently are.
The good thing about all this is there is a lot more to come, which means this is just the first installment in what will surely become an ongoing kibitzing about the state of the union, so to speak. Looking things over, I think I can sum up the proceedings of Awards Season so far with one last Six Word Review, just to top it all off.
Mediocre start, hopefully a grand finish.
---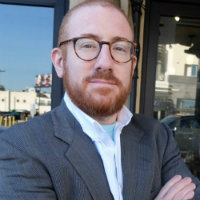 Neil Turitz is a filmmaker and journalist who has spent close to two decades working in and writing about Hollywood. Feel free to send him a tweet at @neilturitz. He'll more than likely respond.