Getty Images
So Marvel made a big announcement on Wednesday, that being the reveal of Anna Boden and Ryan Fleck as the directing team behind Captain Marvel in 2019, which will star Brie Larson in the first female-led Marvel film (although, of course, fans will first meet her in 2018's behemoth, Avengers: Infinity War).
You may not know Boden and Fleck, but you've probably at least heard of one of their movies. Their debut, the 2006 drama Half Nelson, got Ryan Gosling his first Oscar nomination, and put them firmly on the map as indie directors with whom to be reckoned. They have made three subsequent films, Sugar, a baseball drama that was pretty good, It's Kind of a Funny Story, a dramedy that wasn't, and 2015's gambling drama Mississippi Grind, with Ryan Reynolds and Ben Mendelsohn, which I kind of enjoyed. They've also done a bit of TV, mostly on cable shows like Billions (which I quite like) and The Affair (which I very much don't).
Mostly, people seem to like their first two movies more than their last two, but Boden and Fleck are a talented pair of a people, and continue Marvel's tendency to hand the directing reins of their films to independent filmmakers used to working with characters, rather than big, bombastic plot lines. It started with the very first movie, when they hired Jon Favreau to direct Iron Man, and with a couple exceptions — notably Joe Johnston for the first Captain America movie and Peyton Reed for Ant-Man — they have continued that trend.
On top of that, it fulfilled the mission it set for itself by bringing a female director into the fold to oversee this decidedly feminist project, which goes along with the writing pair of Meg LeFauve and Nicole Perlman (who co-wrote the first Guardians of the Galaxy movie). Some might say that this is tempered by the fact that there is a male director working with her, but I dismiss that because the two have a specific, shared sensibility, and the important part was to bring a feminine perspective to the project, which Kevin Feige unquestionably has.
Getty Images
I like this hire because it's as out of the box as so many other decisions the company makes. I mean, who would have thought to give Anthony and Joe Russo the job of directing Captain America: The Winter Soldier? Two guys who had made exactly three theatrical features, the last of which had been You, Me and Dupree, in 2006, and a bunch of TV, mostly sitcoms? Seriously? These guys? For real?
Turns out, all they did was make Marvel's best movie so far, and arguably one of the best superhero movies ever made. So it's tough to argue with Feige's judgment here.
But back to Boden and Fleck, who now have four features together under their belts, and evidently work in a very tight tandem with each other. The actors they have worked with — Gosling, Reynolds, Mendelsohn, Zach Galifianikis, Emma Roberts — all talk about how they come up with things together and have a very united vision, as if the actors were working with a single director, much like how people talk about working with the Coen Brothers. Like their movies or don't, they are really good at developing characters with whom an audience can jump on board, and for something like Captain Marvel, introducing a pivotal player in the next phase of Marvel's plan for world domination, that kind of thing is sort of key.
I think it's also fair to continue to compare Marvel's choices with DC's, as Marvel makes these thoughtful, interesting, out-of-the-box choices, and DC keeps hiring Zack Snyder. Yes, Patty Jenkins directed Wonder Woman, and she previously made a little movie called Monster that won Charlize Theron her Oscar, but the other directors on the roster for upcoming movies are James Wan for Aquaman and Matt Reeves for The Batman (and who knows who might eventually helm The Flash, since they can't seem to hold on to a director for that one), and both of those guys are known for the larger, more bombastic fare. True, they are better storytellers than Snyder, but then again, that bar is set pretty low, so it's not necessarily saying much.
A better way to put it is that, while Wan and Reeves are clearly quality filmmakers, one could say that their hiring is a bit more obvious than the ones that Marvel has made. James Gunn is another perfect example, because all he'd done before he was hired to co-write and direct Guardians was direct one low budget horror flick, Slither, and one ultra low budget drama about an emotionally damaged man who dresses up as a costumed vigilante, Super, and then was brought in to helm a movie that was probably the riskiest Marvel had made since Iron Man, simply because of how little known the main characters were.
Getty Image
And of course all he did was hit a home run, word is dynamite about the sequel, and just this week he announced he'd do the third film in the trilogy, as well, which I think is a good thing for everyone, fans included.
Meanwhile, while I'm hearing great things about Wonder Woman, I also had heard great things about Man of Steel, and we all know how that turned out, so I will reserve judgment until June 4, when it hits theaters.
What all this means is that I don't really think Marvel has made a bad decision yet about this sort of thing, and this doesn't feel any different. There is something special about Boden and Fleck, and all you have to do is see their first film to understand that. I'm not saying that Captain Marvel will have the emotional impact that Half Nelson did, that would be quite a reach, but the fact that they are capable of such powerful storytelling is exactly why those who enjoy these superhero movies so appreciate the kind of fare that Marvel is giving us.
One of the things the fans of these films try to stress is that they should be judged as any other movie. Just because there are costumes and super powers and vast, enormous suspensions of disbelief doesn't mean they can't still be great movies. Logan proved that very thing just a few weeks ago.
Marvel gets that, which is why we got Boden and Fleck this week. It's a good thing for both sides, but most importantly, I think it's going to be good for us, the audience, and that's always the most important thing, right?
---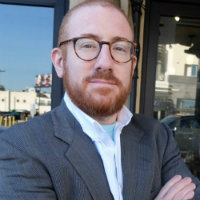 Neil Turitz is a filmmaker and journalist who has spent close to two decades working in and writing about Hollywood. Feel free to send him a tweet at @neilturitz. He'll more than likely respond.