How to judge a company that doesn't actually put its films in theaters? Or doesn't actually show what kind of revenues it has? Or doesn't have any black and white numbers for domestic and foreign grosses, or essentially, possess any of the other myriads of factors by which we've been measuring all the other distributors during this series? The answer to these questions: you don't judge them by the same criteria.
Netflix spends billions of dollars each year on its content, and increasingly, that content is not just television, but also feature films. The money being spent on features is considerable, to the extent that the major studios are getting concerned about it. A smaller project like the upcoming Bright, which should have cost $45 million to star Will Smith and Joel Edgerton, directed by David Ayer with a script from Max Landis, instead went for twice that once Netflix bought the package. True, the number was inflated because the streaming service bought out everyone's back end and residuals, but it's still an absurd amount of money and not something with which other studios want to compete. Not that they really have a choice.
We all know Netflix's business model by now. It's entirely subscription based,so it doesn't make any money from box office, syndication, or anything other than the monthly fee that over 100 million subscribers currently pay. That puts billions of dollars into the streaming service's coffers every year, but it's spending so much money on content, it's actually borrowing billions more to finance it all. Netflix doesn't share its metrics with the public, so we don't really know how many people are watching its movies, but we can gather some ideas about what it's doing, what it's looking for, and how it's going about getting it.
A good place to start is with this very summer. There have been a few movies dropped on the service, but the two biggest are undoubtedly War Machine and Okja. Let's deal first with War Machine, a $60 million satire starring Brad Pitt and directed by David Michôd, whose biggest prior hit was probably the 2010 Aussie drama, Animal Kingdom. Netflix is known for not spending a whole lot of money on promotion of its content — almost none, really — and instead relies on the old word of mouth system for publicity. For some shows, that works exceptionally well. Exhibit A there is Stranger Things. But while that has a bit of success with the streaming service's television shows, it is not quite as helpful when it comes to features. Adam Sandler movies apparently do well, because the lowest common denominator type of audience that used to line up at the multiplexes to see his films have no problem dialing up these new productions from the comfort of their own homes.
Netflix
War Machine is different. The film is a hard sell. Even though Brad Pitt still has his appeal, his onscreen work has lessened considerably over the past few years, and his draw is not what it used to be. Even with a movie that people can ostensibly see for free — provided they're paying the $9.99 it costs each month for access — War Machine didn't have the same kind of built in audience, and so a different tack had to be taken. That meant actual money spent on a marketing campaign, and seeing billboards and paid advertisements and banners was akin to seeing a full lunar eclipse. It happens so rarely, you sort of have to sit up and take notice when it does.
Clearly, Netflix wanted to make a statement with that film. It wanted people to show up, stream it, and make it into a cultural phenomenon. In the midst of very difficult times across the globe, poking fun at the military industrial complex using intelligent wit and humor was a sure way to get people talking. The only problem is, it didn't really work out the way Netflix would have liked. The reviews were mostly good, but it never provided the kind of social media conversation (aka The New Watercooler) that was intended.
Same goes for Okja. A social commentary about a genetically engineered pig and the relationship it has with the 10-year-old little Korean girl who takes care of it is one of the odder offerings you might have seen this summer. From acclaimed director Bong Joon-ho and costing $50 million, it was a risky endeavor, especially since the Korean filmmaker's work is not exactly mainstream. His last film, Snowpiercer, is alternately loved and loathed, depending on the viewer (count me in the former camp), and there's very little in between. The same kind of divisiveness applied here, especially considering how difficult the subject matter is. The movie includes a scene of one genetically engineered pig raping another genetically engineered pig — yes, really — and the thinking here is that Joon-ho wanted everyone who saw his film to leave wanting to be vegan.
Netflix
On the surface, these two movies have little in common, but look a little closer and you'll realize that each has a certain edginess to it that doesn't normally apply to a mainstream studio film. Not anymore, at least, and certainly not in the summer, when both movies dropped. This same standard could be applied to the most recent release, the eating disorder drama To The Bone, starring Lily Collins. True, this one was purchased at this year's Sundance Film Festival, but it still fits what might be shaping up as something of a mission statement for the company's feature films.
There are no less than 30 features on the way over the next year or so, all of them either in pre-production, filming, or in post, with a couple ready to go soon. They come from filmmakers like Nicole Holofcener, Ted Melfi, Duncan Jones, David Wain, Jeremy Saulnier, and Gareth Evans, among plenty of others, though none of them — save perhaps for the very flashy Bright — have any major stars on board, nor are they especially commercial-looking endeavors. Now, there's nothing wrong with that, of course, because quality and commercialism do not always go in hand, but it is very telling about what kind of movie Netflix is interested in making. Deals with Sandler and the like aside, the list of movies definitely lean toward the esoteric.
Essentially, Netflix is spending a lot of money on making indie films. This is both good and bad. It's good because anyone who is willing to spend money on the kind of fare that the studios have long stopped making is a boon to the industry. That's a given. But it's also bad, because not only does it create a glut of content that gets lost in the cracks of the service itself, it also starts to price out smaller indie films.
The first part takes effect when the company both produces its own movies and also acquires others, puts them all on its service and makes them available to its audience, but without the proper marketing or publicity push to make said viewers aware. In theory, once a viewer finds what he or she is looking for the site's algorithm will direct the viewer to similar choices. That's how it used to be, of course, but now, with a simple thumbs up and thumbs down rating system, it won't be quite so simple. People have to really dig to find smaller films on the site, and that's not conducive to breaking through, as such movies might in arthouse theaters. The second part comes into effect when non-Netflix indies are trying to compete for a bankable cast, but find themselves unable to meet the salary demands because the bar has been raised by the streaming service's tendency to overpay. Both aspects are problematic, for obvious reasons.
If Netflix isn't the leading current purveyor of television right now, it's right up there at the top, and it's certainly intending to be the same on the feature side. But while you may be a big fan of several different TV series that air on the service, how many movies have you actually sat down to watch in the past year? Not rebroadcast films that first appeared in theaters, mind you, but Netflix originals or festival acquisitions that actually premiered on the site. The wager here is that the number is pretty small, simply because the features do not tend to carry the same must-see feel that the television shows do. If you're spending so much money to create a thriving film business, this also becomes problematic.
One way to change that might be with Oscar nominations, something that had been a problem for the company before last year — since, y'know, it didn't meet the Academy of Motion Picture Arts and Sciences requirement of a theatrical release — until it signed a deal with iPic theaters in New York and LA for certain films to play for a week on a day and date basis, so as to qualify. Okja falls into this category, as does Bright later this year, the Sandler film The Meyerowitz Stories, and director Dee Rees' Mudbound. Others will be determined.
Netflix isn't going anywhere. It's too big and too pervasive in its operation. Still, it has more than a few questions to answer and problems to solve. The biggest one is really simple and straightforward: with its film business only a couple years behind the TV one in years, but feeling like decades in success, can the former become a true companion to the latter? It is ultimately the answer to that question which will truly determine the company's future.
---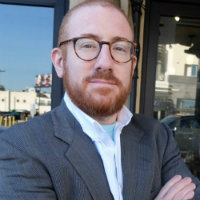 Neil Turitz is a filmmaker and journalist who has spent close to two decades working in and writing about Hollywood. Feel free to send him a tweet at @neilturitz. He'll more than likely respond.