All images courtesy of Open Road Films
The indie world is a bit of a tricky place, in that one is never entirely sure where the money to finance the various movies comes from. While some of the distributors do finance their own wares — a Weinstein Company, for instance, or, before that, Miramax — there are plenty of others that don't, like last week's entry, Roadside Attractions, which mostly doesn't.
Or this week's entry, Open Road, which also mostly doesn't. It's for that reason that, when Open Road puts a movie like The Promise in theaters, about the Armenian genocide that occurred a century ago, and sees it do just over $8 million, despite a $90 million price tag, there's no immediate cause for panic. Since Open Road didn't finance it, it isn't on the hook for the enormous loss the movie incurred, and therefore, unlike its studio brethren, doesn't have to eat such an enormous poop sandwich.
Having said that, when a company puts a film like that on its slate, it's going to be expecting a better result than that, because otherwise, what's the point? The whole idea is to put films into theaters that you think the audience is going to want to watch, and so when that audience doesn't show up, there are still costs that aren't really recouped.
This is the seventh year of Open Road's existence. It hit the ground running in 2011 with the Jason Statham-Clive Owen-Robert De Niro thriller, Killer Elite, a movie that cost $70 million to make but, since Open Road only served as the distributor, wasn't a bad way to get rolling with its $25 million domestic haul. A bigger splash was made in January of 2012, with the Liam Neeson wilderness thriller, The Grey, a movie it actually did help to finance. The $25 million film did over $77 million worldwide for a nice win. Not long after came Silent House, a low budget horror flick that also made money.
Three more movies would come along that year, the Dax Shepard flick Hit and Run, the sequel Silent Hill: Revelation 3D, and, biggest of all, the Jake Gyllenhaal-Michael Peña cop drama End of Watch. It led to a solid showing of over $136 million in total domestic grosses for just five movies. Honestly, that's not a bad average, especially for a company just getting itself off the ground.
Over the next couple years, some solid hits came out of Open Road, including Steven Soderbergh's last film (until next month, of course), Side Effects, the Marlon Wayans spoof A Haunted House, the animated The Nut Job, the Oscar-nominated Nightcrawler, as well as Chef, the Haunted House sequel, Dope (which it won in auction at Sundance), Mother's Day, and, of course, the 2016 Oscar winner for Best Picture, Spotlight, the first Open Road movie to win any Academy Awards, much less the Big One.
Mixed in, of course, is a healthy amount of films that did not fare so well — Triple 9, Snowden, Fifty Shades of Black, Rock the Kasbah, and Max Steel all are good examples of this — but therein lies the hit or miss nature of the indie film business. Especially when so few of these films are being developed in house.
While it's not hard to see something of a throughline of the kinds of movies Roadside puts out, Open Road is not quite so easy to pin down. There is certainly the action-based fare, and lower budget horror films, but there are also attempts at more thought provoking work, like the Ashton Kutcher version of Jobs, a movie that Open Road actually produced and which, in fact, made money. Likewise, Eli Roth's controversial The Green Inferno, and Garry Marshall's final film, the somewhat execrable Mother's Day. Spotlight does not, on the surface, appear to fit in with a lot of the titles listed in this paragraph and above, and yet, it also sort of does, because it's got some commercial possibilities.
That, perhaps, best of all, is the way to define the kind of movie that Open Road releases: something that might not always be of the highest quality, but does have a mass market appeal to it. On the surface, that might seem obvious, that every company has that philosophy, but look closer, and it's clear this isn't the case. There are companies that release more esoteric films, more feminine ones, more intellectual ones, films that appeal to a very specific audience, rather than a wider one.
Open Road, however, seems to tend toward the movies that the studios might not make, but that could still be put on 1,500 or 2,000 screens. In fact, of the seven movies it released in 2016, only one opened on fewer than 1,500, and that was the documentary Gleason, about former pro football player Steve Gleason and his battle with ALS. (It's also important to note that Open Road put that film out in conjunction with an agreement it has with Amazon Studios.)
Mother's Day opened on nearly 3,300 screens, and was the second biggest release in the company's history, just 100 or so behind The Nut Job. While it did over $32 million domestic, and was the company's biggest grosser of 2016, it underperformed. As did Oliver Stone's Snowden, John Hillcoat's Triple 9, Wayans' Fifty Shades of Black, the Vinny Paz biopic/boxing movie Bleed for This, and Max Steel. That the year's grosses were up by 50 percent over the year before is not a victory as much as it points out how truly awful 2015 was, even with the solid showings of Spotlight and Dope.
Through this past weekend, the five movies that Open Road has released in 2017 have done just shy of $44 million at the domestic box office ($57 million worldwide), the second lowest total it's had, and only about five million dollars more than, at this point, that lousy 2015.
Sleepless did some okay numbers in January, but Collide was a bust in February, as was the YA adaptation Before I Fall, not to mention the disaster that was the animated Spark: A Space Tail, before the most recent entry, April's The Promise. In the three months since then, the company has been licking its wounds and gearing up for its final four releases of the year, including next month's sequel, The Nut Job 2: Nutty by Nature.
Oh, you say that you haven't seen much about that animated film? In fact, you probably haven't, with so little marketing out there about it, and yet, it's still going to be hitting several thousand screens on August 11, opening against the horror sequel Annabelle: Creation, and the biopic, The Glass Castle. Solid counter programming.
After that, there are two movies in September, the Reese Witherspoon-led comedy Home Again — which will not only serve as the directorial debut of Nancy Meyers and Charles Shyer's daughter, Hallie Meyers-Shyer, but also might just serve as a referendum on Witherspoon's box office appeal moving forward — followed by the thriller All I See Is You, and then, in October, the Thurgood Marshall biopic, Marshall, featuring Chadwick Boseman.
There's certainly some room for positive gains there, though it would take something superhuman to get the year's domestic grosses anywhere near the all-time high of 2014's $162.7 million. Much more likely, in fact, is something akin to last year's total of around $100 million, depending entirely on the success of the Nut Job sequel. Either way, it'll almost certainly be the third middling year in a row for the company, which, if it continues, might start to get worrisome.
That said, the future has its possibilities. There's the Bella Thorne YA romance Midnight Sun in January, and then later in the year (with currently indeterminate release dates) the animated films Arctic Justice and Blazing Samurai, the crime thriller about the deaths of Tupac Shakur and Biggie Smalls, LAByrinth, the action-drama Finding Steve McQueen, and the live action-animation hybrid Show Dogs, from director Raja Gosnell.
There are a few other movies that the company will distribute, all of which fall under that category of "sort of mainstream, generally commercial, if possibly a tad lower rent" type of offering, and they could, conceivably, do some business, as well. What's interesting is how much of an outlier a film like Spotlight was, and whether or not anything like it will come from Open Road again anytime soon.
Regardless, what is very evident is that the soft grosses of the last couple years can't persist for too much longer, or else we could see Open Road fall to the second division of indie distributors, alongside more specialty outfits like Oscilloscope or Magnolia. That's not what this company is about. One big hit per year should keep things afloat, but the clock is ticking, and it's unclear if any of the company's upcoming projects have such potential.
For more entries in our studio series, click here.
---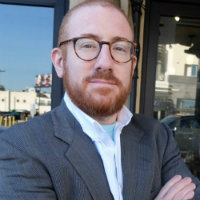 Neil Turitz is a filmmaker and journalist who has spent close to two decades working in and writing about Hollywood. Feel free to send him a tweet at @neilturitz. He'll more than likely respond.