This episode was kinda Hillbilly Noir in parts. Haley really gets the Farrell treatment once she is dragged before G'win and the tribe by Big Fos. She's sat at a table in front of them all and given a glass of the poisoned spring water.
This is certainly a test of Haley's PR skills. She sees she's been mistaken for someone with more power in the coal company and tries valiantly to use her "community relations" approach to get herself out of this clearly dangerous situation.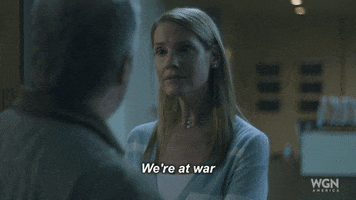 She outlines the coal company's plan for the Farrells – condos! just outside Blackburn! with all new modern appliances! Ah, biopolitical soft power…. it really doesn't wash with pre-modern Appalachian hill tribes unfortunately. Still, G'win, who initially planned that Haley drink the poisoned water, decides instead to show her around the village. Haley sees musical instruments, crafts, children attending school – and then she's led to the poisoned spring and forced to face the wrongdoing of the company she shills for. She witnesses the grieving circle for Silas, the child killed by the poisoned water, swears to fix the situation…. but is still locked up in the cage the mountain people reserve for wrongdoers.
Sally-Ann wants Hasil to quit fight club. She'll support #Sasil instead, she says; it's less dangerous than Hasil risking getting caught by the police. He agrees, and is then talked out of it by Butch. This sounds risky as hell. What's Sally-Ann going to do if her babydaddy ends up in jail? She lets him do it under the condition that protection is arranged – lookouts on fight night for the po-po, and that she herself attends the game. She watches the blood fly and bones crunch and looks both rapt and horrified – and when he wins the fight, there's a rather thrilling declaration of love between #Sasil. There really isn't anything that can keep these two apart.
Trapped in her cage, Haley finds herself surrounded by Farrells, flaming torches in hand, led by Silas' grieving mother, Ayla (nice s/o to The Clan of the Cave Bear there, writers). The mob try to force her to drink the poisoned spring water, but fortunately for the PR chick G'win intervenes. G'win is so regal and dignified, apologizing for her peoples' excesses and offering Haley Farrell wine, if not a release from her chains.
Wade has another hot date with the old elementary school pal, Dana. It's funny watching this long out of practice Romeo deal with the prospect of sexy times. Which is to say, he kind of can't. Fortunately his Juliet is better at the act, and Wade is smiling ear to ear at breakfast time. Ledda in remission, a lady on his arm, Li'l Fos (who he believed wrongly accused of the murder of his brother-in-law) out of jail… could things finally be looking up for Blackburn's deputy sherriff?
Lil Fos meanwhile wants to build a home on a remote part of the mountain with his new lady and leave all his previous conflicts behind. But remember G'wins pregnancy? Li'l Fos hears the news from said new lady. This throws a spanner in his burgeoning plans for a post-Farrell future.
Oh, and remember manarchist Gordon? it turns out his name is actually Stephen, and he is in trouble. When Haley is reported missing, Wade tracks the bearded environmental activist down after learning that he was seen with Haley in the bar some nights back. He questions him and is satisfied with his alibi (yet another woman from the town, geez Gordon/Stephen), but in the process the One Planet/government EM learns that Gordon slash Stephen had met with Haley, and figures that he must have been the source of the leak that got the company in trouble with the media. The tall brocialist is located and kidnapped, private sector goon style, and I doubt we will see him again. Another blow for the resistance to the coal company, but I can't help being pleased that the smarmy activist won't be the one leading it any more.
This episode ends with a truly freaky dream sequence apparently brought to Haley by Ayla. She wakes in a field, free from the cage, some samples of the poisoned water by her side. She knows what to do next.
Season 2, Episode 10 (S02 E10)
Outsiders airs Tuesdays at 9PM on WGN America
Read all of our reviews of Outsiders here.
Read our reviews of more of your favorite shows here.
---
Ann Deslandes is a writer from Sydney, Australia. She has degrees in sociology and gender studies, which makes her very annoying to watch TV with.
Follow Ann on Twitter: @Ann_dLandes
Keep up with all of Ann's reviews here.
Ann Deslandes | Contributor