*WILL BE CONTINUOUSLY UPDATED THROUGHOUT THE EVENT*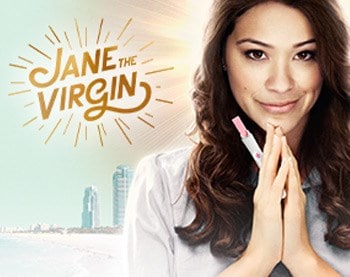 Sunday, March 15th (4:00pm)
Panelists: Gina Rodriguez, Andrea Navedo, Jaime Camil, Ivonne Coll, Brett Dier, Justin Baldoni, Yael Grobglas; Executive Producer: Ben Silverman; Executive Producer & Showrunner: Jennie Urman
 UPDATE 5:00PM PST 
The entire cast looks so good! Why do they hide Ivonne's (Alba) under those grandma clothes. DANG!
Gina says that you seldom get to opportunity to audition for character like Jane. "She's empowered, fearless and A VIRGIN!"
UPDATE 5:11 PM PST
The casting of this show was TOTALLY spot on. Didn't realize the ensemble was so GOOFY!
Also, they work out of set. Way to be efficient!?
Season 2 sex scene??? 
Andre Novedo finally gets to talk and I want it to never end. Her struggles are the same struggles that are reflected on the show and in real life. #MiGente
UPDATE 5:20 PM PST
Ivonne "I represent the thousands of immigrants that come to this country and work so hard." 
UPDATE 5:43 PM PST
The actors are so different from their characters! Yael (Petra) is apparently super nice in real life and Ivonne (Alba) is NOT a grandmother… go figure!
The one thing the group says over and over again is that they are blessed. So genuine- can we be friends?  
Jennie Urman says that Louisa will be "coming back with a bang." I totally called it! 
UPDATE 5:53 PM PST
That girl just asked the best question ever..which was good because the guy before her did not.
Q: How does  Jennie Urman write and depict the Latin community so well seeing as she's not a Latino?
A: You surround yourself with Latin staff and ask questions. 
In order to write for any community you must first "write for the human beings." 
UPDATE 6:00 PM PST
That's a wrap! Can I just say, I am dying for the next season to air! I can already tell there is much more drama to come! 
By Gabriela Leverette | Contributor
——————————————————————————