Friday, March 13th (7:00pm)
Moderator: Tim Stack (Entertainment Weekly)
Panelists: Jane Lynch, Lea Michele, Darren Criss, Chris Colfer, Amber Riley, Mark Salling, Heather Morris, Chord Overstreet, Dot-Marie Jones. Other panelists to be announced.
It probably goes without saying that tonight's Glee panel was an emotional couple of hours. Glee is pretty sentimental to begin with, but at its final Paley panel, a week before the series finale, in front of an adoring audience who's just seen the upcoming flashback episode? Even I was getting teary-eyed, and I haven't been a regular Glee watcher since season two.
There's only one two-hour finale left to go, so obviously moderator Tim Stack didn't ask a lot of questions about the future. Instead, the panel took on the feel of a retrospective, kind of  like a behind-the-scenes clip show, as cast members recollected their first, final, and favorite moments on set. They talked about revisiting the pilot in the finale ("It was so hard," Lea Michele said. "I did not realize how fast I talked every single day."); their final days on set ("I cried the whole week. I was a mess," said Michele, whom everyone agreed was the most emotional — followed by Jenna Ushkowitz); and the heady days of the show's initial, highly publicized season ("Amazeballs," said Jane Lynch of appearing on Oprah).
Everyone on the panel got a moment to revisit their first day on set. "I remember just being lost," Amber Riley said. "I walked in to many people's trailers. I don't know how I kept this job six seasons." According to Lynch, Chris Colfer, who joined Glee right out of high school, hit peak nerves when all the actors had to get their physicals; he'd never been to the doctor without his parents, before. Colfer hit another milestone on Glee; he had his first alcoholic drink at co-star Kevin McHale's apartment, alongside Ushkowitz and Riley. At the other end of the spectrum, Mark Salling apparently spent the first week hoping that no one would ask him his age; the then-26-year-old had lied and said he was 19 in his audition. Darren Criss, who joined in season two, was still in college when the pilot aired, but his first auditioned ever was for the part of Finn Hudson. "I technically booked my first audition!"
Stack also asked the cast to recall their favorite moments and performances, prompting them to talk about the Madonna tribute episode, and Criss's initial song "Teenage Dream" in particular. Everyone singled out Lynch's "Vogue" cover as the top Madonna moment. "That was Ryan's baby," Lynch said. Shethinks that there were more rehearsals for that song than for any before or since; apparently she had great difficulty with a few of the dance steps, including one that she didn't get until the moment the cameras rolled. Criss recounted similar difficulty with "Teenage Dream." It was his first day on set, and he was performing with the Warblers, who were also newcomers, most without much dancing experience. "All credit goes to [producer]Mr. Brad Buecker," Criss said, for making them look good. (It was Buecker's first day directing, as well.)
On the topic of "Teenage Dream," the panelists also talked a lot about the response that Glee has gotten, both to its overt issues-oriented episodes (Dot-Marie Jones talked about filming Coach Bieste's transitioning episode with the transgender choir: "I was crying in the episode, but I was literally bawling my eyes out.") and to its most beloved, progressive relationships. "I think it's much bigger than Chris and I," Criss said of the enormously popular Kurt/Blaine ship, saying that its popularity spoke to the growing appetite for such relationships in pop culture. Colfer agreed: "The most groundbreaking element of that relationship was the response." Heather Morris had similar things to say about the response to Brittany and Santana's relationship. "It just feels really good," she said.
Finally, they spoke a little bit about the series' final episode, for which Criss wrote an original song, "This Time," sung by Rachel. "I kind of wrote basically a love note to the series … Having Lea Michele sing it to me was one of the most special moments of my career thus far." Michele said she cried a lot as soon as it was over. "It was the most amazing memory." After they wrapped, there was a lot more crying and memory-sharing from the whole cast in the auditorium where they filmed. Then the looting started. (Criss and Chord Overstreet stole pieces of soundproof wall tile from the set.)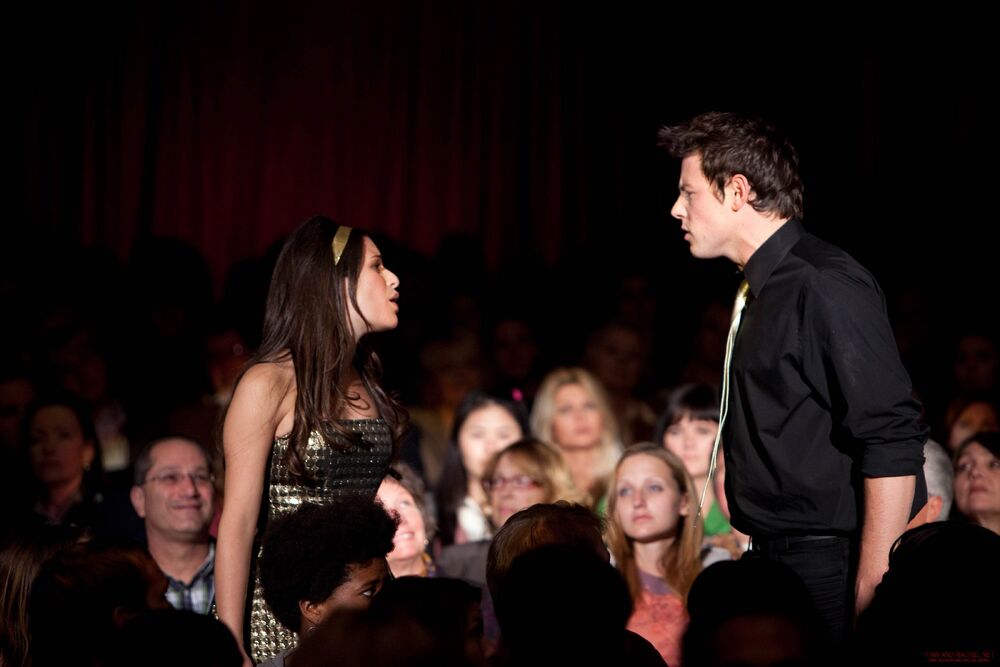 The audience questions portion was more of a sharing circle than anything else; several people didn't ask questions at all, choosing instead to talk about what Glee meant to them. Someone did ask Criss how much hair gel he had to use to play Blaine ("A shit load, I think," said Criss — his hair took an hour each day.), and Colfer kind of answered a question about the hardest performance he ever did ("Darren, what was it? We were freezing. We were either getting back together or breaking up.") Most of the questions and answers, though, were shorter and more light-hearted than the moderated portion — until the end, when the final questioner asked Michele what her favorite performance was. Michele, in a nod to her departed co-star Cory Monteith, chose "Faithfully" — the pair's final duet of season one.
 By Madelyn Glymour | Contributor
——————————————————————————