Friday, March 6th (7:00pm)
Moderator: Julie Chen (Host & Moderator, The Talk)
Panelists: Claire Danes, Tracy Letts, Mark Moses, Laila Robins; Executive Producer: Alex Gansa; Executive Producer & Director: Lesli Linka Glatter; Executive Producer & Writers: Alex Cary, Patrick Harbinson, Chip Johannessen, Meredith Stiehm; Composer: Sean Callery
Tonight, PaleyFest 2015 kicked off to a somber, quiet opening with the Homeland panel. Much like the show's season four finale, the panel didn't exactly provide an overabundance of excitement, but was still nevertheless engaging. The decision for Homeland to open the show is an intriguing one given that its subject matter and tone are far different than the other shows in this year's line-up. Still, the theater was packed with older and younger fans alike, eager to watch the show's stars and creators discuss their favorite show.
 President & CEO of The Paley Center for Media Maureen J. Reidy opened the festivities with a warm welcome to PaleyFest and a reminder of what the fest stood for and why it was created. She then welcomed the night's moderator, Julie Chen, who I think has never watched the show before. Chen introduced a collective clipshow of the highlights of season four — the controversial love scene between Carrie and Aayan Ibrahim, the death of Sandy Bachman, the kidnapping of Saul, Haissam Haqqani's attack on the embassy, all leading up to the quiet finale. It was a great little edit, but no new footage. No teasers.
Chen welcomes the panel out, introduces them, and then we get into it. It takes a few questions before the group really seems to loosen up. Chen calls Claire Carrie a few times, which provides a welcome laugh after a pretty quiet round of questions. I didn't find Chen's questions to be all that interesting or, in some cases, really worthy of being asked. Most of the best bits came from the panelists rambling or fan questions. Chen's work as a moderator was weak, and the questions could have just been read aloud off a board and the show would have went on the same way.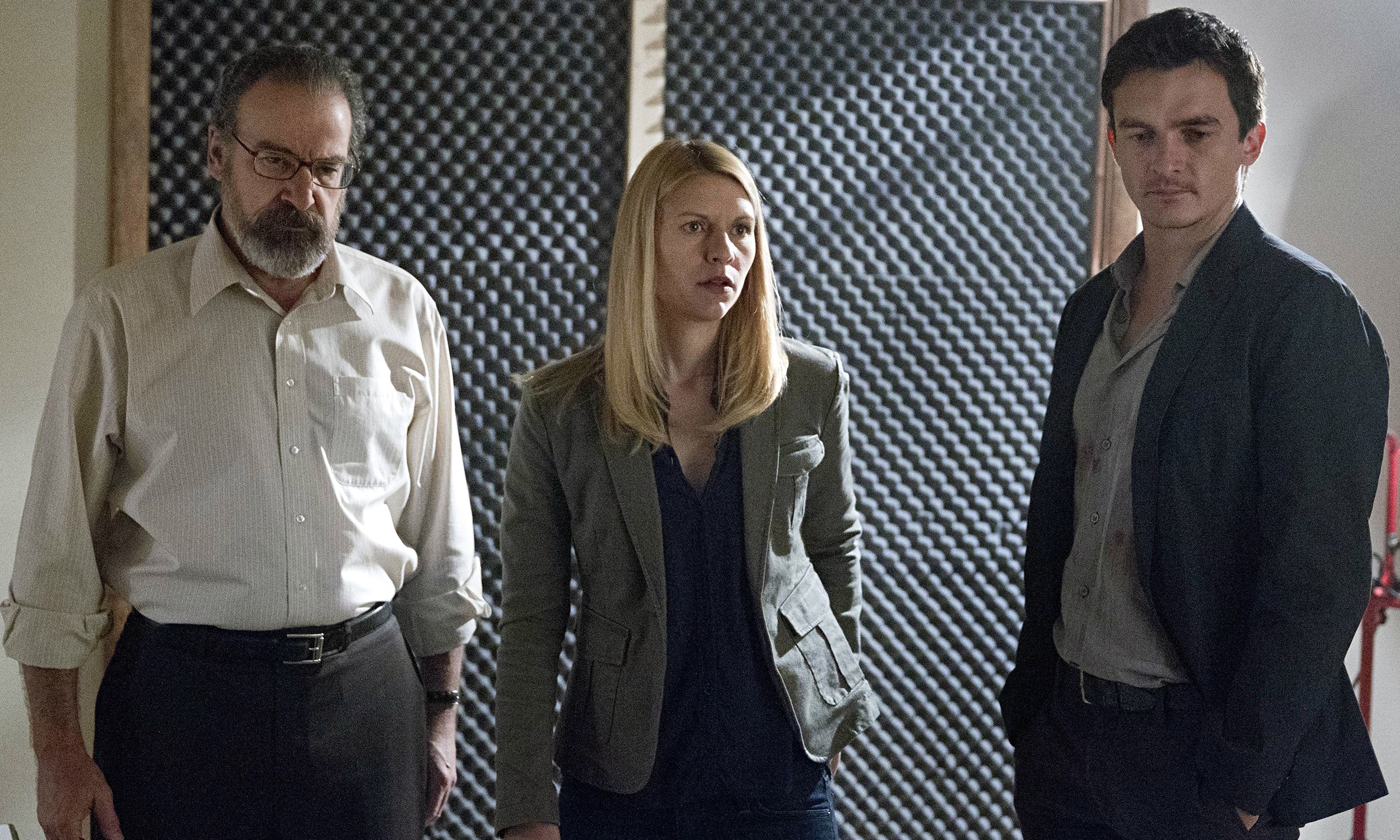 The true highlight of the show was hearing from Homeland's writers, crew, and Claire Danes herself. Alex Gansa opened the talk up to a very eye-opening discussion about Homeland's role of addressing modern issues and exploring both sides of conflict. He talks a great deal about humanizing the show's villains, but wonders if something like that is necessary or possible with a group like Isis, after one fan asks. Gansa says,
"We're one of the few shows that gets to comment on current events."
I would have loved to Chen to probe Gansa further about what he called a responsibility to reflect the nature of true events in a thrilling way, but alas, she didn't.
A great amount of talk was placed on controversial storytelling, what with an examination of Carrie's actions this season. Meredith Stiehm, the only female writer present, touched base on how Carrie's relationship with Aayan wasn't as shocking as people suggested. She ponders if the audience would be so opposed to the union if it was an older man and a younger woman. This was an excellent point, with her absolutely targeting the bullshit sexist stigma that exists within vast age-difference relationship storytelling.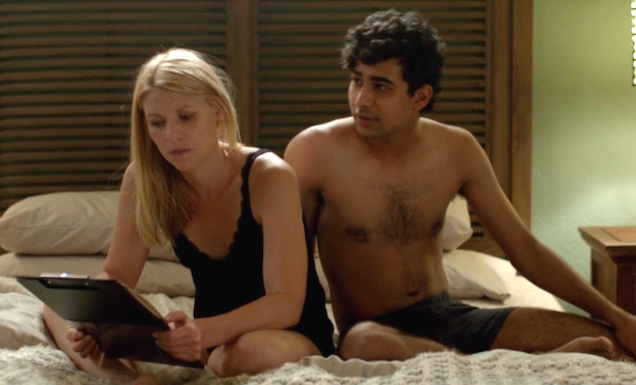 As a filmmaker myself, my favorite moment came when Gasa revealed how the scene where Carrie almost drowns her child changed vastly in post. I loved getting an inside look at the thought process behind the scene, and how they simply reversed an existing shot in order to make up for not getting the necessary footage. As someone who has pulled this editing trick multiple times, it was refreshing to hear how it happens even with such a high-production venture. Discussing the use of the camera underwater as the baby's POV while Carrie drowns it was an excellent discussion that revealed truly how much time and thought the creators put into such a small moment. Finding a balance between keeping the audience sympathizing with the character and keeping the integral moment was hard, and they nailed it.
Claire Danes was funny, well-spoken, and provided a great deal of insight into her portrayal of Carrie this season, exploring all of the emotions that drove the character. Danes' best moment came when a fan asked about her meme-famous cry-face. The fan asked what's going through her mind during these highly emotional scenes, and she responded with a perfect retort:
"I'm not thinking, I'm feeling"
No real teases about the new season (Not that Chen really pressed for them), but Gasa did make three exciting new reveals. First, he disclosed that season five will take place two years after the events of season four. Two years in the world of Homeland is an eternity, and could truly change every dynamic in the show. How did Saul and Carrie's relationship change after the finale? What about Quinn, who left for Syria in the finale. What's going to happen with his relationship with Carrie? It's quite a jump, and could make or break the new season.
Gasa wouldn't give out the location of season five's setting, but he did reveal that they would be shooting in Germany or Europe. This raises a lot of questions, as it's a vastly different locale than Pakistan. What new stories are the writers planning?
And lastly, the biggest reveal would be that Carrie will no longer be an intelligence officer for the CIA. This caused a massive reaction from the audience, naturally, do to the shocking nature of the reveal. This tidbit was perplexing, and gives just enough kindling to light fan excitement ablaze. Showtime president David Nevins was in attendance and announced that season five would premiere on the last Sunday of September. Gasa jokingly begged for more time to work on the show.
The panel provided some interesting moments due to the sheer engaging and articulate nature of the guests, but it wasn't as compelling as I and much of the audience would of liked. It was an altogether quiet affair and could have used an ounce of fun; I mean, we're talking about a television show here.
Here's hoping that tomorrow's Comedy Central panel will make for a more exciting experience!
By Bryan Liberty | Contributor
——————————————————————————