Disney/Lucasfilm
If you're reading this column, then you undoubtedly know that in just 10 days, Disney and Lucasfilm will unleash the latest Star Wars installment. The movie is expected to make about $200 million its opening weekend, which would fall far short of the record of $248 million set by, appropriately enough, The Last Jedi's predecessor, The Force Awakens. It's also unlikely that the new movie will surpass TFA's $936 million domestic (best all-time), or its $2.06 billion worldwide (third-best), but there is no question that hundreds upon hundreds of millions of dollars are going to flow into the Disney coffers as so many millions of people watch, and then probably re-watch, the film.
Of course, none of that starts until the evening of Dec. 14. The Last Jedi will own that weekend, just as TFA did two years ago, and yet that doesn't explain why, in the two weekends leading up to The Big Day, there will have been not one major studio release. Seriously, check the schedule for yourself! There hasn't been a single one since Coco on Thanksgiving, and there's nothing set for this coming weekend, either. Which begs the obvious question — why?
After all, it's one thing to steer clear of The Last Jedi's opening weekend, or even the weekend after, though there are arguments against that, too, which I'll get to shortly. But before? Much less two weeks before? I've been over this again and again, and there is not a single explanation that makes sense. A handful of movies could have been slotted easily into either this past weekend's slot, or this coming weekend's one, but instead, films like Father Figures, Downsizing and Pitch Perfect 3 (especially the latter) that are set to hit theaters on the 22nd could have — no, should have — been bumped up to corral an eager audience before Star Wars hits.
Hugh Jackman's passion project The Greatest Showman comes out on the Wednesday before Christmas, which I can understand because he's had some success with that corridor before (Les Miserables came out on Christmas Day 2012), but this is another one that probably would have seen its grosses soar with an earlier release, and the same could be said of the star-studded Jumanji movie coming out the same day.
That makes five major studio releases that are set to hit theaters in the immediate aftermath of the box office juggernaut that is Star Wars, rather than arriving beforehand. Sure, Downsizing looks a bit esoteric, and Father Figures looks like a rather silly comedy that's been on sitting on a shelf (under various names) for too long, but the other three? They could have cleaned up for two whole weeks before Star Wars came out, but … well, they didn't bother to try.
Again, I can understand the studios being gun shy about pitting their pictures against a new Star Wars movie, but why would they prefer to ride in its wake rather than get out in front and get a head start on the uptick in holiday business?
Seriously. I'm asking.
The thing of it is, while Fox is putting its animated tale Ferdinand out the same day as The Last Jedi, the other studios are missing out on a pretty good opportunity. See, as big as any Star Wars movie is — and, admittedly, they are hard to ignore — there is still a good amount of moviegoers who have no interest in that particular fare, which means a fantastic chance for some counter-programming. If you doubt it, look no further than this same weekend two years ago, when Alvin and the Chipmunks: The Road Chip and Sisters opened against The Force Awakens. They opened to $14.2 million and $13.9 million, respectively, and each made money for their studios over the long haul. In the two weeks prior, the only major release was In the Heart of the Sea, and that movie's box office performance (or lack thereof) had nothing to do with any Star Wars anticipation. This is why I expect Ferdinand to do some reasonable business in spite of its stiff competition.
You don't even have to look back that far. Just last year, the exact same thing happened in the two weeks leading up to the release of Rogue One, as Office Christmas Party was the lone studio release. It, too, broke even, while the movie that was released the same day as the Star Wars spinoff, Collateral Beauty, didn't bomb because of its proximity to Rogue One, but because it's total dreck.
So you can see the pattern emerging here, and perhaps you can make more sense of it than I can, because I genuinely can't understand the thinking behind leaving perfectly good, even coveted theatrical real estate wide open in the face of The Last Jedi. Nor can I understand why at least one other movie isn't even trying to challenge that box office goliath and lure away some potential business. I mentioned Downsizing, and that feels like a perfect candidate to me. There are plenty of filmgoers who turn up their noses at anything as mainstream as The Last Jedi, and who would probably flock to see the new Alexander Payne flick instead. But Paramount Pictures, the studio behind it, isn't giving them the chance, opting to keep Tiny Matt Damon in the shadow of The Big Bad Sequel.
The same can be said of Warner Bros. (Father Figures), Universal (Pitch Perfect 3), Sony (Jumanji) and 20th Century Fox (The Greatest Showman), all of which could be on the path to profitability by now, but instead to decided to hold off until after the Star Wars storm has passed. If any of them had taken advantage of the calm before the storm, they would still be in theaters on Christmas (which of course is the whole point of releasing a movie in December), and they wouldn't have to battle so much competition, including the second wave of Star Wars fans. Five different movies, five opportunities to make money, five decisions not to do so. It's baffling.
There seems to be a constant complaint about the future of the studios, and how the movie business as we know it is dying. It'd all be a lot harder to believe if the very companies that are worrying about their futures weren't actively going out of their way to be their own worst enemies.
---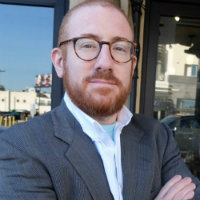 Neil Turitz is a filmmaker and journalist who has spent close to two decades working in and writing about Hollywood. Feel free to send him a tweet at @neilturitz. He'll more than likely respond.