All images courtesy of Warner Bros. Pictures
There was a time, not so long ago, when Warner Bros. was the model studio in town. They had great filmmakers making excellent movies that earned a lot of money and set box office records, with a lot that might not have been the most harmonious but was certainly as successful a spot as any other in the business, and produced some of the most beloved films and television shows ever created.
Oh, how the people toiling under the iconic water tower long for those halcyon days of yore. Now, under the leadership of Kevin Tsujihara, there is disarray and confusion, panic and angst, an embattled CEO who may or may not last the year in his position and under whom the profits of the film division have fallen precipitously, a roster of movies that have, for the most part, underperformed, and a general sense of wonder about who, in the end, will still be left standing when their new AT&T overlords take over at some point. In fact, there is more than a little speculation that Tsujihara — the former head of the multi-media division who won the CEO job in an infamous 2012-13 bake-off with film head Jeffrey Robinov and TV topper Bruce Rosenblum — will not survive the change, but more about that later.
But, at the very least, there is a new guy in charge of the film division, and he's a keeper, so they've got that going for them, which is nice. Toby Emmerich was in charge of New Line for years, but was bumped up to the Big Office a few months ago when things in the Warner Film Division started to look downright untenable. In case you missed a particular item that appeared in this space a couple weeks ago, since the release of Sully the week after Labor Day, the only certified hits that have come out of that section of Burbank have been intellectual properties featuring LEGO figures, giant apes, and inspirations from the mind of J.K. Rowling.
Everything else? Well, The Accountant was a small hit, certainly, and Storks about broke even, but that's about the extent of any good news. Collateral Beauty, Going in Style, CHiPs, Fist Fight, all were clunkers, and Ben Affleck's adaptation of Dennis Lehane's novel Live By Night was a pretty colossal failure, losing a reported $75 million, which just about wipes out any gains from anything else that wasn't one of the three winners mentioned at the end of the previous paragraph.
This comes after a 2016 that was likewise up and down, with the two live action DC movies — Batman v Superman: Dawn of Justice and Suicide Squad — both making gajillions despite being fairly execrable examples of the superhero movie genre, a pair of low cost hits in Central Intelligence and Me Before You, a continuation of a successful James Wan horror franchise in the second Conjuring flick, the female-led How to Be Single, the latest in the Barbershop saga, The Next Cut, and the monster surprise smash, Lights Out, which returned 30 times its budget.
That was the up, but there was plenty of down to go along with it. Despite being one of the best films of the year, The Nice Guys failed at the box office, as did the Key & Peele film Keanu. War Dogs (aka director Todd Phillips' attempt to show his range) and The Legend of Tarzan were both money losers too, which essentially meant that the year started pretty well, peaked with Sully, then turned downhill, with the one interruption being Fantastic Beasts and Where to Find Them, which, by the way, did $814 million worldwide (on a $180 million budget), but if you were to rub a feather along the sole of a Warner exec's bare foot, they would probably admit that they were hoping for a lot more than that.
All told, the domestic gross for the year was $1.9 billion, which is generally pretty solid, but when you consider that it was on 23 releases, it becomes a bit less impressive. That averages out to about $82.6 million per flick, which isn't so bad until you compare it to the $230 million per movie that Disney averaged for only 13. The foreign numbers only exacerbate this, as Disney shattered the previous record with $4.6 billion internationally, more than 50 percent higher than Warner's $3 billion. Add it all up, and Warner's movies made a bit more than 36 percent of what Disney's did, which is, in fact, kinda lousy.
When you're the second-highest grossing studio in town, and you're still a shade under two-thirds less than what the number one guy is doing, coming in second doesn't even really qualify as a pyrrhic victory, does it?
Add in the fact that the aforementioned AT&T is in the process of buying the studio (and its mothership, the Time Warner Corporation), and it's pretty clear that 2017 needs to be a big one. With at least 12 more movies set for release before the end of the year, there's a lot of opportunity for success, but when the first of them is King Arthur: Legend of the Sword opening this weekend and the tracking is not terribly optimistic, well, this isn't the best start to either the summer movie season or the rest of the year.
One would think that next month's Wonder Woman would be a much better bet, but if that's the case, and if there's so much riding on the movie's success, why does it feel like Warner is doing absolutely no marketing of the movie? Is there such a thing as a word of mouth comic book movie blockbuster? Especially one with a budget well north of $120 million? It's puzzling, though I suppose it's possible there could be a marketing and publicity blitz over the next three weeks, leading up to the June 2 release. Still, it sort of feels like a day late, a dollar short, and a lot of questions to ask.
The rest of it is an interesting mixed bag. There's the Will Ferrell-Amy Poehler comedy, The House, Christopher Nolan's latest — and perhaps riskiest — big budget enterprise, Dunkirk, the LEGO spinoff Ninjago, a sequel to the 2014 horror sleeper Annabelle, the Stephen King adaptation It, the long-awaited Blade Runner 2049, the totally rejiggered (and, admittedly, curious) disaster flick Geostorm, the Ed Helms-Owen Wilson comedy Bastards, and, of course, the biggest of them all, the crown jewel of the DC Extended Universe, Justice League, on which pretty much all the hopes of the DC Extended Universe rests.
It's highly likely that there are at least a few big winners in that bunch, but there are also some question marks, not least of which is Nolan's film, because as successful as his fare has been at the box office, there is a genuine uncertainty about whether or not people are going to want to follow him back to the early days of World War II. It's also going up against Luc Besson's massive space opera, Valerian and the City of a Thousand Planets, which might just be the perfect counter programming.
Really, though, it's Wonder Woman and Justice League that are the biggest deals here. With so much invested in the cinematic universe, and with Warner being so far behind Marvel in this area, the studio needs these movies to be hits. It's at least part of the reason why the company continues to promote Geoff Johns to the co-head of the DC Comics film division alongside career exec Jon Berg. Johns is best known as a popular comic book writer, but his reputation as an executive has not been nearly as positive, and while fans are looking to him to shepherd these characters to the screen, they are becoming increasingly frustrated at how it's being done.
It's not like there aren't a ton of other comic book films in development (no less than a dozen, in fact), after all, and they're shooting Wan's Aquaman with Jason Momoa right now for a Christmas 2018 release, but, while they're currently making money, if the quality doesn't start rising, it's entirely possible that people will stop showing up. That might not be an immediate worry, but it's around the corner if they're not careful.
Speaking of around the corner, there is a pretty enormous amount of content coming our way, quite a bit of it having nothing to do with superheroes. There is the Tomb Raider reboot with Alicia VIkander, Steven Spielberg's Ready Player One, the Sandra Bullock-led Ocean's 8, the killer shark movie Meg, the Dwayne Johnson-led video game adaptation Rampage, plus plenty of horror (such as The Nun), comedy (Game Night) and at least one star-driven remake/vanity project (A Star is Born, with Lady Gaga and Bradley Cooper, who is also directing), plus several more Fantastic Beasts jobbies. Add in plenty of other sequels and franchises (like Godzilla and more LEGO stuff and a Minecraft adaptation and on and on), and the list is long and illustrious and shows no signs of thinning.
The thing is, Warner is going to keep putting out a lot of movies each year, and once it figures out what to do with New Line, there will be that aspect of it as well. On top of that, while Emmerich's work at the top of the film division has just started, it's fair to give him some time to put his own stamp on things, which he undoubtedly will. For that reason, while 2017 might not be the year the studio wants it to be, 2018 somehow looks brighter, because by the time it comes around, the very talented (and very well-liked) Emmerich will have made the slate his own, and at that point, there's no telling what will happen.
Of course, while Emmerich's job is almost certainly safe once the AT&T thing kicks in, it would be foolish to believe that anyone else's is, Tsujihara's especially. He has a lot riding on this, and there's already speculation that he is trying to figure out his exit strategy. With stakes so high, in fact, it's curious why there is even the perception of a poor (or even non-existent?) marketing strategy for the first ever solo female superhero movie, now just 23 days away.
"May you live in interesting times," is not a blessing. It's a curse. And while it certainly applies to most of the studios in town — Sony and Paramount, come to mind — it is perhaps most appropriately tied to Warner, where things are most interesting, indeed.
For more entries in our studio series, click here.
---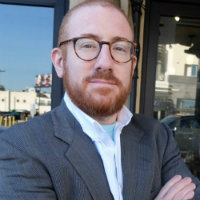 Neil Turitz is a filmmaker and journalist who has spent close to two decades working in and writing about Hollywood. Feel free to send him a tweet at @neilturitz. He'll more than likely respond.