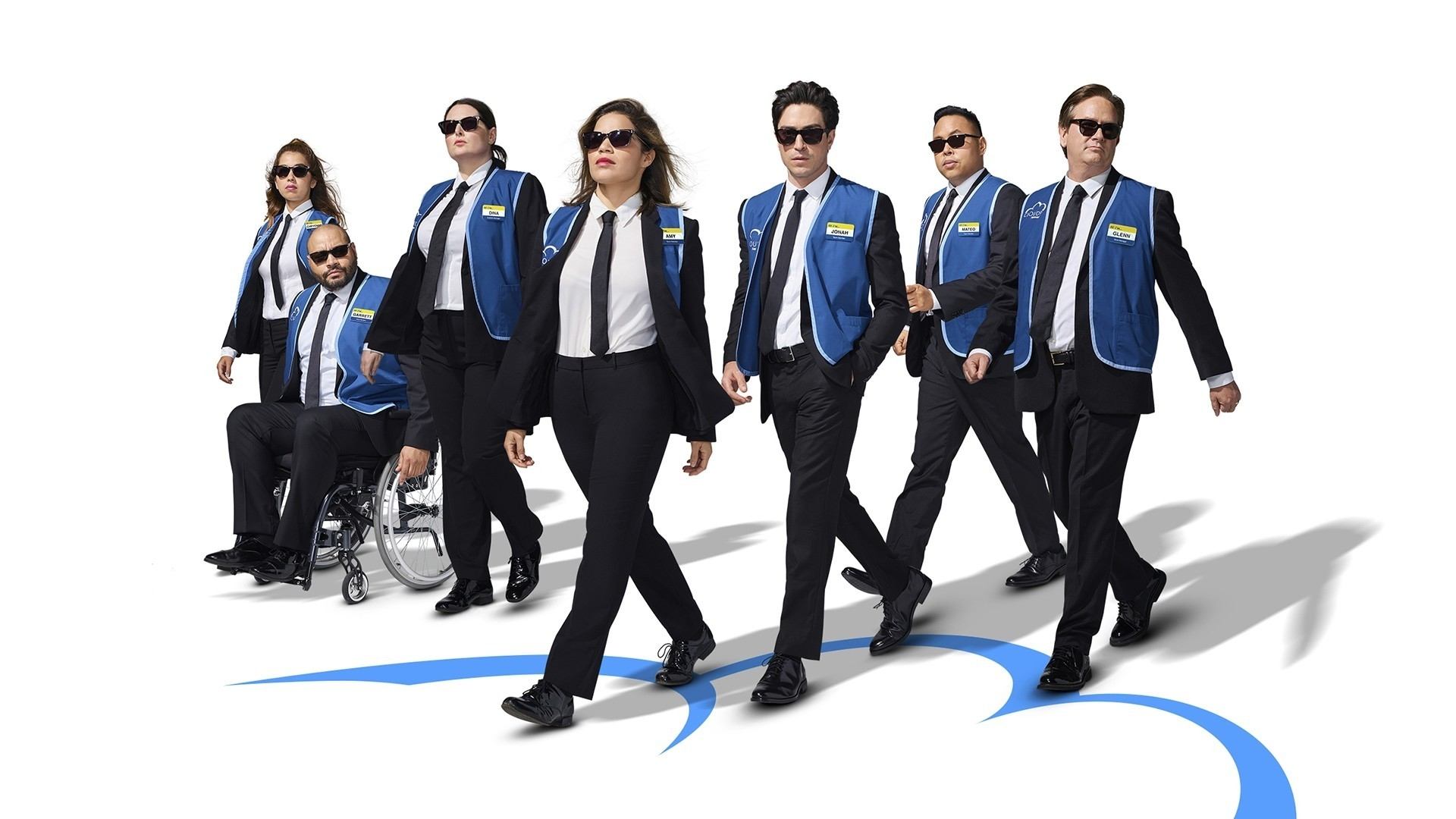 It's bring your daughter to work and make her actually do work there day on this week's episode of Superstore, "Part-Time Hires." The episode is a bit weaker on its jokes by comparison to the last two weeks, but there's still plenty to laugh at. And with Amy dealing with her divorce, we get to see a little more of the personal, mothering side of her that we're normally not privy to.
Before we go any further, I need to give a special shout-out to the longest running sight gag I've ever seen in a tv show. I've been meaning to mention it since I started writing reviews for Superstore, but in the midst of gushing about everything else, I keep forgetting. Well no longer! Finally, I will mention that which I've been meaning to mention, and which by now you're probably very curious about because you're almost all the way through this paragraph and I still haven't mentioned it. That sight gag is – drum roll please – wow, what a beautiful day it is out – okay, sorry, sorry: Amy's name tag.
What? You already knew she never wears her own name tag? When did you notice? It's never the same name and it's been going on for three seasons now! Think about how many nametags there must be! And what do they do with all of them after they've been used? Is there just a pile of name tags for background workers? Does every staff member on the Superstore production just take home a random name tag as a souvenir? Is there a Goodwill somewhere in Los Angeles just full of fake name tags from a fake supermarket? These are the questions that keep me up at night.
I digress. Back to this episode, specifically. There wasn't quite as many laugh-out-loud moments this week, but I suppose like every comedy, you can't have super strong weeks every week. I think part of the lackluster nature of this episode stems from the fact that neither main story arc addressed any relationship development between characters that we're invested in. Amy was dealing with her daughter and her insecurities about her divorce, Mateo and Cheyenne were learning a lesson about selfish flirtation, and Garrett and Dina were in arguments about who broke up with who. 
I guess the Garrett and Dina storyline dealt a little bit with character relationships we're invested in, but it wasn't really a dynamic change at all – when are Garrett and Dina ever not arguing. Actually, when is Dina ever not arguing with anyone? I'm also not entirely sure anyone was particularly rooting for Garrett and Dina's relationship. The best I can figure, it's a roughly parallel relationship to that of Dwight and Angela, but I think the difference there is that neither Dwight nor Angela was particularly relatable or sympathetic, so we could root for them to be together because 1) they were a perfect pair of weirdos and 2) being together made them slightly more relatable and sympathetic.
Garrett and Dina don't have that same dynamic. Partly I think this stems from the fact that Garrett is already sympathetic and relatable, and Dina is absolutely neither of those things. She hates everything and everyone, and the only thing she loves is animals, which we don't see a lot of in the show because why would there be animals in a supermarket? (Unless there's a live pet section.) So Garrett and Dina breaking up doesn't have quite the same interest level as Dwight and Angela because we were never rooting for them in the first place. It was more simply a device to bring more situational jokes out of Garrett, because he likes to keep his personal life so private and separate from his work life. 
I really would have loved to find out why that construction guy needed to go to the bathroom so often, though. Was he on drugs? Does he have a small bladder? Oh, and shout out to this week's other guest star, Kelly Stables (aka Evie's sister in No Tomorrow – gone too soon, btw), who plays the part-time hire no one cares about in this episode.
Anyways, this show is still the best kept (not) secret on TV right now. Go watch the episode. Enjoy it. Report back for another review next week. Just remember to clock in first.
Season 3, Episode 3 (S03E03)
Superstore airs Thursdays at 8PM on NBC
Read all of our reviews of Superstore here. 
Read our reviews of more of your favorite shows here.
---
Tasha is a freelance writer currently based in Los Angeles. Originally from Kansas, when she's not writing about or watching TV, Tasha is searching for the best BBQ place in LA to fill the KC BBQ hole in her stomach.
Keep up with all of Tasha's reviews here.
Tasha Cerny | Contributor