This week brought us a heartbreaking PSA for dragons, a couple new ice cream flavors to gorge on while marathoning "Suits," and a retrospective of a decade barely in the rearview mirror.
True Blood Season 7: A Farewell to Bon Temps Retrospective Show (HBO)
The bloodsucking and extremely naked vampire drama TRUE BLOOD is coming to a close with its 7th and final season, and HBO has released a 22-minute retrospective interview with the main cast (well, those who are still left alive) as well as "True Blood" creator Alan Ball and showrunner Brian Buckner.  We acknowledge that the show got a little weird in the middle, but we're still going to miss it when it's gone.
The premiere of the final season airs tonight on HBO, June 22, at 9pm EST.
VH1 Presents: I Love The 2000s
You knew this was coming. While studios and production companies are scraping the very bottoms of the 80s and 90s, VH1 is forging right into the aughts. Be prepared to relive all the things you haven't quite forgotten about (and those things you're still actively trying to erase from your memory). Honestly, we're just surprised this didn't air in 2011.
"Game of Thrones" ASPCA Spoof ft. Sarah McLachlan **SPOILERS FOR THE GOT SEASON 4 FINALE**
As if this scene wasn't heartbreaking enough, someone decided to put Sarah McLachlan's infamous "Angels" song over the top of it, turning GAME OF THRONES into a PSA for the welfare of dragons. Please, won't you help?
Call 1-800-DRA-CARYS
Ben and Jerry's Rolls Out Two New SNL-Inspired Ice Cream Flavors
Lazy Sunday and Gilly's Catastrophic Crunch are the newest "SNL" themed flavors from ice cream company Ben and Jerry's.
Based on the Digital Short featuring Andy Samberg and Chris Parnell, Lazy Sunday is made up of vanilla cake batter ice cream with yellow and chocolate cupcake pieces mixed in and a chocolate frosting swirl. If you'll remember, the rapping duo "hit up Magnolia to mack on some cupcakes" during their lazy weekend outing. Gilly's Catastrophic Crunch, inspired by Kristen Wiig's character, features chocolate and sweet cream ice cream mixed with caramel clusters, fudge-covered almonds, and a marshmallow swirl.  The new snacks are obviously perfect for the summer beach season.
We're sure people will enjoy the new options, but we still kind of miss the Schweddy Balls flavor.
The FREAKS AND GEEKS Series Bible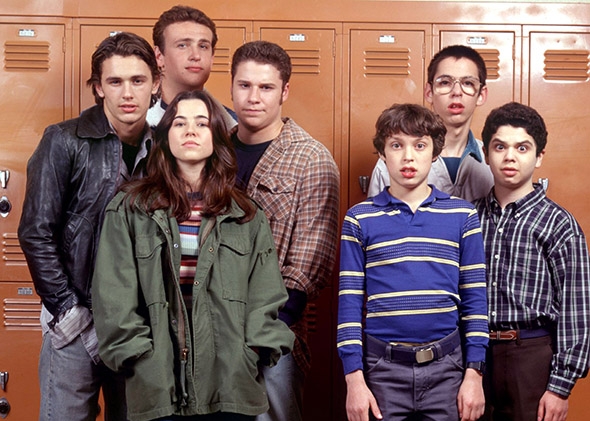 "Freaks and Geeks," from creator Paul Feig and executive producer Judd Apatow, is another one of those TV shows that consistently ranks across "top/best/greatest shows of all time" lists even though it was cancelled in the middle of its first and only season.  In the new book, "Poking a Dead Frog: Conversations With Today's Top Comedy Writers" by Mike Sacks, Feig lays out the details that brought the freaks and geeks to life.  Check it out.
——————————————————————————