Tweetable Takeaway: The show tackles a lofty premise: physically reprimanding kids…and they do it beautifully.
Tweet

Airtime: Wednesday at 9:30pm on ABC
By: Brett Salinas, Contributor
 The times they are a-changin.' I think you'd be hard-pressed to find someone who isn't hyper-aware that parenting methods today are pretty different than they used to be. As we slide into a new era of political correctness and peanut allergies, parents are expected to be very sensitive to kids and their special needs, for better or for worse. "Crime and Punishment" finds the whole Johnson household toiling against a pretty tricky issue — should kids still get spanked? In a beautifully articulated episode, BLACK-ISH shows us that it's not afraid to be daring and a little controversial, as long as it's all thoughtful and clever (which, in this case, it very much is.)
When the youngest lad in the family, Jack, decides to make unexpected hiding his new thing, an enraged Rainbow declares (once she actually finds her son) that Dre is going to spank him when they get home to teach him a lesson. You may be thinking, "Spanking? Do people still do that?" Dre isn't even sure about that himself. Embattled with the task, remembering all the traumatic times he'd been "whooped" as a child, Dre tosses and turns over the ethical angles of corporal punishment. As you might expect, Pops doesn't miss a beat before chiming in. Naturally, he advocates a good spanking when a child deserves it. But Dre is still unconvinced, reliving the time he was forced to spank Junior and his unsettling reaction.
Meanwhile, Pops instills fear in all the Johnson kids, some of whom think they're out of the whoopin' window. But as he so elegantly puts it, "an ass is an ass is an ass is an ass." And so, if Jack is teed up to be spanked, that means the whoopin' is reintroduced into the household, putting everyone at risk. And an alliance is formed.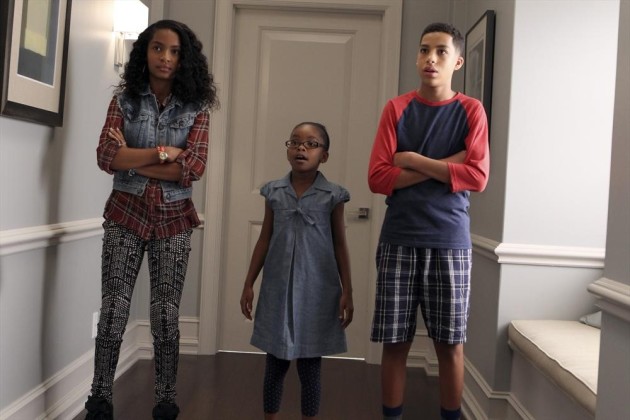 A conflicted Dre solicits advice from his work colleagues on his dilemma. But while nearly everyone in the office had been spanked as children and generally think it hardened them in a positive way, they can only advocate it "in the abstract," because in reality, "who does that" with their own kids? There seems to be no easy decision with the one.
But a plan is afoot back at home with the kids. Targeting Rainbow as the weak link in the parenting dyad, Jack pulls out every cute move in his arsenal to sway her: bowties, baby pictures, butt kissing, the works. And it does indeed work. Rainbow is no match for the cavalcade of cute. And so, the kids have an advocate. When Dre returns home, Rainbow advises against the spanking. Dre is at a loss – if he goes through with it, he risks damaging his son forever, and if he doesn't, Jack may walk all over him. But after another back and forth, it's settled: Jack is getting a whoopin'.
The band of brothers (and sisters) stands their ground, though: if Jack is getting hit, they're all getting hit. But Dre isn't messing around, so the siblings sell out their younger kin…it was worth a shot.
So, the time has come, Jack is a "dead man walkin'," and armored with every puffy jacket and shirt he owns to soften the brunt of Dad's belt. But when Dre gets down to it, he chokes. Physical punishment just isn't his style. So instead, he gives Jack a solemn talking to, and drops the dreaded d-word: "Disappointed." Jack's whole world crumbles in on itself. That's the last thing any child wants to hear. He is carted off crying in Pops' arms. But the other kids, seeing Jack reduced to a weeping puddle, think Dre went through with it and heed the mighty wrath of their father. Sometimes, words do speak louder than actions.
"Crime and Punishment" was, in a sense, a return to the show's thesis: a new generation of kids are doing things a whole new way…so how are parents supposed to handle that? The topic of physical punishment was a bold choice to center an episode around, certainly for a family comedy, and one that the show handled remarkably well. For perhaps the first time in the show's run, Dre emerges immediately as the moral anchor of the family. And with such genuine empathy towards his kids' wellbeing, it's especially easy to identify with his struggle. Instead of watching him create a warpath of Sturm und Drang to later clean up, his battle this time is with himself. And it's refreshing to see a side of Dre where his actions don't largely stem from a place of egocentrism.
Rainbow continues to be soft, in a way that's rapidly losing appeal. In the past, her character has come off a one-dimensional, and while this week she is cast in a slightly more flattering light, she lacks an oomph that's needed for the leading lady of a sitcom to posess. Rainbow is so easily manipulated by her children that it becomes a challenge to root for her at times. Again, Tracee Ellis Ross still brings the character to staggering heights with her acting talent, but a Peg Bundy or a Louise Jefferson she is not (yet.)
Dre's voice-overs continue to evolve and help punch up comedy, though punch up isn't necessarily needed as the comic talent of the cast and the pithy give-and-take of the writing take another victory lap this week. And the brand of comedy gets quirkier and quirkier from week to week, which frankly, works very well. The show is able to play with format, peppering scenes with tangential cutaways, rewinds and comedic title cards. And I say, "bring it on!" It's certainly got us laughing.
What is most impressive in this week's offering is how seriously it treats the subject matter. Sure, the whole thing is framed in comedy, but the fact that literally the entire episode bent around the one storyline speaks a lot. Corporal punishment is still a hot-button issue, and the show never treads lightly around it. And ultimately, it does what the show does best: it finds a synthesis and a middle ground between old school and new school. Dre realizes that physical retribution is not what he wants for his kids, but maybe his modern, hands-off ways still carry some weight for the new crop of kids.
After a disappointing run last week, black-ish is back with big ideas, undeniably funny bits and a really sweet, thoughtful takeaways. Keep it up, team. You're chugging along on very much the right track.
——————————————————————————
If Brett isn't kissing a cat on the face, watching Roseanne reruns, or eating at least one slice of pizza too many then he's probably writing.
Twitter: @bjsalina
Website: Pulloutthepinn.com
Keep up with all of Brett's "black-ish" reviews here.
Follow all of our TV content here!