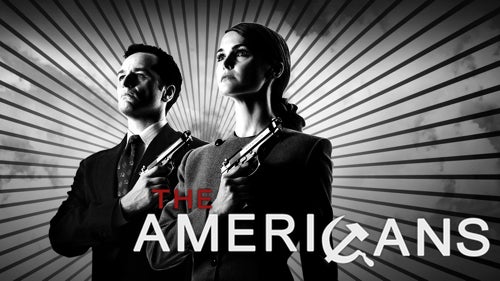 Tweetable Takeaway: Phillip plants a bug at an open house and pulls a molar out of Elizabeth's mouth. Tweet
Airtime: Wednesday, at 10PM on FX
By: Eric Rodriguez, Contributor
THE AMERICANS continue to develop options to derail the CIA's Afghan group. Their next target is a man named Ted Paaswell, his home up for sale, Elizabeth and Phillip attend the open house. There is a close call while Phillip plants a bug in Paaswell's tactical radio, plus a brief glimpse at the episode's spoiler. As Phillip sneaks into Paaswell's home office, he passes a photo on the shelf of Paaswell and Iasaac Breland, head of the CIA Afghan group division, a real saint. This is just the surface plot in another incredible episode from the most talented group of storytellers in the business.
There's no shortage of brilliance in The Americans, Phillip and Elizabeth deal in heart breaking dilemma and perilous conflict to their lives as KGB agents, their married cover-roles, and their real life devotion as parents to their all-too-American kids. Their most recent descent is over their 14yr old daughter Paige and whether or not they can keep her from being recruited under the Center's recent directive. Phillip wants her to have her own life, her own freedom. Elizabeth is concerned that she is too American already, but is conflicted about turning her over to KGB training. Adding to their regular marital strains, Elizabeth current protégé is a charming young man named Hans who has expressed his attraction to her.
As great as they are, the other Russians in the story have their own drama to deal with. First off, and lurking quietly in future episodes, there is the power vacuum/impending change due to the recent death of the Soviet leader, Leonid Brezhnev. Arkady Ivanovich has personnel issues in the Rezidentura. Nina has been sent back to Russia and put in prison for treason. Oleg asks his powerful father to pull strings and get him reassigned to Russia. Arkady, played perfectly by Lev Gorn, is the ideal boss. He's aware, fair, street-smart, and compassionate. Arkady and the Rezidentura could easily be their own show. Every episode he has his own set of fires to put out, remember, these are the twilight years of the Soviet Union. Even when someone goes over his head, he gets it. Furthermore, he knows what to do with it. Later in the episode when Arkady receives a dispatch from Moscow demanding he sign Oleg's release, he tells Oleg he can do it as directed, or block it in case Oleg changes his mind, on the off chance that he asked for the transfer under emotional strain.
Rub some dirt on it.
Remember that time Elizabeth was attacked by Frank Gaad, the head of FBI Counter Intelligence and another red-shirt FBI agent? Frank and the Redshirt are still wearing band-aides and black eyes from the ass beating she dealt, but Elizabeth has had a cracked tooth ever since. Tonight she hands her husband Phillip, who she's been fighting with, a set of toolbox pliers.
This is the hard-to-watch WTF moment of the night. She takes a shot of whiskey, a gift from Stan the second to Frank at FBI Counter Intelligence, and then Phillip goes in. It does not come out all at once. It's a twisty, pully, snapping, cracking sort of thing. Twice.
What are you watching/listening to?
Anyone remember Air Supply. Paaswell, deep in his pending divorce, rolls around town getting his full depression on with Air Supply as Phillip and Elizabeth follow listening to the bug Phillip planted at the open house. At the Jennings house, snoopy Paige finds a picture in young Henry's room of Mrs. Beeman, from next door. For those who missed out on the infinite train of embarrassment that is teenaged boy adolescence, this is akin to a browser history porn-mine. Henry enters fast enough to explode with denials about how the picture isn't his. Ease up Henry, this is but a glimpse of the disasters you'll face in the next 4 to 40 years.
This show always ends too soon and leaves us wanting to see more? Paaswell's bug leads the Jennings couple to an unexpected relationship, featuring, Kimberly, daughter of the head of the CIA Afghan group, and next target on their asset development list.
——————————————————————————
Eric lives in a world where the television is great, the smiles are warm, the pizza is hot, the puppies are playful, and the zombies are slow and meander while he reloads.
Twitter: @etom2012
Keep up with all The Americans reviews here. 
Follow all of our TV content here!