Although TV Guide still exists, we're betting the only subscribers are your grandma and Frank Costanza. As a helpful supplement, we've put together a list of all the shows premiering this week…just don't tell Frank.
So, for your viewing pleasure, here's what's premiering this week (Monday-Sunday):
Monday
Switched at Birth (ABC Family, 8:00pm)
The teen drama revolves around two teenagers who were switched at birth and grew up in very different environments but are brought together after a blood test proves their biological parents aren't the ones who raised them.
Season 3 premieres June 16, 2014
The Fosters (ABC Family, 9:00pm)
The drama follows the lives of the Foster family, consisting of an interracial lesbian couple raising a blended family of biological, adopted and foster children.
Season 2 premieres June 16, 2014
Tuesday
Perception (TNT, 10:00pm)
The crime drama stars Eric McCormack as Dr. Daniel Pierce, a schizophrenic neuropsychiatrist who assists the FBI on some of their most complex cases.
Season 3 premieres June 17, 2014
Thursday
Defiance (Syfy, 8:00pm)
The sci-fi series takes place in the future on a radically transformed Earth containing new species. Joshua Nolan works as the lawman for the town of Defiance, a community where humans and intelligent extraterrestrial species coexist.
Season 2 premieres June 19, 2014
Rookie Blue (ABC, 9:00pm)
The police drama centers on the lives of five rookie cops from Division 15 who have just graduated from the academy. They must learn not only to deal with their duties as police officers, but also deal with the problems and expectation of their families and friends.
Season 5 premieres June 19, 2014
Rectify (Sundance TV, 9:00pm)
Nineteen years ago, Daniel Holden was sentenced to death for the rape and murder of his teenage girlfriend but thanks to newly discovered DNA evidence and the efforts of his sister and lawyer, Daniel's conviction has been vacated and he returns home.
Season 2 premieres June 19, 2014
Dominion (Syfy, 9:00pm)
The supernatural action series picks up where the 2010 film "Legion" left off, taking place 25 years into a battle between angels and humanity.
Season 1 premieres June 19, 2014
Sunday
The Last Ship (TNT, 9:00pm)
The post-apocalyptic series follows the aftermath of a pandemic that's killed 80% of the world's population. It falls to the crew of an unaffected Naval ship to try and find a cure to save humanity.
Season 1 premieres June 22, 2014
True Blood (HBO, 9:00pm)
Set in a fictional town where humans and vampires co-exist, the series centers on a telepathic Human-Fairy hybrid known as a halfling, a shape-shifting bar owner, vampires and other colorful characters who learn to live together in the same small town.
Season 7 premieres June 22, 2014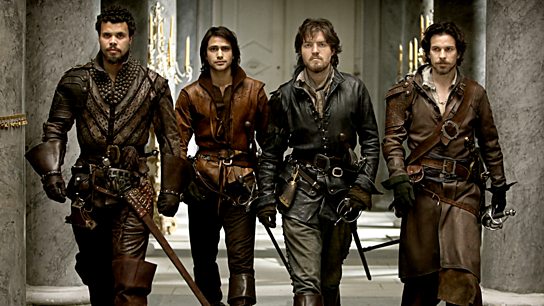 Musketeers (BBC America, 9:00pm)
Based on Alexandre Dumas's novel "The Three Musketeers," the action/drama follows D'Artagnan, Athos, Aramis and Porthos, a group of highly trained musketeers who fight to protect the King and Country.
Season 1 premieres June 22, 2014
Falling Skies (TNT, 10:00pm)
A former Boston University history professor becomes the second-in-command of the 2nd Massachusetts Militia Regiment, a group of civilians and fighters fleeing post-apocalyptic Boston following an alien invasion that devastated the planet.
Season 4 premieres June 22, 2014
——————————————————————————