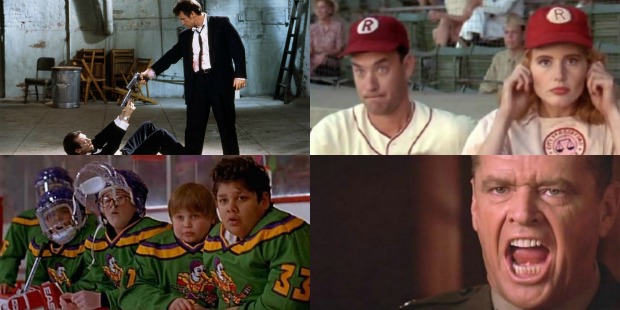 Miramax/Sony/Sony/Disney
They just don't make movies like they used to. Seriously. On a whim, the Tracking Board decided to examine the films of 25 years ago — 1992! — and vote on the 25 best. The results were shocking, but not as shocking as "the ear scene" in Reservoir Dogs, which people remembered pretty well considering the fact that the violence took place offscreen.
Six of the Tracking Board's editorial staffers voted, with ages ranging from 24 to 37 years old (meaning one of us hadn't even been born yet!), and everyone brought their own distinct tastes to the list.
For example, Editor in Chief Jeff Sneider favored dialogue-driven films such as A Few Good Men and Glengarry Glen Ross. Anya Crittenton favored French films like Delicatessen, A Heart in Winter and A Tale of Winter. Dino-Ray Ramos voted for gritty indies featuring diverse casts, such as American Me and Juice. Columnist Neil Turitz voted for classic action movies like Under Siege and El Mariachi. Staff writer Emily J. liked family-friendly films, lobbying for Ferngully: The Last Rainforest, 3 Ninjas and Captain Ron. Finally, Social Media Manager John Drain argued passionately on behalf of Unforgiven, the actual Best Picture champ of 1992. Like Jeff, he also gravitated towards the trio of sports films on the list. And what a memorable year it was for that all-but-forgotten genre.
A League of Their Own, White Men Can't Jump and The Mighty Ducks are all-timers as far as sports films goes, and the thrillers of 1992 also rose to the occasion. Sharon Stone and Rebecca De Mornay played bad-ass blondes in Basic Instinct and The Hand That Rocks the Cradle, while Uma Thurman, Bridget Fonda and Madeleine Stowe all fended off psychos in Jennifer 8, Single White Female and Unlawful Entry.
Fun sports movies and female-driven thrillers are in short supply these days and could use a comeback in today's blockbuster-obsessed theatrical landscape. It's certainly worth noting how the studios' more diverse approach to material paid off in 1992, and it'd be nice to see similar risks rewarded at today's box office. One thing is clear though, studios just don't make movies like they used to.
1992 isn't generally regarded as a landmark year for cinema but you'd be wrong to dismiss it. The films are still very much part of the culture. Reservoir Dogs celebrated its 25th anniversary with a Q&A with Tarantino at Sundance, and just screened at Sundance NEXT Fest. NBC is mounting a live production of A Few Good Men starring Alec Baldwin (still dominating 25 years after stealing Glengarry Glen Ross), and The Ringer just launched its new podcast "The Rewatchables"  with a discussion of Rob Reiner's military movie. Meanwhile, Kenya Barris is developing a remake of White Men Can't Jump, Batman still stands tall, and movies like Malcolm X, School Ties and The Crying Game are as important now as ever.
We hope you enjoy our list of the 25 best movies from 25 years ago. We hope to do more of these in the future, but for now, here goes nothing…
Miramax
1. Reservoir Dogs – There's a reason this movie was #1 on four of our six ballots. It's one of the greatest directorial debuts of all time. Quentin Tarantino directed a perfect heist movie without ever having to show the actual heist. The cast is fantastic, the dialogue is iconic, the violence is unforgettable, and the soundtrack is uniquely memorable — think "Little Green Bag" and "Stuck in the Middle with You," plus "you're listening to K-Billy's Super Sounds of the '70s." Reservoir Dogs marked the birth of one of the greatest filmmaking careers in modern Hollywood history, announcing Tarantino as a hurricane force to be reckoned with. For us, it was never really in question. Reservoir Dogs wins. Every other movie from 1992 is just staring at its trunk. – Jeff Sneider
2. A Few Good Men – You can't handle the truth! What an immortal line, as written by Aaron Sorkin and delivered by Jack Nicholson. This is Tom Cruise at his most righteous, and Demi Moore delivers one of her finest performances as well. There's a reason why Bill Simmons chose to launch the Ringer's new movie podcast The Rewatchables with A Few Good Men, and why NBC is mounting a live production starring Alec Baldwin — because it totally holds up today! Courtroom dramas typically age well (12 Angry Men hasn't lost an ounce of its power, for example) because justice is a time-tested concept. Rob Reiner's direction coupled with Cruise's intensity allow the audience to feel that moral outrage as Nicholson's Colonel Jessup tries to justify the horrible things he has done. And did you know that Christopher Guest is in this movie? I'll bet you didn't. – JS
3. (tie) Glengarry Glen Ross & Aladdin – Like the top two entries on this list, Glengarry Glen Ross is another film driven by superb dialogue, courtesy of playwright David Mamet. Alec Baldwin's "Always Be Closing" speech is iconic, having been imitated but never duplicated throughout the past 25 years of pop culture. I watched this movie twice this summer and it's just a delicious feast of words. Baldwin, by the way, is a side dish in this movie. The main course features last-name-only guys like Pacino, Lemmon, Arkin, Spacey, plus Ed Harris. I mean, my God! And from the director of Fifty Shades Darker, no less! – JS
Aladdin continued Disney's comeback following the poor performances of films like The Black Cauldron and The Great Mouse Detective, and while it's not the best film of what has come to be known as the animation studio's Renaissance period (that title firmly belongs to Beauty and the Beauty), it serves as a beautiful showcase for the company's commitment to creativity and consistency. Aladdin certainly offers dated depictions of the Middle Eastern and they must be acknowledged, but there's also a lot to admire artistically of the feature, from its lush animation to its catchy soundtrack featuring music and lyrics by Alan Menken, Howard Ashman and Tim Rice, the latter of whom stepped in after Ashman's death. Aladdin also continued Disney's emphasis on moral and character lessons, including the idea that someone's status or situation does not determine their character or potential, which goes for numerous characters in the film including Aladdin, Jasmine and Genie — and frankly, that's noble for an animated movie. Finally, Aladdin gave us Robin Williams as the Genie, and that alone makes this film deserving of its spot on this list. – Anya Crittenton
5. A League of Their Own – Whether you're making a list of the greatest comedies of all time, or the best sports movies in history, A League of Their Own should be somewhere on it. The film showed sides of both professional baseball and World War II that past films had glossed over, finally giving credit to many forgotten heroes of that era. A League of Their Own is an apt title for this movie, since it truly was in a league of its own, showing a dozen fully-developed female characters on the big screen. It's a movie that allows women to be tough, be heroes, and still cry — even though Tom Hanks said it was forbidden. And did I mention the fact that this film's star catcher, Geena Davis, went on to found the Geena Davis Institute on Gender in Media? Perhaps her experience making this movie inspired that decision. – Emily J
Warner Bros.
6. Malcolm X – The story of Malcolm X (aka Malcolm Little) isn't an easy one to tackle, but if anyone was up for the task in 1992 it was Spike Lee, the ambitious filmmaker who took the activist's story and translated it brilliantly for the big screen. Denzel Washington delivers one of his best performances as the polarizing title character, who fought against racial segregation, yet was critical of civil rights. His "by any means necessary" way of thinking proved to be divisive, and his involvement in the Nation of Islam raised some eyebrows, though it also inspired many others, including Muhammad Ali. Malcolm X's way of thinking sent shockwaves through the civil rights movement and the director used his well-honed Spike Lee-isms to pay respect to that legacy, which is no small feat. – Dino-Ray Ramos
7. The Mighty Ducks – The Mighty Ducks is The Godfather of kids movies. There, I said it. It raised the bar for live-action family films, and though it was cheesy at times, it was still enjoyed by people of all ages. Just think of the names. Gordon Bombay. Adam Banks. Charlie Conway. Fulton Reed. Goldberg. If you're of a certain age, you know who all of those people are! Without The Mighty Ducks, there would be no D2, with Kenan Thompson's "knuckle puck" and Colombe Jacobsen as the amazing Julie "the Cat" Gaffney. Much like the Godfather trilogy, the third film in the Mighty Ducks series nearly destroyed the franchise, so it may be time for a reboot starring Joshua Jackson, who's now coaching his own young Duckling. Indulge our nostalgia and just go with it, Disney! – EJ
8. Wayne's World – Let's give credit where it's due. Director Penelope Spheeris did a bang-up job with Wayne's World, which is easily the best movie to come out of Saturday Night Live. It cemented Mike Myers as one of our funniest movie stars, paving the way for the success of Austin Powers. Whenever people of a certain generation hear Queen's "Bohemian Rhapsody," or even Jimi Hendrix's "Foxy Lady," they think of Wayne's World, and that's an accomplishment all on its own. And I've got two more words for you: Tia. Carrere. 'Nuff said. – JS
9. Last of the Mohicans – Part of Daniel Day-Lewis' acknowledged genius is his willingness to throw himself into a role and "live" as the character as much as possible prior to and during filming. Michael Mann's epic adaptation of James Fenimore Cooper's novel is no exception. In preparation for his turn as 18th century frontiersman Nathaniel Poe, a white man adopted as a child by the Mohican tribe, Day-Lewis moved into the wilderness and lived off the land in the months before shooting. The intensity of his preparation is reflected by the production's attention to detail in its historically accurate costumes and props, which immerse the audience in the time of the French and Indian War. Strong supporting performances from Madeleine Stowe, Russell Means, Eric Schweig and Steve Waddington round out Mann's sweeping period piece. – John Drain
10. (tie) My Cousin Vinny & Batman Returns – Rural Alabama wasn't ready for two loud and brash Brooklynites to turn everything upside down when rookie lawyer Vinny Gambini (Joe Pesci) and his fiancée Mona Lisa Vito (Marisa Tomei) traveled south to defend Vinny's cousin and his friend, who have been framed for murder.  No one will forget Vinny's unorthodox courtroom demeanor and his ability to use the prosecution's witnesses against them by proving how long it takes grits to cook, or that old Mrs. Riley needs thicker glasses. And yet, as charismatic as Pesci is here, it's Marisa Tomei who steals the show with her Oscar-winning performance as the sarcastic and car-savvy Lisa, who saves Vinny's ass on more than one occasion. God bless that woman, because he'd be nothing without her. – Matt Hornick
Tim Burton ushered in a new way of thinking about superhero films with the 1989 hit Batman. Burton and his caped star Michael Keaton returned to Gotham City for the sequel, considered by some to be a comic book noir masterpiece. Of course, Batman is only as good as his villains, and, boy, does this sequel have some great ones. Michelle Pfeiffer is a serial scene-stealer as Selina Kyle, aka Catwoman, and she does a masterful job of charting the psychological devolution of her character. As the conniving billionaire industrialist Max Shreck, Christopher Walken infuses his character with his unique brand of crazy charm in a performance you can't take your eyes off. And in the middle of it all is Danny DeVito, at his best as the anarchic Penguin. DeVito plays off the character's lack of social graces and infuses Oswald Cobblepot with a pathos that engages our empathy, and keeps us invested in the narrative. – JD
Warner Bros.
12. Unforgiven – Leave it to an icon of the Western genre to deliver a superlative deconstruction of the myth of the Old West. In Unforgiven, Clint Eastwood directs and stars in the story of William Munny, a grizzled old gunslinger who agrees to hunt down a pair of cowboys who have mutilated a prostitute. Throughout the film, Eastwood does his best to portray the Old West as it was — a sparse, brutal landscape where the line between villainy and heroism is eternally blurred. A pivotal moment comes with the introduction of Richard Harris as English Bob, a gunfighter in the mold of the genre's popular dashing outlaw who is summarily beaten by Sheriff "Little" Bill Daggett (the imposing Gene Hackman) as he arrives in Big Whiskey. The sequence forms the core of the film's thematic aim: the thorough pummeling of the myth of the Old West. – JD
13. Death Becomes Her – This fantastical dark comedy is easily one of director Robert Zemeckis' top-five films. For one, Meryl Streep is in it, so that automatically elevates the prestige of this fine piece of cinematic work, which helped push the limits of visual effects. Add the always delightful Goldie Hawn as well as Bruce Willis as the nerdy, pushover husband, and you've got yourself one hell of a movie about the ridiculous lengths people will go to in order to preserve their youth and beauty. The one-of-a-kind movie featured all the panache of a big-budget Hollywood movie but what sets it apart is the spirit of a campy B-movie classic. – DRR
14. White Men Can't Jump – Four words that set an expectation, or lack thereof, when it came to white guys playing sports. Driven by incredibly clever and aggressive trash talk, this film tells the story of Billy Hoyle (Woody Harrelson) and Sidney Deane (Wesley Snipes), a couple of lovable basketball hustlers who each put their showmanship to the test when they decide to team up. Rosie Perez co-stars as Billy's girlfriend, Gloria, and it's a firecracker of a performance that includes a heck of a run on Jeopardy!. Ron Shelton wrote and directed a hilarious movie that shows the value of teamwork, and proves that just because white men can't jump doesn't mean they can't ball. According to Hollywood legend, Woody had game, but Shelton had to work around Snipes' limitations on the court. The actor could've fooled us though, because Sidney looked pretty dirty out there. – MH
15. Howards End – A League of Their Own isn't the only great movie about sisters on this list. Howard's End follows a class struggle between three families over a house that represents the changing tides of England as a new wave of liberals cause the dissipation of the upper class. In the middle of it all are two sisters, played beautifully by Emma Thompson and Helen Bonham Carter. Howards End earned rave reviews upon its release, and it came to define the films of Merchant-Ivory, winning Oscars for Best Actress (Thompson), Best Screenplay (Ruth Prawer Jhabvala) and Best Art Direction (Luciana and Arrighi and Ian Whittaker), in addition to earning six additional nominations. This is the kind of story that stands the test of time. – EJ
16. The Hand That Rocks the Cradle – The '90s were a renaissance for movies involving stabby murderesses and women with vengeful agendas. Movies like Basic Instinct popularized the budding "erotic thriller" genre, while movies like Misery and Single White Female cranked up the dial on the "psycho woman" trope. But The Hand That Rocks The Cradle brilliantly took this to a whole new level, jacking up the intensity and injecting the perfect amount of camp into a domestic thriller that might have otherwise been destined to become a Lifetime movie of the week. Directed by Curtis Hanson (who would go on to direct L.A. Confidential), Cradle is more than just a brilliant B-movie thanks to a truly terrifying performance from Rebecca De Mornay as the unhinged nanny looking to take over as the mother of an unsuspecting family. As an added bonus, the movie features Julianne Moore in one of her first big screen roles, and spoiler alert! — she has an amazing death scene and it involves a greenhouse. – DRR
Miramax
17. The Crying Game – The Crying Game was really the first big twist movie of my lifetime, well before The Usual Suspects and The Sixth Sense. Miramax's marketing was brilliant, and it turned the movie into something of a phenomenon. But the big twist wouldn't matter if it was just about shocking audiences. No, you have to make a good movie to pull a complicated reveal like this one, and The Crying Game certainly delivers. Stephen Rea and Forest Whitaker are excellent in this film, even though mysterious newcomer Jaye Davidson is the one you'll leave talking about. Don't sleep on this movie, which is much more than its jaw-dropping twist. – JS
18. Strictly Ballroom – The first film from Australian filmmaker Baz Luhrmann is probably his least-known even though it kicked off his Red Curtain Trilogy, which also includes 1996's Romeo + Juliet and 2001's Moulin Rouge!. While not as enjoyably ostentatious as those two films, Strictly Ballroom still possesses plenty of charm, wonder and… glitter. A romantic comedy set against the backdrop of competitive dancing — and based on a critically acclaimed stage show — it showcases biting and immensely funny Australian humor, endearing characters, and a feel-good attitude. Luhrmann is something of a hit-or-miss director, but make no mistake, he hit the ground running when he kicked off his career with Strictly Ballroom, and watching his debut as part of a passionate theatrical trilogy makes it that much better. – AC
19. Sister Act – Does it get any better than Whoopi Goldberg leading a bunch of nuns as the pop rock tunes from the '60s? Directed by Emile Ardolino (who also did Dirty Dancing), Sister Act has all the makings of an "I love it ironically" movie that Snapchatting hipsters would harp on, but it is, in fact, a solid, wildly enjoyable musical comedy. Not only does it star Queen Whoopi, but keep an eye out for Kathy Najimy, Harvey Keitel and Professor McGonagall/Dowager Countess herself, Dame Maggie Smith. Goldberg is still at the top of her game here on the heels of Ghost, and this beloved '90s movie reminds us that she's one of the most talented comedic performers of all-time. Any other actress in this role would have made it a complete dud. You can't discuss the best of 1992 without Sister Act. It's sacred 'round these parts. – DRR
20. (tie) Home Alone 2 & The Muppet Christmas Carol – The second sequel on our list, Home Alone 2: Lost in New York ups the ante and pits Kevin McCallister against the recently escaped Wet Bandits in the Big Apple. Kevin's parents once again prove themselves to be the worst parents ever, and forget their young son at the airport. Kevin boards the wrong flight and, a few hours later, finds himself staring at the Manhattan skyline. Luckily, he has his father's credit cards on him, and embarks on the kind of vacation every (very brave) child yearns for. However, his vacation is cut short when Harry and Marv show up bent on revenge, forcing Kevin to go to extremes to defend himself once again. The boobytraps are even more elaborate this time around and the result is slapstick gold on an even grander scale than the first film. John Hughes returns as the writer and delivers a script with his signature blend of humor and heart, while Chris Columbus (who made the first Harry Potter movie) shows he's among the best at directing young talent. Not only does Tim Curry appear as a scenery-chewing concierge, but our current President, one Donald J. Trump, directs Kevin through the Plaza Hotel. Believe me, it's funny to see him being helpful for once. – JD
There have been many versions of A Christmas Carol over the years, but the Muppets' take is a standout. Led by Michael Caine as Ebenezer Scrooge and narration from the unexpected Gonzo the Great and his irreverent sidekick Rizzo, this was the first Muppets movie after Jim Henson's death, and the emotion of that loss is felt throughout the sometimes scary story. Much darker in tone than previous Muppets movies, the absurd and self-aware humor balanced things out, allowing its heart to shine through. A celebration of life, this film also ushered in a new era of Henson's creations that would be followed by the equally fantastic Muppet Treasure Island and Muppets in Space. – EJ
22. The Player – The Player remains one of the best satires of Hollywood ever made. Not only does its gorgeous opening tracking shot merit its inclusion on this list, but the dialogue has real pop, and Tim Robbins is as likable as he's ever been. I mean, a producer receiving death threats from a writer he has recently rejected? What's not to like about that? Michael Tolkin adapted his own showbiz novel, and Robert Altman brought it to life in a way only he can with the help of a stacked cast. If the industry ever remakes this movie for the present day landscape of Chinese financiers and powerhouse streaming services, remember to cast Shia LaBeouf or Miles Teller as yours truly. – JS
23. Scent of a Woman – This has to be the most Al Pacino-est movie that Al Pacino has ever done. His role as the crotchety, unfiltered and blind Lt. Col. Frank Slade earned him his first Academy Award after being nominated four — yes FOUR — times. Of course, the remake of the 1974 Italian film Profumo di donna was more than a mere stage for Pacino, even if it does feature one of the most memorable characters of his esteemed career next to Tony Montana and Michael Corleone. Sure, people remember this film because of his incessant use of the exclamation "Hoo-ha!," which has since become a staple of any and all Pacino impressions, but the truth is that it's actually fun to watch the story of Frank's relationship with his prep school assistant (played by a young, fresh-faced Chris O'Donnell) as it unfolds. Scent of a Woman is a minor gem that balanced the Oscar books forever. – DRR
Disney
24. Newsies – Listen, it isn't the best movie on this list, and it may be far from being a great movie on its own, but Newsies has left such a cultural footprint on the world of musicals both onscreen and onstage that leaving the film off this list would be a headline-worthy mistake. Like Disney's other live-action movies in the '90s (think The Mighty Ducks, Hocus Pocus, Tom and Huck, Air Bud, Inspector Gadget, and more), Newsies features an earnestness that's hard not to smile at. In addition to its musical elements, Christian Bale's thick New York accent coupled with his angry dancing, and the thrilling theme of sticking it to the man (led by King of New York Bill Pullman, obviously) have helped Newsies capture the hearts (or at least the amused fondness) of the Millennial generation. Plus, it spawned a pretty great Broadway musical, too. So you know what? It is a fine life, carrying the banner through it all. – AC
25. School Ties – A widely forgotten sports movie, School Ties manages to sneak in at the bottom of this list. Brendan Fraser plays David Greene, who's awarded a scholarship to play football at a prestigious boarding school in Massachusetts in the 1950s. Greene is immediately told to hide his working-class Jewish upbringing from his teammates to avoid their prejudices. The film shines a harsh light on the anti-Semitism that many Jews still faced in America during that era, School Ties also features a strong moral component — Charlie Dillon (Matt Damon), Greene's best friend and teammate turned greatest adversary, gets caught cheating after attempting to frame his Jewish classmate for his transgression. Justice is served at the end, and it would be an injustice to leave this film off our list of the best movies of 1992. – MH
Honorable Mentions Among the Many One-Vote Wonders
A River Runs Through It, Sneakers, Delicatessen, Army of Darkness, 3 Ninjas
Other Tracking Board-Approved Movies From Our 1992 Ballots
American Me, Bad Lieutenant, Basic Instinct, Bob Roberts, The Bodyguard, Boomerang, Bram Stoker's Dracula, Buffy the Vampire Slayer, Candyman, Captain Ron, Chaplin, Cool World, Deep Cover, Diggstown, El Mariachi, Encino Man, Ferngully: The Last Rainforest, Hard Boiled, A Heart in Winter, Jennifer 8, Juice, Kuffs, The Long Day Closes, Of Mice and Men, One False Move, Patriot Games, Peter's Friends, Romper Stomper, Single White Female, Singles, A Tale of Winter, This Is My Life, Under Siege, Unlawful Entry
 Tracking Board Staff