Academy of Motion Pictures Arts and Sciences
After two weeks of looking at writing competitions and their impact on the business, it's time to turn to a few of the people whose lives were directly changed by their success in the game, as well as a lit manager who spends a fair amount of her time as a judge in such contests and utilizes them to better do her job.
A few years ago, while working as a senior editor at Studio System News, I interviewed Aaron Guzikowski about his screenplay, Prisoners, which had been turned into a movie starring Hugh Jackman and Jake Gyllenhaal, and directed by Denis Villeneuve, now nominated for an Oscar for directing Arrival. A few months later, I interviewed him about the TV show he created, The Red Road, and shortly after that, I moderated a panel for a screening of the show. At that point, we decided that, since we'd done this three times, we should become friends. Which we did.
As I was putting this thing together, I remembered a conversation we'd had in which he told me that he got his first break in one of these suckers, specifically the BlueCat Screenplay Competition. As he's probably the most successful screenwriter I know personally — aside from Prisoners and The Red Road, he also wrote the Mark Wahlberg flick, Contraband, as well as the upcoming remake of Papillon, and always seems to have about six different jobs at once — I called him up to ask him about it, to make sure my memory wasn't playing tricks on me.
"I don't know if it was the first real break I got, but it certainly gave me the encouragement I needed, that I was good enough to compete with a lot of other people and do well, that I knew what I was doing and might have a future at it," he said. "I had no connections to the industry, so it was good to get that feedback. Gordie Hoffman, who ran the competition, was very helpful and I ended up getting some great notes about my script and what I was doing right. I don't think that's the script that got me my manager — as I remember it, it was a different one — but this was a valuable experience and a big boost for me."
Warner Bros. Pictures
That, of course, is just one story. Here's another: David Hoffman was no stranger to contests before he entered the Launch Pad competition. He had been a semi-finalist for the Nicholl Fellowship and a finalist at the Austin Film Festival, and had also won top prize at the Creative Writing Awards for a pilot and the Baja Film Festival for a feature. Still, he wasn't getting the attention he'd hoped to get from them.
"None of those really got my career the boost I was hoping for. Each led to some interest, I'd get an email here or there from someone asking to read my work, but there was never any real traction," he says. "What the positive feedback and results in the contests did give me, though, was the encouragement I needed to keep writing while managing a day job and a family. I started writing when I was still living in New York and really didn't know anyone in the industry, so the contest feedback, from people actually in the business, provided a sense of access. I started to feel that if I wrote something strong enough, eventually it would open some doors."
But then, he won the Launch Pad's Pilot Competition, and that's when things started to really change for him. "Obviously, there are other contests that are career starters as well, but for me, breaking in was entirely due to this one. As soon as my script reached the top 25, I started to get calls from judges that read the script who were interested in learning more about me and my work. As anyone trying to break in can tell you, these are the calls that you dream about, so you can imagine how excited I was."
Now, Hoffman has both a manager and agent, as well as a job writing for the NBC drama, Timeless. "Winning contests doesn't mean success comes over night — I'm still just trying to build my career — but they can absolutely help you get a foot in the door."
NBC
One of the gatekeepers of said door is lit manager Daniela Garcia-Brcek, who plies her trade at Circle of Confusion, one of the most prestigious management and production entities in the business. A big part of her job is helping to shape the careers of up and coming writers, many of whom she discovers in her capacity as a contest judge.
"I really love to volunteer to judge these competitions, because taste is very subjective," she explains. "It's one thing for someone to do well, it's another for me to see the way someone writes for myself. I like to see what's out there, because I'm focused on bringing unique new voices forward. For me, it's about finding a story told in an inventive way. You can take a story that's been done before, but if you can make it feel fresh, then that's something worth noticing and, potentially, fostering."
Over the last couple weeks, we have spent a fair amount of time trying to hammer home the idea that these competitions are much like one's overall career, in that they simply cannot be about a single script. It's fine to enter something in a competition, but there should always be more bullets in the gun, so to speak. More ideas in the cupboard. More stories to tell. Garcia-Brcek is quick to agree.
"Typically, I think a competition script is more of a calling card than a potential sale. You want something to send out to people to introduce yourself around town, and need to have an understanding about the realities that go with that. Some scripts should be written with the idea in mind that it will work better as an introduction than as a potential sale. I know that seems counterintuitive, but that's part of how to succeed in the business.
"Before I sign someone, I need to understand their vision for their future. It's really about engaging what a writer envisions for themselves and how I can help fulfill those goals. There's also a writer's attitude. How they take notes, how precious they are with the material, and so on. I will often have the conversation in the courting stage, and it's usually pretty clear at the outset. But it's also really important to understand that it takes time, and that you really can't depend on one piece of material. It's a marathon, not a sprint, and often, a writer doesn't have that catalogue of ideas. The thing is, I don't want to dictate to a writer what they should or shouldn't be writing, but I do want to understand why a choice is made. All of those things factor in to any decision I make."
Jimmy Mosqueda had been banging around the contest and competition circuit for a while when he hit the jackpot at the 2015 Austin Film Festival. He finished in the top five in the Comedy division, and it led to him getting representation and getting his script optioned.
"Austin was neither the first competition I entered nor the first where I placed so high, but it was certainly the one that had the biggest impact on my career," he says. "Everyone in the industry knows where Austin ranks among competitions, so making it to the finals is a big deal. But I think what sets Austin apart from others, including the Nicholl, is the festival component. You don't just get read and scored by the judges, but you get to meet them face to face during the festival. They all work in the industry in some capacity, so really it's like having a bunch of general meetings over the course of a single weekend."
Lifetime
Sometimes, though, a writer just nails it right out of the gate. It's rare, to hit a home run with a first time effort, but it does happen. Exhibit A is Nikole Beckwith, whose screenplay Stockholm, Pennsylvania won a 2012 Nicholls Fellowship. She would end up directing the project in 2015 (it starred Saorise Ronan and Cynthia Nixon), the same year she co-wrote the drama, About Ray, starring Naomi Watts, Elle Fanning and Susan Sarandon. She also wrote the teleplay for the Lifetime Network's recent Beaches remake.
"Stockholm, Pennsylvania was the first screenplay I ever wrote," she says. "So my career before the Nicholl was as a playwright/nanny/personal assistant. When I got the fellowship, I quit my day jobs, and I've been making my living  — knock on wood — as a writer ever since."
The exposure from winning the Nicholl Fellowship got her script passed around all over town, and impressed people to the point that it made the Black List that year alongside two of her fellow Fellows, James DiLapo and Michael Werwie, who are also now making their livings as screenwriters.
"I didn't have experience with any other competitions before the Nicholl," she explains. "I finished Stockholm and googled 'what do you do with a screenplay' and that lead me to the Nicholl, the night before the deadline. I debated spending the fifty dollars on the entry fee, because I was a playwright/nanny/personal assistant. Ultimately I took the shot and submitted. And I'm happy that I did."
Ultimately, you can hear about success stories all day, but it's really a question of whether or not these last three weeks have made you a believer in the concept or not. Regardless of what I've written here, it's really about what you're willing to do and how you want to go about doing it. These competitions are not for everyone, but it is inarguable that they have the potential to be very helpful. The whole point of hearing from those whose careers have done well because of them is so you don't just take my word for it.
"I'm a big believer in contests," Hoffman says. "For writers trying to break in, I think they are a really valuable source of feedback and a chance to assess how your writing compares to others also vying for an opportunity. You need to go in with eyes open about the history each contest has in delivering what they promise, in regard to access, cash, and so on, but my experience has been very positive. What I found was that, as an outsider, the best way to have your work read by people that can actually help you build a career is through contests."
Most of us are outsiders, which means most of us don't have the connections that others might possess, and so we take every break and opportunity we can get. This is just one of them, but it may be the best.
---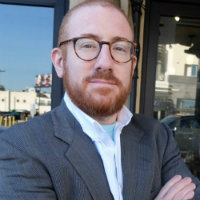 Neil Turitz is a filmmaker and journalist who has spent close to two decades working in and writing about Hollywood. Feel free to send him a tweet at @neilturitz. He'll more than likely respond.