Academy of Motion Pictures Arts and Sciences
It's not just a passing fad or a quick cash grab or anything like that, the writing contest has become a staple of the industry and has led to the burgeoning of countless careers. Writers stuck in a personal limbo, or at crummy jobs they hate, or just looking for a break, ended up with agents and managers, scoring jobs writing blockbusters and winning Oscars.
Regardless of one's philosophy about them — and it's entirely possible that one's refusal to enter such contests could actually set back one's career, or at least impede the forward motion of it, if one thought too much about it — it's impossible to refute the fact that they have become a key part of the entertainment business. Writing competitions are an almost constant source of new talent, funneling the best and most unique new voices to those who can help them and, in the process, continue to revitalize an industry in constant need of it.
So, over the next three weeks, we'll spend some time taking a look at these events, where they came from, how they operate, how they have become so important, some of the people they've helped, how some reps use them to scout new talent, and more.
Academy of Motion Pictures Arts and Sciences
For starters, some background. Writing competitions are something of a new phenomenon, emerging primarily from the explosion of the independent film movement in the late 1980s and early '90s. One of the first was the Nicholls Fellowship, established in 1986 and administered by the Academy of Motion Picture Arts and Sciences. Back in '85, Gee Nicholl and Julian Blaustein met with the Academy's then-Executive Director Jim Roberts and then-Executive Administrator Bruce Davis to discuss the development of a program that would aid new screenwriters. Within a year, it was the Don and Gee Nicholl Fellowships in Screenwriting.
The first year, there were just 99 entrants in the competition, all of whom were California college students, the only ones originally eligible. A year later, eligibility was expanded to college students in nine states and residents of Texas, and two years after that, to include all U.S. residents who had not sold or optioned a screenplay or teleplay. By 1990, new rules were instituted to accommodate the thousands of entries. Now, paid, professional readers were brought in to narrow entries to the top five percent, which were then passed onto the quarterfinal round, at which point Academy members volunteered to select the semifinal scripts, with less than half of those five percent moving to the next round.
By 2002, as the number of entries continued to rise, professional readers replaced Academy readers in the Quarterfinal round, with Academy volunteers now reserved for the semifinal round, to whittle the list down to 10 finalists, which are then presented to the Nicholl Fellowship Committee, who then selects five winners.
An awards dinner began in 1991, the first year one of the previous winners' scripts was turned into a feature film (1989 Fellow Radha Bharadwaj's script for Closet Land, starring Madeleine Stowe and Alan Rickman). In 2000, Susannah Grant became the first Nicholls Fellow to get an Oscar nomination, for writing Erin Brockovich.
Universal Pictures
The competition had 6,915 entries in 2016, a shade less than the record of 7,251, set in 2013. This is, in fact, a microcosm of how the competitions have grown. What started small three decades ago has turned into something huge, with just about every film festival of any kind of size or stature offering one of their own, almost all of them with genuine prize money. Everywhere from Austin to Vail has them, and all the places in between. That doesn't even include those not affiliated with a festival, like the one from the Final Draft screenwriting software, or the screenwriting consultancy service ScreenCraft, to a standalone contest like the BlueCat competition, to this very website's Launch Pad.
Long story short, you can't get too far on the internet these days without coming across one of these suckers, so it's only a matter of time before a young writer, or a struggling writer, or someone who simply fancies him or herself a writer, or anyone else stumbles upon one that fits and decides to pony up the 40 dollars, or 50, or 75, to enter and see if maybe they might have what it takes.
This is the one, smallish downside to this proliferation, which is the idea of taking advantage of those who might not have a future as a professional writer. There are countless thousands out there who simply aren't writing at that level yet, but still, they spend the money and send in their screenplays and keep their fingers crossed that, maybe, someday, somehow, they will be recognized. This is pretty much the definition of throwing good money after bad, and a skeptic would say that it targets the many, many people who think they possess a level of talent that, sadly, they do not.
Columbia Pictures
And yet, the other side of that coin is the window of opportunity it provides for The Dream. Hollywood is filled with people like that, the actors who won't ever get the right part, the directors who won't get that break, the writers who just can't get their script in front of the right person, any number of them who simply aren't gifted enough, but it doesn't stop people from trying, nor should it. Who's to say that someone shouldn't spend their money however they want to? If they choose to do it by entering contests that they might not have any realistic chance to win, there's certainly no law against it, and one never knows who might, in fact, read the thing and find something there. A spark. A ray of light that catches the eye and makes the reader — perhaps someone with a little juice, or knows someone who has it — sit up and take notice.
Which is, really, what it's all about.
Some of them are given opportunities they might not have otherwise received, others are genuine talents who get that first leg up they've long been seeking. Point is, there is something truly egalitarian about it all. Every script that is entered is guaranteed to be read. You're not just shipping something off into the abyss, and hoping that some low-level trainee or development intern is going to read just the first 10 pages and then pass on it, you're ensuring that it will be read from the first page to the last. Some competitions will even give you proper feedback on the submission, constructive criticism that will at least give you a direction to go and ways to potentially fix the project, which makes it even more worthwhile.
Because that's the thing that can't be lost in all this; that someone living in, say, Lincoln, Nebraska, or Portland, Maine, might not have access to the kind of people who could help them, or to experienced professionals who can adequately critique their work, and this is where a competition comes in handy. It's easy to forget that not everyone who wants to write professionally comes from New York or California, or went to a good college that might offer them a leg up, or knows someone who will actually give them a shot, or has access to the kind of money that would allow them to go off and make a movie of their own, even if it is an ultra low budget indie.
Bleeker Street
Thus, they go online, find the competition(s) that feel right to them, pay the fee, send their magnum opus into the void, and hope for the best. Thanks to how the business has changed over the years, there are more opportunities for this than ever before — and, with those opportunities, more chances to possibly be discovered or, perhaps, recognized — and that can really only be considered a good thing.
Which is why we're here. Because of how incredibly, how exponentially, these competitions and consultancies and contests have multiplied and what that resulting growth has meant to an industry that increases its global reach with each passing year.
Just as we did through the month of January, examining the influence of Chinese money on Hollywood, so will we take the first three weeks of February analyzing the rise of these competitions, and next week, we'll take a peek behind the curtain of how one of these contests works and the mechanics involved.
---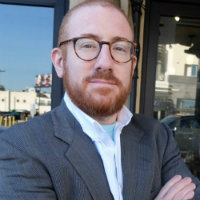 Neil Turitz is a filmmaker and journalist who has spent close to two decades working in and writing about Hollywood. Feel free to send him a tweet at @neilturitz. He'll more than likely respond.