All Images Courtesy of Valiant Comics
As we have spent the last four weeks looking at various aspects of the comic book industry, and a good deal of that specifically about the so-called Big Two, Marvel and DC, it makes sense at this point to take a moment to examine how one of the larger independent publishers is surviving in the current landscape.
Valiant Entertainment is, in fact, not just surviving in the marketplace, it's actually thriving. Thanks to a specific strategy to publish a limited amount of books each month, thereby focusing on quality storytelling over quantity of market share, a company that only began its latest run of publications five years ago now averages higher sales per book than any other publisher outside of the Big Two, while often outselling many Marvel and DC titles.
A little background: Valiant came into being in 1989 and immediately entered the superhero genre, something that not all indies did even back then. As the comic bubble grew in the 90s, so did Valiant, amassing a library of over 2,000 characters, including X-O Manowar (a barbarian kidnapped by aliens, then brought back to Earth in a suit of A.I. alien armor in the present, 1500 years later), Harbinger (the world's smartest man vs. an incredibly powerful telepath), and Faith (a heavyset young woman with superpowers who defied the standard concept of what a hero should look like).
The company also amassed an extremely loyal following, with thousands of fans buying the books each month, right up to the point, in 2004, when parent company Acclaim Entertainment filed for bankruptcy. Soon after, super fan Dinesh Shamdasani led a group of investors to acquire the rights to the Valiant Comics library. It took five more years to cement the management team required to start publishing again, and then, in 2012, the imprint returned to great fanfare and a devoted readership lining up to read the new, re-imagined material.
In the five years since, the company has stayed true to its mission statement by putting out an average of six or eight titles each month — by comparison, DC and Marvel are often over 70, and might put out six or eight Batman or Spider-Man-related titles alone — and never more than 11, enough to diversify its storytelling, but not so much that a reader couldn't afford to own everything that Valiant releases. This economic thinking puts a laser focus on quality. With so little room for error, the company challenges itself to raise the stakes of its books, a high standard to which readers have no trouble holding them.
This strategy, one of ignoring market share in favor of focusing purely on a smaller number of books — the very definition of quality over quantity — has paid off, as evidenced by Valiant consistently rank third in the industry for sales per book.
Combine that with a tendency to bring in talent like Eric Heisserer, whose work on Arrival earned him an Oscar nomination for Best Adapted Screenplay, as well as writers and artists who have won awards and gone on to success at the Big Two, like Robert Venditti and Jeff Lemire, and it makes one wonder: a strategy like this — publishing a select few books, corralling the best talent available, paying respect to the fans and the previously established characters in the library — doesn't seem overly complicated.
It's not exactly rocket science, is it?
"It is rocket science," says Fred Pierce, the company's publisher and a 28-year veteran of the industry. "It is. You read off a list of things, and each of those was a decision. How are we launching? That was a decision. Who are we concentrating on? A decision. How extensive is the marketing? We have four sales people, and that's the largest staff of anyone in the industry, even more than Marvel. How do you talk to the industry when you haven't been selling comics for 10 years? How do you tell them what and how much to buy?
"So it is rocket science, you see," he continues. "It isn't that easy. Nothing just happens. Everything is a decision. What are we looking for? What are the sales we're shooting for? What are our goals? All of this is factored in."
You may have missed a rather surprising fact buried in there: that a four-person sales staff is the largest in the industry. And yet, it's precisely because of that dedication to understanding what is and isn't going to work that has put Valiant in the position it occupies. The fact that there was an existing fan base in place certainly helps, but that can't explain all of it. If it did, Marvel and DC wouldn't fluctuate in their sales and market share. It's much more about the attention paid to the characters that these fans love and the resulting respect given to those people buying the books.
Hunter Gorinson is the VP of Marketing and Communications, and has been with the company since before the first book hit the stands in 2012. It's his job to get the word out about what the company is doing and how they're doing it, but even he didn't realize when he came aboard that part of his job had already been done for him by the fans themselves.
"I was shocked at how enormous the fan base was," he says. "People kept telling me, just wait until we hit our first con, and when we did, it was unreal. Thousands of people showing up and clamoring for our stuff."
But with that knowledge comes responsibility, something the entire team understands. Pierce talks about it, as does Shamdasani (who acts as both CEO and Chief Creative Officer, overseeing the direction of the line), COO Gavin Cuneo, and Gorinson, who explains, "the core guys here are all true believers. We know the history of comics and where Valiant falls in it. We were aware of where Valiant was before and wanted to restore it. There was a period where people thought they could just print comics to be optioned by Hollywood, and there was a stigma attached to the indie world because of that. We very much wanted to go in the other direction, to be a comics fan's comics publisher."
It's the first thing Shamdasani mentions, in fact, that part of their success is due to the fact that, unlike other entities, Valiant is, first, middle, and last, focused purely on the comics business. Sure, there's attention paid to adapting the company's characters to other media, like movies and TV and video games and the like, but that's part of a process, and not one that the company has any interest in rushing.
"A successful, thriving comic book publisher in today's world has to have its fingers in all forms of media," he says. "That's just part of the business and it's not going away. But we don't need to get a movie up to survive. There have been publishers who came and went, who made a big splash and then disappeared, who felt they needed to turn around a film project in a couple years, or they're dead. And they die, because you can't count on that.
"One of the things we did was to avoid that," he continues. "We built the business in such a way that we never need to make a movie to survive. Publishing is the most important ting to us, but licensing has also become hugely important, as has digital. The rest of it, movies, TV, video games, those will all come, but we're also having success because we're not in a rush to push that stuff forward. It behooves us to push these projects, because they provide much larger audiences for our material, but they're not necessary for survival. Our primary commitment is to the comics."
A perfect example is what's happening with one of their most popular characters, the fast-healing amnesiac hit man, Bloodshot. Three different times, the company was offered large deals for the rights to the character, deals that would have fast-tracked a potential project and brought it to the screen in a reasonably expeditious manner. But those deals were all rejected so that the company could wait for the right deal, one that would allow it to maintain control over its characters. That eventually came from Neal Moritz and his Original Films banner (the company behind the Fast and Furious franchise, among others), and now, Valiant has a partner with whom it can approach different studios with each property it wants to develop.
Another refreshing bit of information from the adaptation front is that, for the moment, the company has no interest in trying to build one of those cinematic universes that is becoming all the rage. On the contrary, rather than being beholden to a single studio for all of its properties, Valiant is dealing with each on a case by case basis, choosing the right fit for each project and character. For instance, while Bloodshot and Harbinger are currently being developed for movies at Sony, Avengers: Infinity War directors Joe and Anthony Russo are on board to shepherd a TV project featuring the characters Quantum and Woody, a sort of comedic take on the buddy action hero genre.
"We're free agents," says Cuneo. "We wouldn't want to be tied to a single studio who would be obligated to make our films. We want the best partner for each film. A shared universe has been contemplated, but having all of our characters in one shared cinematic universe is not in the plan. Not now, anyway, but that could change. We also have the money to finance our own development, which is extremely rare. That was always part of our business plan, and has served us very well."
But that's focusing on the adaptation side, and there is still so much about the comic book part of it — which is, if not abundantly clear by this point, the most important part — that is still key to the success, like, Editor in Chief Warren Simons, whose work is discussed with great reverence by everyone involved. His creative vision, the decisions he makes in concert with Shamdasani about who will be hired for which books, which characters will be developed and all the other stuff that goes into a successful editorial policy, sets a tone for high quality.
Additionally, there is something that might seem simple and straightforward but is actually far more difficult than a layperson might think: the making of deadlines and on time shipping of books. One of the most frustrating parts of being a comic book fan is when an anticipated book doesn't ship when it's supposed to. Well, that has never been a problem for Valiant.
Literally, never.
"We're only five years old," Cuneo points out, "and we have never missed a deadline. Not once. We have shipped almost 600 books in that time, and every single one of them shipped when it was supposed to."
There is not a single other publisher in the industry who can make such a claim. Not one. The thing is, while that might not seem like such a big deal, it engenders a great amount of goodwill with retailers and consumers alike, who quickly learn that they can count on a publisher with that kind of record. If a book is supposed to come out on the third Wednesday of the month, it's going to come out on that very Wednesday, no ifs, ands or buts about it, and there's something oddly comforting about that.
In fact, it's that very kind of record that also reassures the readership that the publisher has its back and is looking out for it. It might sound silly, but paying attention to that kind of detail, making sure to keep up its end of the bargain with something like shipping dates, goes a long way with people. Even if it's subtle thing, it matters.
Part of that is the aforementioned insistence on keeping the publishing line limited. Shamdasani points out that, "Right now, not only can't people read every Marvel book, I think they can't even read every Spider-Man book. Or every Batman book. The Big Two have to serve the needs of the corporate parent. The best way to do that is to split Spider-Man into nine different books, to every iteration you can manage. We don't bite off more than we can chew, don't make the consumer pay more than they're willing to. With success comes the temptation to expand. Its hard to be disciplined and say no to opportunity."
But there are ways to say no to opportunity and ways to say yes to it, which is part of Russ Brown's job. The head of licensing spent years at Marvel, where his job was decidedly easier, working with characters everyone knew. Now, he's on the ground floor, setting the table for when these Valiant characters become more mainstream.
"The challenge is not finding partners, because there are really only two other universes, and either someone wants to be a part of those, or can't get into those," he says. "Then there are others who want to take a ride on something new and different. They're looking for opportunities and they see what we're doing, and they want in, and want in early.
"This is laying the groundwork," he continues. "Once announcements are there, there's motion and press, then the interest grows. It's early stage, for sure, because you don't buy this stuff before you know who the character is. The real synergy doesn't happen until we get more placement out there. The problem is, if you wait to develop these relationships until the time is right, then you're chasing the business, so you need to start now. It's more marketing than revenue generating at this point, though there will be a point where that switch is flipped."
Growth does have to happen, of course, but it happens naturally and organically. Not necessarily by expanding market share, something everyone here eschews, as if it were the company line, but rather by the fact that the library has expanded.
"Look at the market as it relates to how much of it is periodicals, how much of it is collections, trades and hardcovers and how much is digital," Cuneo explains. "When you start a company like this, you only have periodicals, then you start getting more and more of a backlist. Marvel and DC have huge backlists and an enormous amount of revenue comes from those formats, and we're only just getting to the stage where our backlist is becoming substantial. At first, we were 100 percent periodicals, and now that ratio is starting to shift, because we have so much content we've built up over the last five years in other formats."
Which means selling more and more hardcover and trade paperback collections of its comics, to go along with the introduction of new characters beside the old, but on a carefully calibrated basis. Brittania, for instance, was an instantly popular take on the supernatural detective story, but told from the perspective of a Roman centurion stationed in the first century British Isles. The initial four-part miniseries was so popular, it will now return with a sequel, starting later this year.
Successes like that are not isolated, which is part of why the company does so well. Again, the formula seems simple, but if it were, everyone would be doing it. Another thing that helps is how completely and totally everyone on the team has bought into the concept.
"If we changed our mandate, everyone at the company, myself included, would leave," Shamdasani insists. "We all believe in what we're doing and wouldn't be involved if we weren't doing it this way. Look, a writer of Eric Heisserer's caliber comes in to write for us because he fell in love with the character, which is one part of it, and knows that we are only about making it good, rather than making it big, which is another. Or hitting a deadline, which is another. Or hitting a story beat that will affect something else, which is another. It's only about quality."
Pierce is quick to point out that this doesn't mean other companies aren't about quality, but rather that their priorities are different.
"I think the people at Marvel try their best to make the best work they can, but they are beholden to larger forces," he says. "They have corporate responsibilities and requirements that need to be met. We are beholden to no one, and simply do what we think is best for our characters and our readers."
"Nothing we do is mandated by corporate culture," Shamdasani adds, "whereas everything DC and Marvel do is."
There is also the fact that, after DC and Marvel, Valiant is the only company that focuses on superheroes. Even in an evolving world in which action, science fiction, fantasy and slice of life fare are becoming more popular in the medium, there is no getting past the fact that the comic book is, at its heart, about superheroes and the escapism that go along with them. Thus, Valiant has a built in advantage to fill a need not always met by the mainstream of the Big Two, nor the esoteric fare of the indie world. That Venn diagram overlaps in a very specific way, to Valiant's great fortune.
So, make no mistake, there's some luck involved, too, but that luck is by design. Like most success, it is luck that is taken advantage of because the company put itself into position to do so. The history helps, the fact that these characters existed before and that there was a fan base hungry for a rebirth, but that only goes so far. What Shamdasani and his team have done with it — bringing a fan's perspective to the creation of its slate, respecting the readers in a way that keeps them coming back, over and over again — is what has put them at the apex of the indie world, knocking on the door of the big boys.
"The business is very complicated and very simple at the same time. It's very unique," Shamdasani says. "This is an industry of nice people. When we launched, everyone called to see if we needed any help. That's how this industry works. It's very different from everything else. Everyone I know in comics loves what they do."
Which is, let's be honest, why we're here.
Next week, we'll bring all this to a close by taking a look at what is in the industry's future, and how everyone is preparing for it. Until then.
---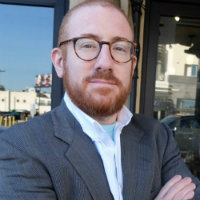 Neil Turitz is a filmmaker and journalist who has spent close to two decades working in and writing about Hollywood. Feel free to send him a tweet at @neilturitz. He'll more than likely respond.