The CW
This probably won't surprise you, but I watch all of those superhero shows on the CW. I have from the beginning, and tend to treat them as the cotton candy that they are. Sure, sometimes we get some real weight from them, and they are certainly of high quality, but overall, they're mostly fun ways to spend an hour or so, or to have on in the background while I work. At least, that was true up until a couple weeks ago, when a neutron bomb dropped at 9 pm EST on Tuesday night, January 15th. That's when BLACK LIGHTNING premiered, and changed everything.
Suddenly, the idea of all these superhero series being nothing more than enjoyable fluff was exploded by the depth and texture of this new show. From the very first moment, husband-and-wife creators Salim Akil and Mara Brock Akil made it clear that we were in for something far heavier than anything we'd seen before on that network. Racial profiling, police brutality, black-on-black crime, the plight of the inner cities, gang culture — all of it showed up in the pilot, belting out to the back row that standard expectations were to be dismissed, and that this show had something special in store for us.
It's almost subversive, the way that the Akils and fellow EP Greg Berlanti have so deftly disguised such a hard-hitting and political series as a mere superhero piece, utilizing the conventions of the genre to progress a much more powerful message — that the system is broken, and sometimes, gigantic and outlandish steps must be taken in an attempt to fix it.
In the comic books, the hero Black Lightning is Jefferson Pierce, a school teacher with the ability to manipulate electricity. He was the first starring black hero in the DC Universe (following Marvel's introduction of Black Panther and Luke Cage), and as he has aged over the last 40 years, the character has always been something of a crusader for equality and human rights. For that reason alone, he was sort of the perfect character to translate to the small screen, especially now, when all the things he was fighting upon his introduction in 1977 sadly remain relevant today. In the TV version, Pierce is a high school principal who establishes relationships with the criminal element to protect his students. As portrayed by Cress Williams, the character is passionate, altruistic, sympathetic, and eminently watchable.
Of course, employing the comic book genre to have some important conversations is a double-edged sword, because while it allows the Akils to put forth a message that can be tempered and not feel preachy, there will no doubt be those who refuse to take that message seriously simply because it's a superhero show. I think that's a trade-off worth making, though, because those who do watch Black Lightning may find it has genuine insight into some of our societal problems, delivered with the same spoonful of sugar that Mary Poppins said helps the medicine go down.
Isn't that why Black-ish is so successful, because it employs the same philosophy of massaging the message? It just does so with laughter rather than with masks and powers. I may not be a devoted Black-ish viewer, but I have immediately become one of Black Lightning, simply because it's unlike anything else I've ever really seen before, and I find that terribly refreshing. Seriously, how often can you say that of anything you watch on the small screen, much less about a superhero show?
This makes me think about the concept of forging a societal change, and the use of pop culture to do so. It's certainly a painless way to start a conversation, because if you're entertaining people, they're more likely to pay attention. Salim Akil suggested as much in a recent interview, saying, "I know this show is topical and it has some political merit to it, but we also want to entertain and make people laugh and get them excited about the fight sequences, and the characters that are coming in, as well as the villains that are coming in."
That's precisely why it all works, because it's a combination of both the important lesson that's good for you, and the fun that you can enjoy. The vegetables and the dessert, if you will. Oh, and there's also the fact that the main character is the titular black superhero — another barrier broken on primetime television.
I make the "primetime" distinction because, of course, Netflix has Luke Cage, but the two shows are very different, with Black Lightning carrying more of a message to it. There is something escapist about Luke Cage that doesn't apply to Black Lightning, and this is one of those rare times when that's actually a good thing. The added heft featured in the first three episodes of the CW show makes it that much more interesting. Rather than just the villain-of-the-week trope, there is an idea at work here that focuses on society as a whole. That's an incredibly bold move for any TV show to make, much less one where the main character runs around in black and blue spandex, with bright yellow lightning bolts streaking down his chest.
I'm not suggesting that other shows rush to copy this, mostly because it would be nigh impossible to do so — not just because no other character like Black Lightning exists in mainstream comic books, but because anyone who tries will almost certainly fail, as most such endeavors do. However, as Hollywood focuses on improving gender and racial equality within its own ranks, the industry has a responsibility to encourage those same strides within society at large, and a show like Black Lightning can genuinely make a difference in terms of helping people empathize with others from different backgrounds and circumstances. It can exploit its genre to help open eyes, raise awareness, and yes, even fight crime.
And isn't that what a real superhero is supposed to do?
---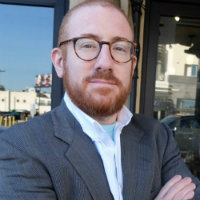 Neil Turitz is a filmmaker and journalist who has spent close to two decades working in and writing about Hollywood. Feel free to send him a tweet at @neilturitz. He'll more than likely respond.