The Rock and Roll Hall of Fame announced its new inductees this week, and aside from the fact that The Cars should have been in years ago and The Moody Blues don't deserve the honor since they've never recorded a good song (yes, really), the list seemed fine to me. I mean, Warren Zevon should have been in years ago, too, but these are the vagaries of recognizing creativity when statistics (as in sports) aren't really a part of the equation. It's ultimately about the taste of a select few people.
Which is why I'm sort of curious why there is no Hollywood Hall of Fame yet. I mean, talk about an industry that is enamored with celebrating itself! How on earth has someone not stepped up to put something like this together, given all the other Halls of Fame out there?? I know we have the Walk of Fame, but don't people pay for the honor of being stepped on and walked over, or have their friends pay for/sponsor it? There's the Academy of Motion Picture Arts and Sciences, which offers a group of successful artists similar to a Hall of Fame, but the organization isn't exactly a substitute since many of its members, however talented, are not among the all-time greats.
I know the Academy has been threatening to build a museum for years that would pay tribute to its members and feature some of the finest memorabilia to ever grace the silver screen. But while every Hall of Fame is a museum of sorts, the museum that the Academy is building isn't exactly a Hall of Fame. No, I'm talking about a bonafide building honoring an elite group of people with plaques and statues, as chosen by an executive committee comprised of both Hollywood big wigs and the esteemed journalists and critics who cover them, as well as proper film historians.
Now, with this concept in place — and, come on, now that you're thinking about it, you're wondering why it doesn't already exist, too — there are some complications that arise and which we clearly need to solve. For instance, who gets in? Since you don't have the aforementioned stats of a sport-specific Hall of Fame, it becomes a bit more nebulous — though, as a big baseball fan and a longtime follower of who does and doesn't get into the Baseball Hall of Fame, that can be pretty nebulous, too. The Rock and Roll Hall of Fame allows artists to be eligible 25 years after the release of their first record, and takes into account "the influence and significance of the artists' contributions to the development and perpetuation of rock and roll."
That feels like the right amount of years, unless there is some kind of force majeure involved. Like, say, Carole Lombard dying in a plane crash after only a dozen years onscreen, but whose work would more than justify inclusion had she lived. Setting that aside, though, if we start the clock at an actor's first major role and anyone behind the camera's first film, that would establish a baseline. From there, it's really about what the person in question does with it. Not every film has to be great, obviously, because there's no such thing as perfection, but there has to be a certain level of consistency.
You wouldn't need an Oscar to get into this place, just like you don't need to have won a World Series championship to get into Cooperstown. If that were the case, Alfred Hitchcock wouldn't be eligible, nor would Stanley Kubrick as a director (he won his only trophy for special effects). If it were up to me, you wouldn't even require an Oscar nomination, because then we wouldn't be able to induct Joseph Cotten, Myrna Loy, Peter Lorre or Alan Rickman. To be worthy of this esteemed institution, you need to have been very, very good for a very long time, not just a flash in the pan.
Which leads to who, exactly, should be in, and how we induct them. Obviously, there has to be some kind of system — I'm thinking a closed voting session, in which the executive committee mentioned above would propose a list of nominees and then vote on them, with anyone receiving at least 75 percent of the vote earning Hall of Fame honors. As in baseball, the possibility exists to open the voting to other qualified folks, either Academy members or other journalists/critics/historians, with even a lucky fan or two mixed in for the sheer PR of it. Then, the same weekend of the Oscars, when everyone who's anyone is already in town, we have an induction ceremony.
Obviously, the first few classes of Hall of Famers would be made up almost entirely of the deceased, but we could make an arrangement wherein one living performer or creator would be inducted, in order to increase interest. Figure four of the all-time greats, and one current practitioner of the fine arts. Do that for a good number of years and you're going to get more living inductees sooner than you might think. By the time 2040 rolls around, the ratio might turn completely upside-down.
So then, who gets in first? Names like Charlie Chaplin, Walt Disney, Louis B. Mayer, Mary Pickford and Jack Warner come to mind, just to name five people who were integral to the birth and growth of the medium. Add names like Hitchcock, John Ford, Bette Davis, Katherine Hepburn, Frank Capra, William Wyler, Humphrey Bogart… on and on it goes, with no immediate end in sight. Even someone like Kubrick, on the short list of the greatest directors ever (and my personal favorite), might not even get in until year five or six. Think of the debates that we could have, the comparing of one actor or director to another from a different era, weighing the merits and faults of each, and coming up with a comprehensive list of who deserves to be in and who doesn't. That carries over to the living members, though you'd probably start with Steven Spielberg, Martin Scorsese and Meryl Streep.
Taking this one step further, there would also be an International inductee — think Akira Kurosawa or Ingmar Bergman in the initial class — and a Technical honoree for a cinematographer, editor or composer, etc. (think Michael Kahn, Thelma Schoonmaker or Jack Cardiff to start), and of course there would have to be a Writers' wing as well, starting with Dalton Trumbo or Paddy Chayefsky.
Doing the math, that's four All-Timers, one Living Legend, an International, a Technical, and a Writer, for a total of eight. Turn it into a two-hour evening of dinner and drinks, with Hollywood's best and brightest coming out to make the presentations, and you've got one heck of an extravaganza, one that would be worth millions to the right network. Hell, if NBC is willing to pay so much for the Golden Globes, how many other networks are willing to shell out for a similar ceremony, complete with Red Carpet and all the pomp and circumstance that go along with it? It would be a true weekend of celebration, starting with this and ending with the Oscars, which would leave everyone involved feeling terrific about the film business. Which, of course, is sort of the whole point.
This really could work. We could put together something to truly honor the history of film, and create a space that would take people on a physical journey through the first century of the film industry, and into its future. A place where people can go to take pleasure in Hollywood, and all the greatness it has produced. A real and true Hall of Fame.
---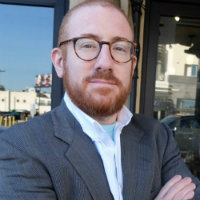 Neil Turitz is a filmmaker and journalist who has spent close to two decades working in and writing about Hollywood. Feel free to send him a tweet at @neilturitz. He'll more than likely respond.