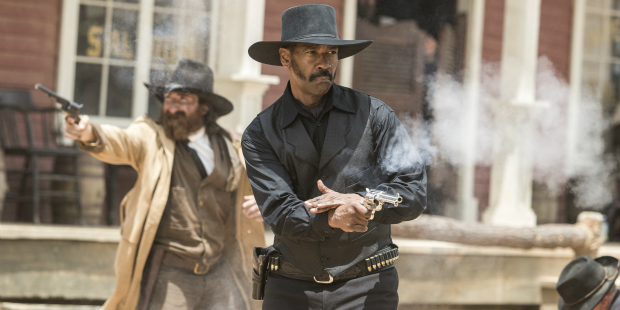 TIFF
---
Perhaps it is best that I never watched the original THE MAGNIFICENT SEVEN from 1960 or its predecessor on which it was based, Akira Kurosawa's Seven Samurai. If I had, then maybe I might have a stronger opinion about Antoine Fuqua's remake of the beloved western. With his main man Denzel Washington leading the septet, this reboot has all the wares of a typical Western for nostalgia's sake but leans heavily on its star power and explosive action to carry it through its 133-minute run time. It's entertaining, but at the same time, mechanical.
Like the two movies before it, The Magnificent Seven follows a storyline that has since become a template for films. In this case, big baddie industrialist Bartholomew Bogue (Peter Sarsgaard) comes into the low-key and humble town of Rose Creek and wreaks havoc on its citizens. When Emma Cullen's (Haley Bennett) husband (played by Matt Bomer, who manages to still look unfairly handsome no matter how hard they tried to gritty him up) speaks up, Bogue shoots him in cold blood. From here on out she seeks righteousness — but since that's no fun, she'll settle for revenge.
Enter the bounty hunter Sam Chisolm, who predictably rides into town with the brim of his hat low and a mysterious swagger. Emma and her fellow townsman Teddy Q (Luke Grimes) hire him to help them take their town back from Bogue. He assembles a diverse team (literally and figuratively) of men that include the gambling jokester Josh Farraday (Chris Pratt); the sharpshooting former Confederate soldier with issues, Goodnight Robicheaux (Ethan Hawke); his partner in crime and assassin Billy Rocks (Byung-hun Lee); the religious tracker Jack Horne (Vincent D'Onofrio); the clever Mexican outlaw Vasquez (Manuel Garcia-Rulfo); and an outcast Comanche warrior Red Harvest (Martin Sensmeier). They are like the Avengers of the Old West.
From the moment the movie starts, it's pretty much a paint-by-number Western, which I'm guessing follows the originals. There are many tropes in the movie in which we associate with Westerns: the heartless mustache-twirling villain, the handsome mysterious stranger who rides into town, the damsel in distress (although, this is a little bit more updated), the drunkards in a saloon, the clueless townspeople — it's all there. This may be a valiant attempt at a remake of the 1960 version, but it plays out like A Bug's Life, an excellent Pixar film, but I'm pretty sure Fuqua was aiming to be more adult.
Magnificent Seven doesn't really bring anything new to the table when it comes to storytelling, but with its characters, it seems like Fuqua, along with screenwriters Richard Wenk and Nic Pizzolatto made a lot of conscious decisions. For one, he cast Washington in the lead. A black man — and one of the best actors of our time at that — as the lead of a Western is quite an impressive move. But Fuqua further flips the script by swapping out a cast that was originally white with an ethnic array of actors that includes an Asian, a Latino, and a Native American — and not once is there a moment of racial hatred. And Bennett is anything but a 'damsel in distress'; rather, she's a strong woman, the only one who had the guts to do something about Bogue taking over the town, and who Chisolm refers to as "the lady he works for." The cast is essentially the United Colors of Benetton of Westerns.
Fuqua's remake gallops along with the pristine confidence of Washington (who looks so fly in that black cowboy garb); a few solid zingers from Pratt; a weird, but interesting, falsetto voice from D'Onofrio; and a diverse supporting cast that delivers a dose of high-octane gunslinging Western realness. But that's also all it has. It's PG-13 rated fun and a guaranteed box office money maker, but overall, The Magnificent Seven misses the mark when it comes to being a solid Western that rises to the level of an elevated classic.

Rated: PG-13
Running time: 133 minutes
——————————————————————————
Dino-Ray Ramos watches too much TV, enjoys reality singing competitions and laughs inappropriately during dramatic films. He's a fan of comedy, podcasts, and comedy podcasts. He's a reformed comic book geek and thinks "The Goonies" is the best movie of all time. When he isn't stuffing his face with a burrito, he's thinking about his next trip to Disneyland.

Twitter: @dinoray
Dino-Ray Ramos | Staff Writer