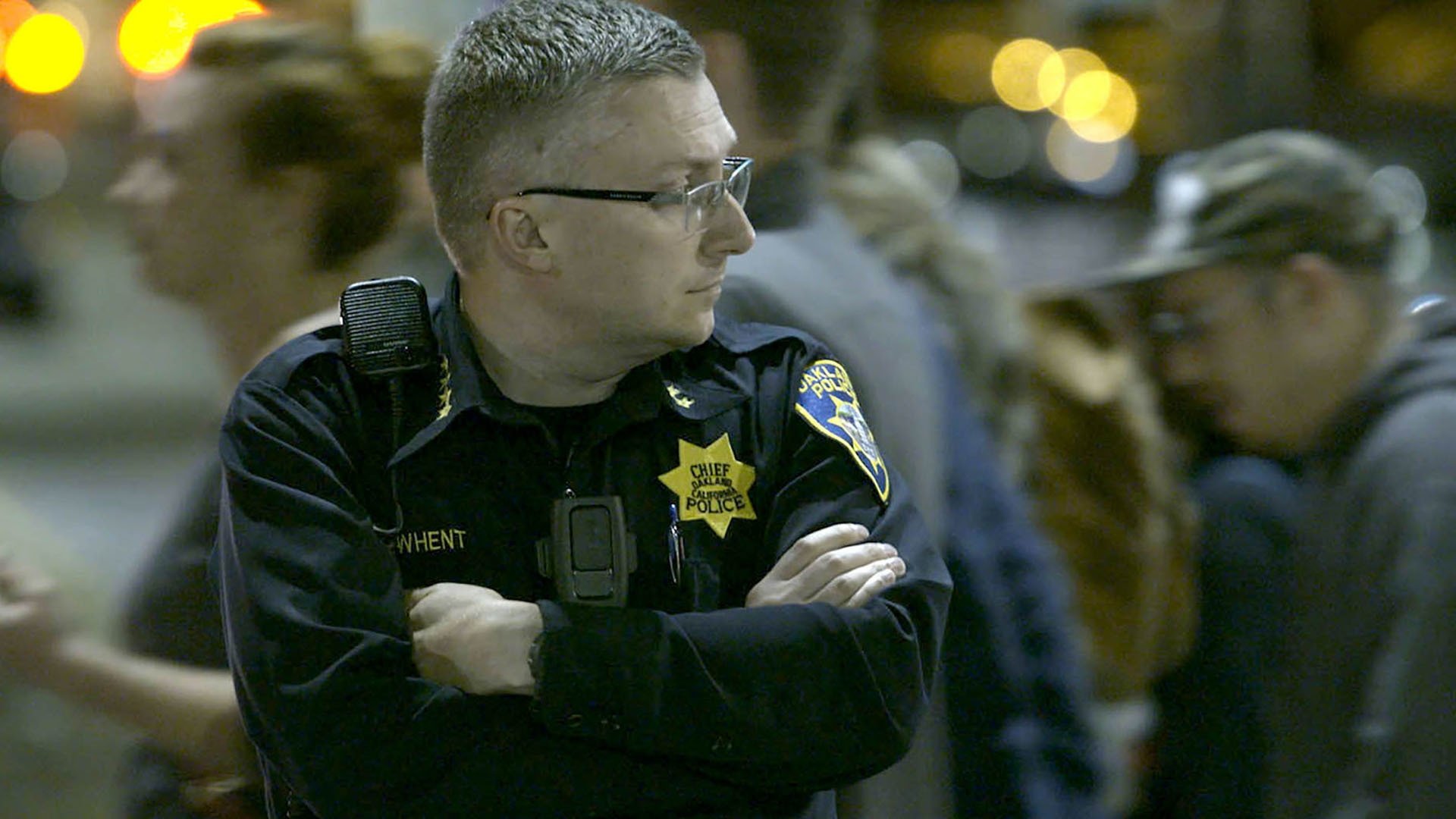 Kino Lorber
It's been a few weeks since I've written one of these "Under the Radar" columns due to my obligations at TIFF. While I generally try my best not to get political in the best of situations, it seems like I'll be following my piece on why horror movies are doing well with one of the more political docs currently in theaters.
Peter Nicks' The Force first premiered at this year's Sundance Film Festival where Nicks won a jury prize for his directing. I ended up seeing it a few months later at the Sarasota Film Festival where it was shown in competition. I was immediately blown away by what Nicks had done in terms of trailing the Oakland Police Department over two years as they were undergoing drastic changes and dealing with controversy and scandal along the way.
There've been quite a few decent movies about the "Black Lives Matter" movement this year, but what makes The Force different is that it deals very specifically with how the police and community of Oakland interact over those two years, as well as how the media sees the changes being made due to the controversy.
Part of what makes The Force so powerful is that Nicks seems to have unlimited access behind-the-scenes of the OPD as police recruits are being addressed by their trainers, and as the chief of police must contend with the community's anger over a number of recent incidents, as well as bad blood with the police that's goes back decades.
While I don't want to say too much specifically about what Nicks captures on camera during his time with the OPD, it's a film that feels fairly even-handed while dealing with the police and the people of Oakland. We see how the police chief reacts and makes changes in face of concerns from the community and how eventually the mayor of Oakland needs to step in when a scandal within the OPD makes the community even more dubious that the police can be trusted.
The Force is a fascinating doc just being able to see how things really work within the police department compared to what we see in press conferences and through the media. I'm not sure if the movie has enough fans to get it into the Oscar shortlist, which is so tough and competitive these days with so many cable and streaming networks getting behind doc filmmaking, but it's certainly a thought-provoking film that feels very relevant to the national discussion about police violence and accountability.
The Force is now playing at Landmark theaters in New York and L.A. (as well as Oakland) and will play in other cities in the coming weeks.
(Hopefully I can find a narrative film to talk about next week, although there are a lot of docs currently being released right now to qualify for Oscars, which is why this column might seem a little doc-heavy.)
 Edward Douglas | East Coast Editor
Under the Radar is a weekly column focusing on one or two movies that you might have missed or wouldn't have heard much about since they have limited marketing budgets. These aren't reviews per se and they won't always be about movies I necessarily like — just movies you should know about and any social implications they might have that would make them worthwhile viewing.