Finally. WGN America's action adventure slave saga UNDERGROUND returned last night in its debut season two episode "Contraband." First, a few thoughts on season one. I thought the show's interesting ensemble structure allowed us to see the full ecosystem of slavery from a rare vantage. From abolitionists and slave catchers, to slaves and freedmen, we got to see it all. The show also felt unusually kinetic and active and it's tough to point out any slave character who isn't resisting on some level, despite impossible circumstances. This might be something to gloss over in 2017, but even in my own lifetime I don't feel like we're that far removed from the spectre (and lie) of the "happy slave."
A personal favorite episode of mine kept the perspective firmly on the youth involved in this peculiar institution. A black boy and the master's son play together peacefully until the black boy goes out onto the fields for the first time, and the master's son first fully apprehends what his father does. At the end of the day, the son pays his black friend a visit with a peace offering, and vow that one day when he owns all of this, that he'll set his friend free. What happens next is heartbreaking. The black boy rebuffs his friend's offering, and then in almost reflexive retaliation, the white boy rats out an impending runaway plot. This is how unnatural systems thrive.
Season two's "Contraband" opens on new ground. The remaining members of the Macon 7 are now north of the Mason-Dixon Line. Rosalee, who by day works at an Ohio hospital under the alias Mary, plots to save a captured Noah, who may be sent back down to the South. Counterintuitively this is exactly what abolitionist white lawyer John Hawkes wants. Arguing before a Northern judge, John invokes the sanctity of the Fugitive Slave Act. But why would the abolitionist be in favor of this? Well, as usual, there's a plan afoot. If Noah is sent back south, the route will take them over a rickety bridge, at which point in time they'll attack the caravan and free Noah from enslavement.
Rosaleee, who's quite different from the sheltered and naive house slave she began as, isn't so sure that John's plan will work, but is willing to put her trust in him because he's helped before. John's wife Elizabeth is also unsure.
In a standout sequence, Elizabeth joins the so-called "Sewing Circle" an interracial band of abolitionists who cloak their political activism underneath a traditional activity. It's rare that Underground gives us politics without a fun corresponding visual action, and this time the women go out into the woods armed with guns, shooting targets while explaining that it's time to change hearts and minds not just through books.
It's also impossible to talk about this episode without talking about the official debut of Harriet Tubman, who we first see with a gun in one hand and an axe in another. Between her weapons and economic proposition, she helps Rosalee save an injured runaway from the clutches of white slave hunters. I'm eager to see what Underground does with Tubman's character going forward, but I'm sure she'll have plenty more wisdom to impart on Rosalee. Historical figures, when done right, can also add a lot more authority to period pieces, and I think this new addition will do so for Underground.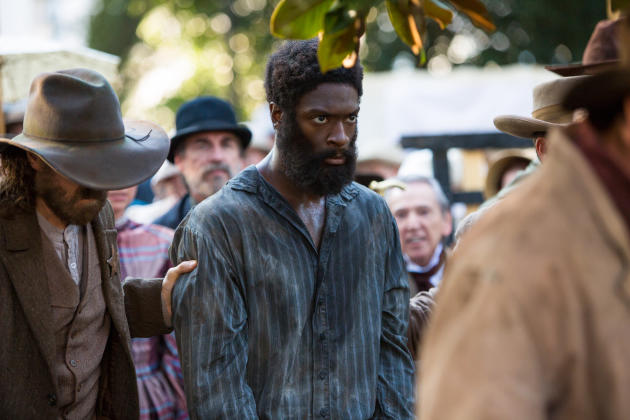 John's face falls when the judge basically decides to disregard (the already unjust) law and instead execute Noah. Rosalee isn't surprised, and in fact doesn't get how John can believe in using the system to reform the system, if the system by definition does not respect the humanity of black folk. Luckily, the abolitionists have another trick up their sleeve and ambush the execution the next day with the help of the Sewing Circle, who hold the line with an antislavery protest.
Back in the south, a now almost totally alone Ernestine has a tough time adjusting to her new life. She huffs some sort of chemical to escape her reality on the fields. She has a lover who gets tormented by a white overseer, and so the lover takes out his pain by beating Ernestine. As well, Ernestine is visited by the spirit of Pearly Mae, revealing that Ernestine still feels tremendous guilt for what she did to her.
Last night's debut ends with plenty of losses. First, while Noah is saved from execution, a group of outlaws eventually overtakes the team and captures him. And John, who's now resolved to try to become a judge, is gunned down on the court's steps right beside Elizabeth.
Season 2, Episode 1 (S02E01)
Underground airs Wednesdays at 10PM on WGN America
Read all of our reviews of Underground here. 
Read our reviews of more of your favorite shows here.
---
Ade writes about the philanthropy of billionaires and millionaires by day, and writes screenplays by night.
Follow Ade on Twitter: @derekadeniji
Keep up with all of Ade's reviews here.
Ade Adeniji | Contributor