Getty Images/Warner Bros.
You may have noticed yesterday that there was a pretty big shake-up over on the Warner Bros. lot, where Kevin Tsujihara announced the promotion of several executives, the departure of one studio veteran, and, much lower in the copy, the combining of a couple of departments. At first whiff, the restructuring reeked of Desperation, the world's worst cologne, following a 2017 that was trumpeted as triumphant, but actually wasn't nearly as great as the folks in Burbank would have you believe. Then I looked a little closer, and realized there's something very interesting happening within Warner Bros., something that might be the most forward thinking in-house move a major studio has made recently.
First, the promotions: Toby Emmerich got the Alan Horn deal, by having more responsibilities put under his auspices, going from President and Chief Content Officer to Chairman of Warner Bros. Pictures Group, which gives him full oversight of the company's worldwide theatrical production. Blair Rich, who has been at the company for years and had been making a name for herself of late via successful campaigns for It and Annabelle: Creation, was bumped up to President of Worldwide Marketing for both the Pictures Group and Warner Bros. Home Entertainment. Likewise, the studio's home entertainment chief, Ron Sanders, was also promoted, and is now the President of Worldwide Distribution.
Next, the departure: Sue Kroll, who has been working at Warners for over two decades, has spent the last nine-plus years as the President of Worldwide Marketing, eventually adding Distribution to her title. She leaves that plum post to become a producer with a three-year, first-look deal on the lot and a credit on Bradley Cooper's remake of A Star Is Born. Her exit shouldn't have come as a surprise, since people have been speculating about her potential departure for months now. That's the part that smelled a wee bit like desperation to me, because while the announcement made sure to note the fabulously successful year the studio had, it didn't really merit such a public victory lap. True, the studio's movies grossed $5.1 billion worldwide in 2017, but when you're spending over $4 billion to accomplish that, and you have significant money losers like King Arthur and Geostorm sprinkled in among the smash hits, you're simply not doing as well as you could. Throw in the fact that Disney posted similar numbers with less than half the number of film releases (20 for WB, eight for the Mouse House), and the bloom comes off that rose pretty quickly.
Kroll's departure and the subsequent promotions obscure what's most interesting about yesterday's news — the combining of the distribution and home entertainment departments, which is not just a big sea change over at the Water Tower, it's downright cataclysmic. After decades of treating synergy like a dirty word, it's suddenly in vogue at Warners, and a new day could very well be dawning on the Burbank lot. There now seems to be an understanding that by combining theatrical and home distribution, the company can actually maximize its product and take advantage of the continually burgeoning streaming business. Suddenly, the sandbox has been widened so the various silos of the film division can play together, rather than in their own yards by themselves.
I know it might seem odd that, in this day and age, that kind of compartmentalized thinking still prevailed over there, especially since CEO Kevin Tsujihara came from the multimedia division, but that was pretty much the case. Toys were simply not shared, often between similar divisions. More than once over the years, I've talked to people in the marketing departments of Warners and New Line about the same thing, and not only did I  receive completely different answers and information, but I was also told to ignore what I'd heard from the other. With everything now falling under one giant umbrella, that era appears to be over.
When this all came out yesterday, I reached out to someone with whom I'm acquainted, a Person Who Knows Things, to get a reaction and some inside dirt. Said Person was rather insightful…
"Everyone always worked in their own silo before," the Person explained. "This does away with that, and, let's face it, putting everyone together was not going to work with Sue. Toby wanted things to work like they did at New Line since he started running it, with everyone talking to everyone and capitalizing on talent and resources. Look at Disney. Everyone's on the same page there, and see how well they do." The Person continued…
"Now, you have two people in Blair and Ron who are smart and talented and are good at collaborating. They also understand that there's a whole new mandate under which they need to work. The same people handling all the marketing and distribution for all the movies, from theater to home, means consistency in a way that just hasn't been there before. Everything is connected, everyone is beholden to everyone else, there is no lone wolf, no one person getting all the credit or all the blame. That's just never, ever been the case. But here, Kevin, Toby, Ron, and Blair had a vision for the future."
It's fascinating to me that this significant restructuring wasn't more front-and-center in the initial announcement, which focused on the executives as individuals. As I said above, I only caught it after taking a closer look, and haven't seen anyone else really discussing its implications. This column was originally going to be more cynical about an executive shuffle that at first glance, seemed desperate, but that changed when I realized the radical move that Warner Bros. made, and seemingly had no choice but to make. Yesterday's announcement was a classic example of a studio burying the lede, and that actually gave me pause before diving into this, because it was just the sort of thing Warner seemed to do before.
Of course, this could be like turning around an aircraft carrier — something that doesn't exactly happen on a dime. The same could probably be said for the overall situation at Warner Bros. After years and years of operating a certain way under Kroll and a hands-on Tsujihara, there's going to be a period of adjustment while Emmerich continues to find his footing as Chairman. That is to be expected, as well as understood. What's really important here is that the move was made at all, as it can only be a good thing in the long run.
---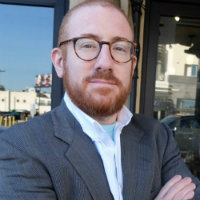 Neil Turitz is a filmmaker and journalist who has spent close to two decades working in and writing about Hollywood. Feel free to send him a tweet at @neilturitz. He'll more than likely respond.