Universal/Paramount
Well, it sure was a big surprise the other day when John Krasinski's A Quiet Place surpassed all relevant tracking predictions and exploded out of the gate with over $50 million over the course of its opening weekend. Except, it wasn't a surprise at all, or at least, it shouldn't have been. I mean, take a look at how horror movies have been performing at the box office over the last few years, and it should have been perfectly clear that this movie was going to be a smash. Especially when you added in the rapturous reviews from top critics, the deafening buzz out of a major festival (SXSW), and the cacophonous word of mouth preceding it.
It's funny, that was the same formula for success employed by Jordan Peele's Get Out, which premiered as the secret screening at Sundance before grossing $33 million in its opening frame, en route to a worldwide haul of more than a quarter-billion bucks. That film still managed to arrive relatively under the radar, but it had staying power, which led to Peele winning an Oscar for the script. Perhaps a similar fate lies ahead for Krasinski and his fellow writers, Scott Beck and Bryan Woods. But leaving awards out of it, the simple truth of the matter is that smart, thoughtful, relatively low-priced horror movies have been a boon to the box office for years. Just ask Jason Blum, he'll certainly tell you. After all, this knowledge has made him an exceedingly wealthy man.
But that doesn't seem to leave much of a mark on the so-called experts, who keep being taken aback when one of these genre movies performs so well. And just so we're clear, it's not just the movies with some star value behind them, with names like Peele and Krasinski and Emily Blunt on the marquee. Andy Muschietti's It didn't have a major star and that film was one of highest-grossing of 2017 — something you can't simply attribute to Stephen King, since it's not like The Dark Tower did that kind of business. Over the past decade, franchises such as The Conjuring, Insidious, The Purge, and Paranormal Activity, and movies like Don't Breathe, Lights Out, Mama, The Shallows and 47 Meters Down — not to mention the Evil Dead and Poltergeist remakes — have all opened reasonably well, and in some cases, fabulously well. Because people love horror movies, especially smart ones, unlike this weekend's Truth or Dare.
Let's face it, as much as audiences want to be scared, they also like to be respected while it's happening. That's why a movie like Get Out can win Best Original Screenplay and earn a bevy of other nominations, including Best Picture and Best Director, and why the relatively cheap ($17 million) A Quiet Place can hit theaters in April and already be discussed as an awards contender even though the season doesn't start for several more months, thankfully. Krasinski and his co-writers deserve credit for creating a world that was just as vivid and alive as any other movie that has hit theaters this year, including Black Panther. The director's use of sound alone should ensure awards consideration when the time comes, but because it was a horror movie, who saw, or rather heard, that one coming. This constant underestimation of genre filmmaking is sort of baffling, given recent history.
Which now leads me to consider two important things, the first of which is the lay of the genre land through the rest of the year and beyond. Over the summer, you've got Hereditary in June, The First Purge in July, and The Meg and Slender Man in August. Starting in September, you've got The Nun, co-written and produced by genre master James Wan, and then in October, the highly anticipated Halloween reboot starring Jamie Lee Curtis, which I'm betting is going to make a killing. In fact, I would wager that each and every one of these flicks will do some serious business, and while something like The Meg — which stars Jason Statham and a giant, prehistoric CGI shark — might be a little pricier, the rest are all relatively cheap. That means profitability could come after just a single weekend in theaters, just like it has with A Quiet Place, and like it did with Get Out and so many others listed above.
It's why the enormous success of the It sequel, coming September 2019, is a foregone conclusion. It's also why Paramount is giving us a Pet Sematary remake next March, why Sony is giving us a Grudge remake the following August, why Fox decided to turn its X-Men spinoff New Mutants into a true horror film and delayed it until next summer. Can you blame either New Line or Blumhouse for already staking out no less than four 2019 release dates between them for as-yet-unnamed horror titles, with probably more to come. There's gold in them there scares, and just about every studio is eager to mine the fright genre and its loyal audience for all they're worth.
Which leads me to the second item, that being the precedent that first Peele, and now Krasinski, have set. The incredible success of Get Out and A Quiet Place has everything to do with their quality, which means it's time to start thinking of what other talented filmmakers who aren't known for horror — indeed, who maybe are primarily known for comedy, as Peele and Krasinski both were — will turn to this genre to launch their directing careers. It's kind of ironic that horror used to serve as an entryway into Hollywood for young, hungry filmmakers, and now those opportunities are being gobbled up by established players. And why is that? It's because while the financial rewards the horror genre can provide are hardly new, the prestige factor certainly is. We can thank Peele for that, but now Krasinski has only added to it, and the very genuine and real question is, who's next?
Someone on Twitter asked if perhaps Kumail Nanjiani, himself an Oscar nominee of recent vintage, would spend some of the currency he has accumulated on a scary movie. That's something I would certainly pay to see, and I'm sure I'm not alone in that regard. In fact, there is a lengthy list of filmmakers who are known for other genres who might now turn to this one, not just for the financial rewards, but also because of the way those movies might now be received. Rather than being shunted aside and ghettoized, they can step up and tell smart, engaging stories with great characters and real depth that just happen to be very, very scary. Peele did it last year, Krasinski did it last week. It's now only a matter of time before someone else we wouldn't have otherwise considered will do it next.
If recent history has taught us anything, it's that we most certainly should not be surprised when they succeed.
---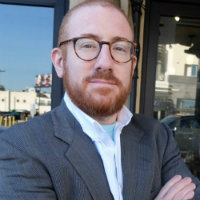 Neil Turitz is a filmmaker and journalist who has spent two decades working in and writing about Hollywood. Feel free to send him a tweet at @NeilTuritz. He'll more than likely respond. You can also listen to his weekly podcast, Unduly Noted with Neil Turitz and Ryan Beeman, which is available on iTunes.