Blumhouse Productions
With an opening weekend haul of more than $30 million (six times its budget!), Jordan Peele's subversive horror movie Get Out has captured people's imaginations by being the rare genre film to tackle tricky societal issues head-on without clubbing audiences over the head with the message.  
Scoring a practically unheard of 100% fresh rating on Rotten Tomatoes and earning an incredible CinemaScore of A- (most horror flicks top out at a B), it's clear that Get Out is another smash hit for Blumhouse on the heels of Split, M. Night Shyamalan's Continued Career Reclamation Project.
Split cost $9 million to make, did $40 million its opening weekend, and has cleared $220 million worldwide — this after Shyamalan's 2015 Blumhouse project The Visit did $98 million worldwide on a $5 million budget. That's an impressive pair of victories, especially juxtaposed so closely together.
It's not that Blumhouse was in desperate need of back-to-back theatrical winners, but it surely helps a company that has been inconsistent in the past, with many of its productions dumped on Netflix or VOD with little fanfare. 
The business model that Jason Blum has employed from the beginning is to make high-concept horror films on ultra-low budgets, and if one out of every 10 is a success, it more than covers the cost of those that didn't do any business at all.
Blumhouse ProductionsThe company has been doing this for close to a decade, ever since 2007's shoestring indie Paranormal Activity made nearly $200 million worldwide. That spawned five sequels that grossed $900 million combined worldwide despite costing less than $30 million to make. The company has also thrived thanks to the Purge franchise, with that trilogy clearing $300 million in global box office at a combined cost of just $22 million.
Throw in three Insidious movies, two Sinister flicks, two Ouijas, and a select few other winners, like Oculus, The Gallows and Unfriended, and you have a successful business model that generates lots of profits.
Looking at the list of films the company has produced that didn't do any real business — anyone remember The Bay, The Lords of Salem, 13 Sins, Mockingbird, Mercy, Area 51, Creep, Curve, The Veil, Martyrs or Hush? My guess is probably not. — as lengthy as it might be, it's not as substantial as the shorter list of movies that were massive successes.
The thing about Blumhouse is, every time someone stops to wonder if perhaps the model isn't working anymore, a couple of movies like Split and Get Out come along, and that question is answered. Things get dicey when the company branches out from its mission statement and tries out a comedy, a western or in one unfortunate case, an adaptation of Jem and the Holograms, but as long as Blumhouse sticks with horror and keeps budgets low, its winning percentage is high enough to keep the gravy train chugging along for a very long time, through any number of potential failures.
After all, it's easy to absorb such misfires if you're not spending a heck of a lot of money on them in the first place. Blumhouse isn't, say, Paramount, which is out there spending hundreds of millions of dollars on movies that nobody wants to see. By limiting its expenses, it avoids precisely that outcome.
Universal Pictures
So, I think it's safe to say that we can stop questioning the Blumhouse method for the time being, at least until it goes on a run of bad luck that begs the question again. Which, by the way, could totally happen, as it's not quite accurate to declare that the horror genre itself is back. The success of one does not prove the validity of the other.
After all, Paramount's Rings reboot only did middling business at the domestic box office, while STX's original horror movie The Bye Bye Man grossed only $24 million worldwide. Even if that film ekes out a profit, it pales in comparison to Blumhouse's recent hits. Meanwhile, Fox's A Cure for Wellness makes the case for horror's slow demise, inverting Split's opening weekend by taking in just over $4 million its opening weekend on a too-high budget of $40 million.
If you're keeping score, that's two major Blumhouse hits, two middling successes from other studios, and one complete and utter failure for a third. Put that together, and the 10-year distribution deal that Universal has with Blum's shingle looks ever more appealing.
What will be interesting is how things shake out in the coming months, especially when you realize that, in just 16 days, we have The Belko Experiment — written and produced by Guardians of the Galaxy mastermind James Gunn — coming our way. The film will be released by a company called BH Tilt, which is Blumhouse's indie distribution wing for movies that don't go out through its Universal deal. The fact that it's an ultra-violent riff on The Hunger Games set inside an office building should get people into the theaters, if only in a wish fulfillment kind of way. That would give Blum a hat trick of three bonafide hits in the first three months of 2017, which would be awfully impressive.
Let's say Belko does well at the box office. Will that translate to good grosses a week later for the "In Space, No One Can Hear You Scream" thriller Life starring Jake Gyllenhaal and Ryan Reynolds? Or for the still unnamed Blumhouse horror flick coming out through Universal at the end of April?
MGM
Also, it's worth noting that BH Tilt has two movies coming out in April and May, Sleight and Lowriders, that are both dramas starring people of color — films made possible by the success of the company's horror offerings, if that hadn't already been made abundantly clear.
After that, A24 has It Comes at Night as the summer's first real horror release, two weeks before TWC/Dimension unleashes its franchise reboot Amityville: The Awakening and Broad Green gives us Wish Upon, both in June.
In case you hadn't noticed, that's not a lot of horror this summer, and all of it hails from the indie world. That is, until August 11, when Warner Bros. and New Line release the Annabelle sequel, which is expected to be the one and only horror release by a major studio between the first of May and Labor Day. Compare that with the five such offerings from major studios in 2016, and I think it's tough to say that a genre that has been extremely hit or miss over the last few years is definitely back in vogue.
Unless, of course, it comes from the Blumhouse factory, in which case it sort of has to get the benefit of the doubt, whether you like it or not.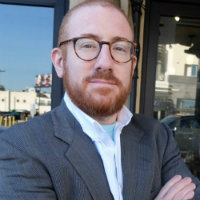 Neil Turitz is a filmmaker and journalist who has spent close to two decades working in and writing about Hollywood. Feel free to send him a tweet at @neilturitz. He'll more than likely respond.