| | | |
| --- | --- | --- |
| | The Magnificent Seven | $37 million |
| | Storks | $28 million |
| | Sully | $13 million |
| | Bridget Jones's Baby | $5 million |
| | Snowden | $3.5 million |
This weekend, the cowboys are riding in. Antoine Fuqua's diverse remake of The Magnificent Seven (which, in turn, of course, was a remake of Seven Samurai) is set to make a bold entrance in its opening weekend, tracking for an opening between $30 and $40 million. The film, which premiered at this year's Toronto International Film Festival, has been receiving mostly lukewarm reviews from critics (read our own here) boiling down to the film being fun, if not particularly inventive. Luckily, those aren't the type of reviews that will keep audiences who already want to see this movie away, but after the up-and-down of this year's box office, I'm going to err on the side of caution. The big names of Denzel Washington and Chris Pratt will likely also be a big draw for audiences. It could also be one of the best openings for Washington, whose biggest opening remains 2007's American Gangster at $43 million, followed closely by 2012's Safe House at $40 million. If it performs surprisingly well, it might even be able to top Gangster. Still, it won't come anywhere near Pratt's best opening with Jurassic World at $208 million, more than double that of the Guardians of the Galaxy opening. But it's a fun-looking blockbuster with recognizable faces and audiences like that, so Seven will have no problem landing in first place.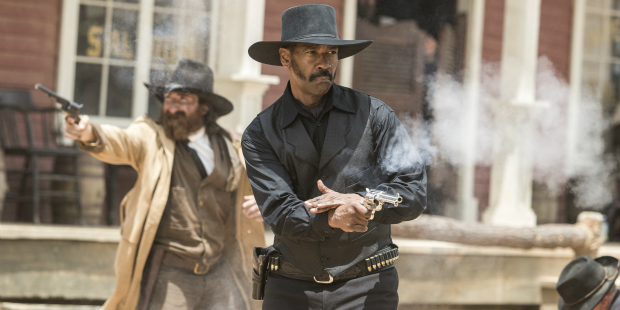 TIFF
Second place will go to Storks, a brand new animated children's film from Warner Bros. Reviews for this film are also turning out to be middling (it has a 51 percent on Rotten Tomatoes so far, but that number will likely fluctuate over the next three days), but luckily, this Storks doesn't have much in the way of competition. It's the first family film to open in a few weeks so the likes of Kubo and the Two Strings and Pete's Dragon don't pose much of a threat. While it likely won't reach the numbers of Zootopia, Finding Dory, or The Secret Life of Pets, it's still a near slam dunk for the box office, given how much family movies are a draw for weekend activities (unless you're Ice Age: Collision Course) and this is the only new one playing in theaters. Warner Bros. Animation's last original film was The LEGO Movie, which made an astounding $69 million in its opening weekend and want to become a huge success, both financially and critically. Sorry, Storks, you have a lot to live up to.
Warner Bros. Animation
Out of the returning films, Sully will easily be able to remain on top. It's now nearly to $80 million and a solid performer. It's not blowing anyone away, it's not going to be a major awards contender, but it's solid and sometimes, that's exactly what audiences need. It's the type of film where you know exactly what you're getting, especially with players like Clint Eastwood and Tom Hanks involved, and that is definitely a draw for people. While it's past its days of making big waves, it's still a major contender at the box office and that's nothing to scoff at. So Sully will sit comfortably in third place and leave the remaining films to duke it out for spots four and five.
| | | | | |
| --- | --- | --- | --- | --- |
| | | | | |
| | Opening Weekend | Current Gross | Facebook Likes | Tweets |
| The Magnificent Seven | N/A | N/A | 268,968 | 33,380 |
| Storks | N/A | N/A | 258,634 | 6,490 |
| Sully | $35.028 million | $76.848 million | 15,791 | N/A |
| Bridget Jones's Baby | $8.571 million | $11.226 million | 37,650 | 23,689 |
| Snowden | $8.00 million |  $10.424 million | N/A | 31,223 |
This is where it gets tricky. Last weekend, both Bridget Jones's Baby and Blair Witch severely underperformed. Snowden performed as expected, but its numbers still weren't anything to get excited about, and Don't Breathe made a surprising comeback to claim fifth place. Frankly, the lost couple of positions for this weekend's box office remain anyone's guess, but I'm going with reliable Bridget Jones for fourth place. The film is still getting good word-of-mouth, especially compared to Blair Witch and in some cases even Snowden, and its good performance overseas is making news Stateside. It's not going to be a big-hitter and it might not even beat the first or second installments in the long haul, but there are still people interested in the well-being of Bridget Jones and whether or not she ends up with Mark Darcy (which she better — I'm seeing it this weekend and I don't want to be disappointed).
Open Road Films
Between Snowden and Blair Witch, I'm giving the benefit of the doubt to Oliver Stone and his pedigree and the fact that drama films have a wider reach than horror films. Plus, while Blair Witch may have made slightly more than Snowden last weekend, it ultimately underperformed in big ways, while Snowden performed exactly as expected. It's likely people who wanted to see Blair Witch have already gotten it out of their systems and those who are on the fence will be swayed by the poor reviews. Not that Snowden will make a ton of money to land in the top but it could make just enough to sneak into the top five.
 
 
 
Rotten Tomatoes
IMDb
Metacritic
Critics
Users
# of Ratings
Stars
# of Ratings
 
The Magnificent Seven
61
N/A
102
7.0
1,479
51
Storks
51
N/A
35
7.4
102
54
Sully
83
89
21,723
7.9
20,040
75
Bridget Jones's Baby
77
78
10,247
7.5
5,413
60
Snowden
 61
75
15,439
 7.2
4,139
 58
Disney's Queen of Katwe, which is receiving great praise, and the Kate Winslet vehicle The Dressmaker, which is receiving more mixed reviews, both open this weekend, but in less than 100 theaters and so they won't make much of an impression (at least not yet, especially against the top five, which are screening in the thousands). Queen of Katwe opens wider next weekend and that's when it will make its real debut in the box office race. The remainder of the top ten this weekend should go to familiar titles like Don't Breathe, Suicide Squad, and Kubo.
(Sources: boxoffice.com, boxofficemojo.com, rottentomatoes.com, imdb.com, metacritic.com. Tweets and Likes represent figures for this week only. Figures represent numbers at time of writing, and may have changed. Tracking Board does not report Rotten Tomatoes user ratings for movies that have not yet seen wide release.)
Anya Crittenton | Associate Edito