Airtime: Tuesdays at 8 p.m. on ABC
Tweetable Takeaway: Have a Merry Muppet Christmas!
Tweet 
---
Around this time of year, Christmas that is, many of our favorite shows do their best to put on a Christmas show for us, the viewers. If you're having a difficult time with my mentioning of Christmas rather than holidays, may I suggest you go treat yourself to Starbucks and get yourself a pretty little red cup.
Thanksgiving and Christmas specials are troublesome for some shows to integrate into their writing, THE MUPPETS however did not miss their mark on this one as the show has synced into a nice smooth rhythm and is consistently found a stride in their writing, characters, and overall storyline. The Muppets did not disappoint, and am finding myself saying that was the best episode week after week.
Every week we see The Muppets prepping for the newest Up Late with Miss Piggy show, crisis is likely to erupt per usual, but this week the biggest problem is lack of time. While the gang is happy and jolly, they appear to be behind on the development and preparations for the Christmas special as they are distracted by all the decorations and excitement leading up to all of the festivities.
The only Muppet who perhaps is not feeling so cheery is Fozzy who's grieving over his girlfriend, Becky breaking up with him. A very hurt and distraught Fozzy feels incapable of playing Santa. All hands are on deck as Chef is busy and up to his ear with an abundance of Christmas cookies and gingerbread displays and Yolanda is spreading holiday cheer around the office as she is coordinating (and rigging) Secret Santa. Meanwhile, a hopeless romantic Sam is tiredly attempting to "rekindle" his romantic relationship with Janice. You can't help but feel bad for the poor guy and hope she'll throw him a bone at some point in time.
Kermit attempts to offer relationship advice but Fozzy declines and expresses he wouldn't understand given he's never been broken up with since Kermit was the one who broke up with Miss Piggy. Melodramatic much? Break ups are difficult regardless of who breaks up with whom-Muppets or not. I will say, this was probably my favorite interracial couple, aside Kim and Kanye of course (kidding!).
Sweetums offers to play Santa adding kids love him in a very erratic way that's seems to be quite the opposite, it's the thought that counts, right? As the small kinks in the show are beginning to smooth over, a bigger problem presents itself as this weeks guest star, Mindy Kaling is scheduled to sing alongside Miss Piggy. The problem being that while she was "gifted" with humor (I beg to differ), she too was not blessed with the ability to carry a tune-eep. Kermit and Scooter aren't the only ones to notice her singing isn't quite that of an angel, during rehearsal, the band hears Mindy's singing and a usually very positive Janice says that it perhaps it's her way of releasing the evil spirits inside of her.
The writing team scrambles to think of a way to cut her performance without telling her, they suggest a Bachelor like comedy spoof skit to replace the number. Mindy explains that while the skit may be funny, she'd rather sing. She is aware things sounded a bit off at rehearsal and approaches Kermit and Scooter and essentially blames the band, implying what went wrong had something to do with them, of course.
Pepe and Rizzo discuss who their secret Santa is. Pepe reveals he has Yolanda, but because Rizzo also has Yolanda, he believes Pepe is lying in order to cover up the fact that he has him instead. Eventually, everyone realizes she rigged the exchange. Rizzo determines her reasoning behind it was perhaps because she was unhappy with last year's gift and asks who had her the year prior. When no one raises their hand they realize she was overlooked and understand why she did it. Rather than confronting her, they all still give Yolanda presents which touches her heart despite the fact she thought everyone would be mad at her. Probably one of the cutest and most thoughtful moments they could've done all season. It's very special and sweet to see that they treat each other like family; the show does a great job implementing the history and special relationships they all have with one another which is truly touching. The show profoundly captured the heart and real meaning of Christmas.
Though we can't help but feel bad for Sam, you have to give him credit for attempting to step up his romance game and use mistletoe as an excuse to get closer to Janice, in more ways than one. While he patiently stands and waits for Janice to walk by, Chip approaches and startles Sam and begins speaking nonsense, nothing new.  Chip enlightens us on his Pringles philosophy about how they're shaped and look like human tongues and that he only licks them and tosses them afterwards. He continues to add that it's all about getting the flavor without all the calories and deems it a life hack. Yeah, Chip just implied a life hack reference; he continues to score some major cool points. As luck would have it, Janice walks by and Sam loses perhaps his only opportunity to steal a kiss from Janice, all thanks to Chip's unintended cock blocking.
On slightly different romantic note, a very unlikely and sentimental Miss Piggy offers Fozzy relationship advice per Scooters suggestion. Miss Piggy reassures Fozzy that stuff will work out in the end, that couples break up and make up all the time and that the best thing to do is get and distract yourself with stuff to lift ones spirit.
She adds, that is why Kay Jewelers offers an I'm sorry collection. Fozzy points out that ultimately all she has at the end of the day is stuff and questions why Kermit and Miss Piggy didn't get back together if in fact couples break up and make up. Miss Piggy deflects and mentions their situation and relationship was a lot more complicated than Becky breaking up with him for not taking life seriously sometimes. She suggests he reach out and apologize, and in return finds herself asking why she didn't do the same for Kermit. Miss Piggy has a humbling moment as she reflects upon their relationship and how she didn't fight for him and perhaps she was too proud. Having a moment to realize she's lonely, she breaks down and expresses she can't do the show.
Kermit looks for and finds Miss Piggy in her dressing room where they have a mature, non-work related discussion about their current relationship. He mentions that they are and will always be friends and though she may be lonely at the moment, that there are others at home on their couches feeling lonely too. He comforts and encourages her mentioning she's the highlight for those that are home alone on their couch and looking forward to seeing her. They share a peaceful moment together, Kermit shares, "you were my favorite show long before you were on the air." Hearts gushed and melted yesterday, despite how you might feel toward one of the biggest love stories to date, dysfunctional or not.
Adding to the relationship woes, Fozzy and Becky make up and all is well, the show is back on-as if it wasn't going to be alright.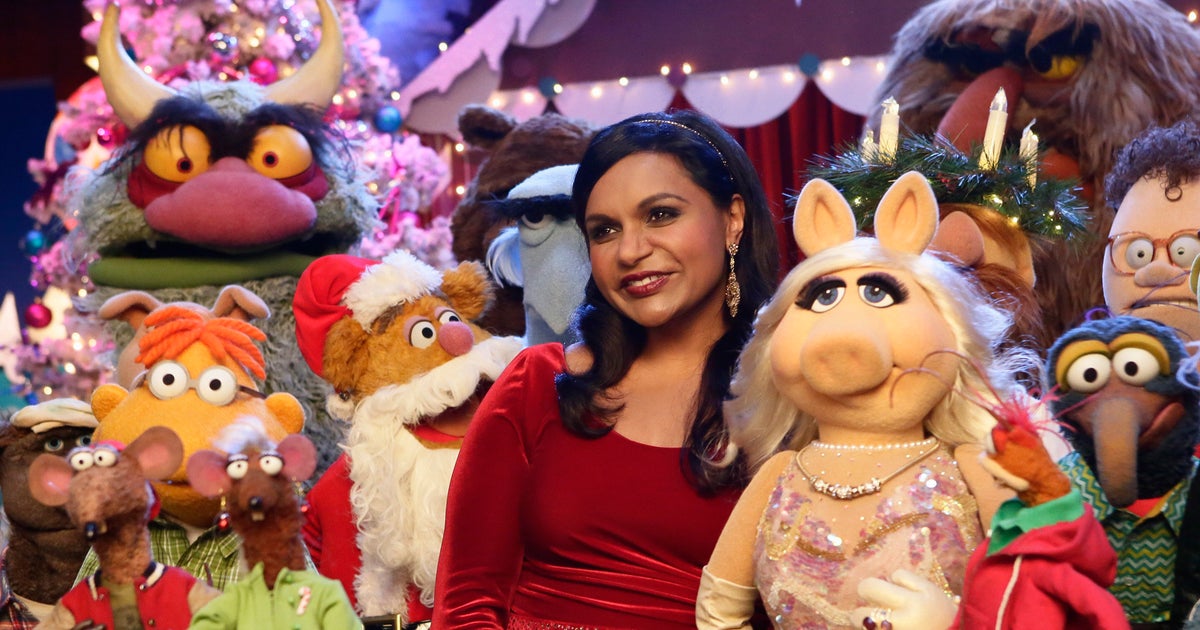 Mindy's singing is still an unresolved problem, in order to mask and blend her voice in, a very clever and thought out idea of having the entire Muppets gang join in and perform a group musical number serves as a great cover up. Scooter and Kermit step out of their producing roles towards the end of the show and join in, it wouldn't be complete otherwise. This moment too is pretty heartwarming as it demonstrates the strong bond within the group, you can't help but feel all sorts of warm fuzzies inside as it is a bit nostalgic of past childhood memories. If you felt like crying, you wouldn't be the only sap.
The show is a success and the festivities continue as musical guest Echosmith performs at The Muppets holiday party at Rowlf's Tavern, Kermit is postured between Denise and Miss Piggy, could this possibly foreshadow to later develop in the season…Before we have an opportunity to further project the outcome, we're distracted by a comment made about "Aerosmith's" performance.
Kermit is happy there will be a couple weeks off, I'm happy to see him happy. His mannerisms and expressions add an extra special je ne sais quoi. As mentioned last week, whoever is Kermit's puppeteer, does a fantastic job of capturing and life to his character.
Sam breaks away from the group for a moment and has a drink with Rowlf at the bar sharing his misfortunes with mistletoe. To his surprise and mine as well, Janice approaches Sam and acknowledges her noticing how nice and friendly he is towards Chip, adding she knows he doesn't have many friends and plants one on him!
Sam is beaming, it's a Christmas miracle! After nearly a season of Sam pining over Janice, she finally notices him when he least expects it and isn't even trying, funny how life will do that. A very spirited and elated Sam exalts, "God bless Christmas!"
——————————————————————————
 Rachel is both a coffee and sports enthusiast, but not at the same time. 
Keep up with all The Muppets reviews here.
Follow all of our TV content here!
Rachel Rodriguez | Contributor